Midtjylland: Meet the men behind Moneyball FC
It's game, set-piece and match to Danish champions Midtjylland, who take statistics very seriously and are hoping they can help them take down Southampton...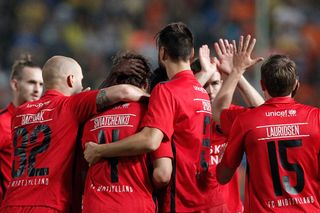 "You won't find another club in the world like Midtjylland," says former manager, Glen Riddersholm. And indeed, the club from the middle of nowhere – well, the middle of Denmark – are extraordinary in many ways. Plus they have the numbers to prove it.
They were only formed in 1999, after a merger between rival clubs, but really hit the headlines last season by storming to the Danish title on a shoestring budget after being bought by Matthew Benham, whose name you might recognise as the owner of Championship high-flyers Brentford.
The Oxford graduate-turned professional gambler made the unlikely move after a chance meeting with Rasmus Ankersen, an ex-Midtjylland player, UEFA-licensed coach and author of The Gold Mine Effect: Crack the Secrets of High Performance. It became clear the two were kindred spirits, both believing an extension of the 'Moneyball' method could lead to footballing success without breaking the bank.
Moneyball, in case you've been living underground, is a book – later adapted into an Oscar-nominated film starring versatile scowler Brad Pitt – about how sports manager Billy Beane revolutionised baseball by using data-based analysis to recruit players to his Oakland Athletics side.
"When [Benham] told me he was considering buying his second club, I suggested having a look at FC Midtjylland," says Ankersen, who was immediately installed as chairman and given the task of getting the players and former room-mate Riddersholm to buy into the club's new motto: 'Distrust your eyes'. In other words: believe in the stats.
"Football is about showing your heart"
"At the beginning I thought everything was bulls**t," admitted captain Kristian Bach Bak. "Football is about showing your heart." But Midtjylland's methods – using statistical analysis from Benham's 300-strong team in London – have proved successful. First, there was the recruitment of players. When Greuther Furth in Germany soared up the rankings in a table that compares all of Europe's professional clubs, Midtjylland's analysts looked at which player was most responsible for their success, and if could he fit their own model. They found Finnish defensive midfielder Tim Sparv, who then starred in Midtjylland's title win.
Where the Danes' approach differs from Moneyball is in their analysis of tactics. "Football is one of the hardest sports to draw statistical conclusions from," says Ankersen, "because it is such a fluid game. Baseball is much easier as it is a series of similar start-stop situations; in football, everything depends on something else. But just because it is hard to find clear causations in football doesn't mean it can't be done. There is huge potential in this area."
So Midtjylland have proved – in one area, in particular. Using Key Performance Indicators (KPIs) to find positions players are most likely to score from, they have become set-piece kings, averaging – incredibly – a goal per game from dead-ball situations.
"We cannot compete with the major European teams in quality of players," says Riddersholm, who can often be seen on his phone during games, receiving data from Benham's company to help his decisions mid-match. "So we have to be smarter. It is about getting players to believe in it. When we truly believe in our philosophy, it is easier to work on it. And when it produces results, then it becomes even easier."
Even skipper Bak, who saw his team narrowly knocked out of Champions League qualifying on away goals by APOEL, is a convert: "The longer I think about what we're doing, the clearer the benefits become." "And," concludes 43-year-old Riddersholm, "we've only just begun to scratch the surface." Scary stuff.
This feature originaly appeared in the August 2015 issue of FourFourTwo magazine. Subscribe!
Quizzes, features and footballing fun
Get the best features, fun and footballing frolics straight to your inbox every week.
Thank you for signing up to Four Four Two. You will receive a verification email shortly.
There was a problem. Please refresh the page and try again.