RSPCA rescues Gunnersaurus from Emirates Stadium
By Back of the Net published
Gunnersaurus has been taken away from Arsenal and placed into protective care, Back of the Net can reveal...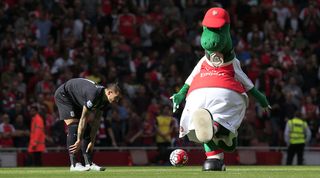 The RSPCA has confirmed that a Gunnersaurus has been taken into its custody after a raid on the Emirates Stadium.
Concerned neighbours had reported that the Gunnersaurus had been forced to pace the sidelines at Arsenal matches for the amusement of a baying crowd on a weekly basis.
The sight of a clearly agitated Gunnersaurus being cajoled into doing kick-ups on the Emirates Stadium pitch repulsed one onlooker so much that he took action.
A spot raid of Arsenal's headquarters found a morose adult Gunnersaurus in dank basement boot room chewing on last season's Arsenal away kits and chunks of Ray Parlour's autobiography.
Forced to watch
"This poor creature has never been given a chance of freedom," an RSPCA spokesman told FFT. "He's been forced to watch every Arsenal game for years now, but even worse he's been made to act like he's enjoying it and advocating it in some way with his very presence.
"The only flimsy explanation offered for the way he has been treated is that his name, Gunnersaurus, sounded like Arsenal's nickname, the Gunners.
"Frankly it's sickening to suggest that this proud animal was in some way predisposed to support Arsenal just on account of his species' name, and we have moved to liberate him from his loveless, corporate prison."
The RSPCA was also keen to stress how lucky Arsenal had been that Gunnersaurus hadn't harmed anyone on matchdays.
"Gunnersaurus is very much a carnivore," the spokesman insisted. "It's in his nature to track and kill prey. It's a near miracle that he never devoured the entire Arsenal bench."
There are unrelated reports that Arsenal are being asked to account for the whereabouts of a number of promising youth players who have dropped off the radar.
Thank you for reading 5 articles this month* Join now for unlimited access
Enjoy your first month for just £1 / $1 / €1
*Read 5 free articles per month without a subscription
Join now for unlimited access
Try first month for just £1 / $1 / €1