Vorm: 'I'm 100% sure Van Gaal and De Boer will succeed if they come to England'
Sulaiman Folarin chats to Swansea's Netherlands international about an up-and-down season in South Wales, Louis van Gaal's protracted switch to Manchester United and his own future at the Liberty Stadium...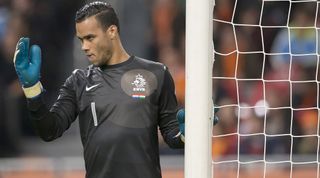 Last season Swansea finished in the top 10, won the League Cup and qualified for Europa League. This year was the complete opposite – is there a main reason for it?
Last season was obviously an amazing season for us and for me. We didn't finish strongly then either – after we won the cup, we lost a couple of games. We accidentally took that form at the end of last season to this season, and that was the main reason.
We also played in the Europa League with a lot of games, so that was something new: a lot of travelling and a lot of international games. We play on the weekend, but we play on Thursday first. It was quite hard, and that was one of the reasons we struggled a little bit. But if you want to be a top player, you have to compete in European club competitions like that. You have to make sure you're fit and capable of playing two games in a week.
We had some great results in the Europa and some bad losses in the Premier League. But we have learned from this season. We could also be worse off and be down. Even though we had a few new players who came in, we had a few injuries and Michu was our man from last season. He is a very important player for us and not having him was something that didn't help. We were unlucky – it happens. 
Last season it was Michu, this year it's Wilfried Bony. Do Swansea have the secrets to making astute signings like these? 
The funny thing is that Michu came in for less money, so he was under the radar. Bony had a bit of pressure, unlike Michu who nobody knew. Bony had played for the Ivory Coast already and scored more than 30 goals in the Dutch league, so he was known for being a goalscorer. At the same time everybody knows how hard it is in the Premier League to come in and perform right away.
Michu carried us last season and we played well. We struggled this year, but it was Bony we relied on to score the goals for us. When Swansea sign new players it's interesting to see the amount of money the club spends for the quality, and you can see it with both Michu and Bony in two seasons.
Jonathan de Guzman has been on loan with Swansea for the last two seasons from Villarreal. Do you think he'll stay with the team permanently?
I hope so, Jonathan is a very good mate of mine. We talk a lot, and spend a lot of time together. He has made his debut for the national team as well, and I really hope he would make his stay here permanent.
I know he likes it here and he will stay if they want to offer him a contract – he will definitely sign. He has a contract with Villarreal and the two clubs have to talk first, but I am 100% sure if Swansea come with an offer and they can sort it out, he will sign here. Jonathan is a good player for us, he played a lot of games over the last two seasons and he is happy.
Michael Laudrup was influential in signing them both. Did his sacking affect the team initially?
Yes, in a way it affected us because firing the manager in the middle of season wasn't easy for the team. We had worked with Laudrup for 18 months and we did have ups and downs. In the end it evened out, though. We were struggling and it was a lot at the time. Garry Monk came from being a player to being the manager; that was new for us. He knew us, and that was an advantage to be honest.
A few players came obviously because of Laudrup, so to them it was not an easy period over the last few months. But that's football, and you have to manage it. You can complain a little bit while we suffer changing managers in the middle of the season. In the end I think Garry Monk has done a great job. For him it was even tougher because he was not experienced at all.
What's the one big difference between Laudrup and Monk?
They are two different characters. If you know Michael, he's a relaxed and calm manager – he won't show his emotions that much. Meanwhile Garry is the complete opposite; he talks a lot, communicates a lot with the boys, he shows his emotions. You can tell he really does it for Swansea; he knows the club really well.
He's been here for 10 years and you can tell that he is so involved with the club. But that's just the way their characters are. To say Laudrup is better at this or Monk is better at that is hard to tell.
Are you happy that Monk has got the job on a permanent basis, or should the club have brought someone else in with more experience?
What's most important for us is stability. If you get someone from outside, yes he might be an experienced manager, but you never know what you're going to get in a sense. Garry, on the other hand, knows the club and knows us as a team along with the players individually. The past few months has been so tough for him and he did very well. He deserved at least a chance to get more out of us. Even though he lacks the experience, the past few months weren't easy but he has dealt with it very well.
Three Dutch managers have been reported to take over at Premier League clubs: Ronald Koeman, Frank de Boer and Louis van Gaal. Would they all be successful in England?
The good thing about Dutch managers is they are very strong technically. The Dutch school of football, and football managers, is very good. Obviously I have worked with Van Gaal with the national team for two years; you can tell with everything he does that he is so experienced and has done well with the teams he has worked with. He is so detailed and analytical.
A few years back Frank de Boer was an assistant manager with the national team, so I know him a little bit as well. You can also say that he was very passionate and on top of everything he did. He has done so well with the young players Ajax have had for the past four years and they are the champions. Van Gaal has been tested with winning prizes and titles in Europe. If De Boer goes abroad he has to show it again, but I am 100% sure they will succeed if they come to the Premier League.
You mentioned working with Van Gaal in the national team. Is he a good fit for Manchester United?
Yes. I think if you work for Ajax in one of the best periods of the club, Bayern Munich and Barcelona, you know what it is like to work at a top club and top team. I think that's very important. He is so experienced working with big players. He would definitely do well for Manchester United and he would fit the bill with the way he works.
If Van Gaal takes the job, what should the fans expect from him?
He is very detailed, like I said before. He would bring an offensive style of play. Obviously he needs the right kind of players, but he has an eye for very good young talents. If you see the list of the talented players he brought up from the youth [system] to the first teams at Ajax, Barcelona and Bayern Munich, it's amazing.
You have to look at the bigger picture; not just the first team, and he gives others a chance. It doesn't matter who you are or what age you are. If you're good, you're good, and he will definitely play you even though someone more experienced or with a bigger name is on the team. He doesn't care about that and I think that's very important for Van Gaal. If you work with him, and you can ask every player who has worked with him, he is one of the best managers in the world.
What's he like as a manager? What would most people not know about him? 
He is very open and honest towards the players. To the media he comes across as a bit arrogant, but if you know him as a player he is so open and a normal guy whose door is always open to discuss things with you.
What's your future with Swansea? Are you going to move or do you plan to spend a couple more seasons here?
The most important thing is my happiness. This is my third season. Everybody is happy with me and vice versa. I'm very happy at the club and I have a lot of respect from the club, the players and the fans. The people have been great. In October I will be 31, and for a goalkeeper that's not that old. There are still a lot of good years to come still and at this club there is a lot of potential, so I'm happy to stay here for a longer period.
My contract is still until 2016, so I have two more years to go. If a bigger club comes it is something you would think about, but at the moment it's just focusing on ending the season well with Swansea, the World Cup and then on to pre-season. I'm enjoying my time here, but we'll see what's going to happen in the next few years. I feel now staying with Swansea is right.
Quizzes, features and footballing fun
Get the best features, fun and footballing frolics straight to your inbox every week.
Thank you for signing up to Four Four Two. You will receive a verification email shortly.
There was a problem. Please refresh the page and try again.