Why West Ham should happily wave Marko Arnautovic goodbye if he wants to leave
The Austrian has made clear his desire to swap east London for China this month – but the Hammers should be willing to discard such attitudes in their new era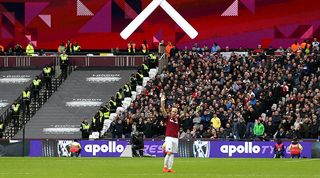 Marko Arnautovic has never been backward at coming forwards. He was nicknamed 'Arrogantovic' by Werder Bremen fans for his attitude, which rather wonderfully began when he wore boots with '2010 Champions League winner' stitched onto them for his first day of training. That's despite failing to appear in a single minute of Inter's Champions League campaign.
This is a man who Jose Mourinho – and you can prepare your irony-meters accordingly – once described as "a fantastic man but with the attitude of a child".
When Arnautovic left Stoke for West Ham, owner Peter Coates made the extraordinary step of publicly criticising the attacker's conduct. "We are disappointed in him personally and the people around him," Coates said, referring to Arnautovic's brother and agent.
"We resurrected his career. Our managers and coaches worked very hard to improve him and made him a name in the game. Last year we put so much effort into giving him a long-term contract, and the first thing we get in the summer after he comes back is that he wants to leave."
Even so, the brashness of Arnautovic's latest party trick was still surprising. When he was substituted against Arsenal on Saturday, the Austrian waved goodbye to all four stands at the London Stadium. That's despite his club insisting that they want to keep Arnautovic and that no deal has been agreed for him to leave for China. Arnautovic is not one for subtlety.
Worth the paper?
Loyalty is a blurred concept in football; one that provokes one-eyedness from almost every stakeholder. We view it as a wholly positive character trait, but also praise players for their ambition, particularly when they join our club. The two cannot always be mutually inclusive.
West Ham used Arnautovic's ambition when they signed him from Stoke. They increased his wages and presumably sold him a vision of the club that they felt would please him more than the Potteries. But now Arnautovic has made the same call: he considers the money available in China too good to turn down for a player of his age. To some extent, you reap what you sow.
Even so, the manner of Arnautovic's exit strategy will still draw some choice words. If players can often separate themselves from the actions and words of their agents, it's a little different when he's a close family member.
"West Ham bought Marko for peanuts," read a statement leaked by Danijel Arnautovic to talkSPORT. "They bought him to keep them in the Premier League last season and he did that. He took every award at the club. It is his great desire that West Ham accept the offer from China. Now West Ham have a fantastic offer. It is close to double what they paid for him." The entitlement is impressive.
Player power
In theoretical terms, a player holds no power. Arnautovic is bound by the terms of his contract and can only move if West Ham agree. But in practice, that's nonsense.
Arnautovic knows that the more fuss he causes and the more obvious he makes his desire to move, the more likely it is to come off. Given his previous success in earning those moves, it's fair to call him an expert in the art. To be frank, it now makes little sense to keep him.
PSEUDONEWS West Ham certain that Arnautovic will honour contract like absolutely all players do
If that threatens to paint a dreary picture for West Ham, powerless to the whims of one player, it doesn't have to. This is not another Dimitri Payet. With him, West Ham were as close to a one-man team as you could find. Since the beginning of 2015/16, he has created more chances in the Premier League than any other West Ham player. Payet left in January 2017.
Arnautovic was indeed the most influential player in West Ham's safety mission last season, flourishing after being converted to a central striker under David Moyes. But that's no longer the case. In midfield, Declan Rice is coming of age. Felipe Anderson has been superb since arriving from Lazio, and dovetailed beautifully with Samir Nasri on the Frenchman's debut against Arsenal. Michail Antonio is back in form and Issa Diop has been a revelation. In the six Premier League games that Arnautovic has missed, West Ham have taken 11 points.
More importantly, there is a different mood at West Ham now. Manuel Pellegrini has harboured a team spirit and togetherness which might finally enable the club to move forward sustainably. No longer does happiness need to be a precursor to a fall. For too long, West Ham have been the club that sweeps the rug from under its own feet.
Hard line
Arnautovic's skills are hard to replace. He has the physical frame to hold up the ball, scores regularly and yet learned his trade as a winger and so is content with ball at feet, running at defenders. But there are already reports that West Ham are in talks over a move for Celta Vigo striker Maxi Gomez, aged 22 and on the club's radar since last season.
This, after all, is the behaviour of a well-managed, well-run Premier league club. Having spent years writing a how-not-to guide, there are signs that Pellegrini is fostering the opposite spirit. Establishing the principle that no player is bigger than the club plays a part in that.
Don't want to be here? Fine. If we get the price we want, then nobody is stopping you – and don't let the door hit you on the way out. We want players who are prepared to sacrifice themselves for the good of the club.
Quizzes, features and footballing fun
Get the best features, fun and footballing frolics straight to your inbox every week.
Thank you for signing up to Four Four Two. You will receive a verification email shortly.
There was a problem. Please refresh the page and try again.