FourFourTwo's 100 Best Bargains in Premier League History
Phenomenal free transfers, curious steals from far-flung corners of the world and more: they're all here in our comprehensive celebration of the league's greatest value buys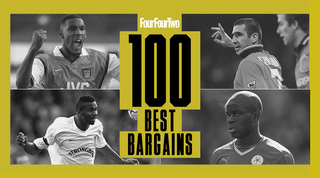 Everybody loves a bargain – and in our opinion, the 100 transfers below are the shrewdest in Premier League history.
But let's clear something up first and foremost: this list is not ordered by playing ability, but perceived value for money. Context is essential – consider, for example, that the British transfer record upon the Premier League's inception was Paul Gascoigne's £5.5m move from Tottenham to Lazio (see also: David Platt to Bari, Trevor Steven to Marseille). That fee wasn't beaten until Andy Cole's £7m move to Manchester United in January 1995.
Many of the clubs involved here bought low and sold high. Some found value while their rivals splashed immense sums on comparable players. Others simply enjoyed the talent they bought and were rewarded with years of diligent service. The lucky sides managed all three of those things.
Either way, we've had a crack at ranking our 100 favourites. Read on, then tell us your thoughts @FourFourTwo...
100-81 • 80-61 • 60-41 • 40-21 • 20-1
100. Xherdan Shaqiri – Stoke to Liverpool, 2018 (£13m)
Signing relegated players doesn't guarantee a bargain – Sam Clucas cost Swansea more than double what Liverpool paid for Andrew Robertson (more on him later) – but it has served the Reds so well that they've done it four years running: Danny Ings, Georginio Wijnaldum, Robertson and Shaqiri were all prised from the grasp of sinking clubs. Shaqiri was available so cheaply thanks to a knockdown release clause that Jurgen Klopp was all too happy to trigger.
The Swiss star's perfectly-executed bicycle kick on debut, against Manchester United in pre-season, was a sign of what was to come. Unlike Stoke, Liverpool could hardly have asked for more. – Huw Davies
99. Paulo Wanchope – Herediano to Derby, 1997 (£600,000)
It's no longer possible for a club to have a good 'March window', but in March 1997, before transfers were limited to January and the summer, that term applied to Derby.
Jim Smith signed Wanchope and Mauricio Solis from Costa Rica, then Estonian goalkeeper Mart Poom a few days later. Poom (£500,000) and Wanchope more than repaid their modest fees in performances and subsequent transfers, despite their initial arrivals having caused consternation from news crews stuck in the '50s. – Huw Davies
98. Michel Vorm – Utrecht to Swansea, 2011 (£1.5m)
There are different types of statement signings, and Vorm's arrival showed that Swansea wanted a footballing goalkeeper who was equally capable with his feet and his hands. It transpired that he excelled with both.
He swept the board for Swansea's player-of-the-year awards in his debut campaign to help relegation favourites finish in mid-table, and ultimately flourished for three seasons in Wales. Even his 2014 departure proved a great deal for Swansea: they got Gylfi Sigurdsson back in part-exchange from Tottenham. – Richard Jolly
97. Matt Phillips – Wycombe to Blackpool, 2010 (£325,000)
A slow-burner, this one, but in buying Phillips on deadline day, Blackpool reaped the benefits of their mad trolley dash (three days before their opening match, the Premier League debutants still had only 15 players, with Phillips following as one of a dozen late signings).
He scored on debut, and though that would be his only top-flight Tangerines goal, the teenager added invaluable impetus from the bench and some fine assists – including a particularly delightful backheel for Marlon Harewood to score against Aston Villa – before bossing the second tier and being sold for a healthy fee. – Huw Davies
96. Geovanni – Manchester City to Hull, 2008 (free)
Geovanni wore No.10 and scored spectacular goals. He played for Barcelona and Benfica. So far, so stereotypically Brazilian. But he also starred for Hull as an exotic anomaly in their unexpectedly brilliant start to the 2008/09 season.
He had scored a winner in a Manchester derby, but Phil Brown still got him on a free transfer as a 28-year-old. He scored from 25 yards in victory at Arsenal and from 30 to defeat Tottenham as Hull, briefly, went joint top. – Richard Jolly
95. Winston Reid – Midtjylland to West Ham, 2010 (£875k)
West Ham supporters have a penchant for flair players; those who have lifted the club above mediocrity and allowed them to dream – think Joe Cole, Paolo Di Canio and Dimitri Payet.
But in Reid they found an alternative cult hero, one whose impact came through his commitment and loyalty. He stayed following relegation, has repeatedly battled back after injury and stood tall as a monument to permanence while almost everything around him changed. – Daniel Storey
94. Alex Song – Bastia to Arsenal, 2006 (£1m)
In the seasons after his year-long loan was made permanent in 2006, a teenage Song struggled. Another failed Arsene Wenger gamble, the world hooted. Until 2008/09 that was, when it clicked.
A strong midfield anchor and slick passer, the Cameroonian was also comfortable in attack, where spectacular chipped assists to Robin van Persie became a trademark. After four excellent seasons, Song was poached by Barcelona for 15 times his original price – although his career never reached the heights of those lofted passes after his Gunners spell ended. – Alex Reid
93. Joao Moutinho – Monaco to Wolves, 2018 (£5m)
Wolves's current squad has a few candidates for bargain signings, at least partly thanks to the network of contacts provided to the club by Jorge Mendes's cosy relationship with owners Fosun.
But none may prove to be better business than the remarkably skinny £5m they paid to Monaco for Moutinho. Even at the age of 32, the Portugal international adds a vital creative force and his seniority complements Ruben Neves's youth perfectly. – Daniel Storey
92. Ayoze Perez – Tenerife to Newcastle, 2014 (£1.5m)
'Plethora' means not just a lot, but too many – and mid-2010s Newcastle made a plethora of bad European signings. Amid various Frenchmen and De Jongs, however, was a 20-year-old Spanish bargain who had reportedly been courted by both Barcelona and Real Madrid.
Perez doesn't turn many heads, but in a low-scoring side he averaged a goal or assist every other league game last season – a better rate than Messrs Shaqiri and Zaha, among others – while only five other players outside the 'big six' clubs contributed more in 2018. If Newcastle go down again, Perez will have more suitors this time. – Huw Davies
91. Robert Huth – Stoke to Leicester, 2015 (£3m)
"So if you're just joining us…#lcfc are winning 3-0 and Robert Huth is on a hat-trick." Leicester's official Twitter feed perfectly captured the improbability of victory at Manchester City in their title-winning campaign.
But Huth's contribution stretched far beyond those two goals – although he did also score a crucial winner at White Hart Lane against the Foxes' closest challengers for much of that season. His old-school centre-back partnership with Wes Morgan helped Leicester keep five consecutive clean sheets in a nail-biting run-in, but he first excelled at the other end of the table: when on loan, he was vital in their great escape of 2015. – Richard Jolly
90. Scott Dann – Blackburn to Crystal Palace, 2014 (£1.5m)
Dann is one of those players who is too easy to overlook. He's appeared in the Premier League for nine of the last 10 seasons, yet his dependency rarely makes him stand out.
But Crystal Palace have wasted good money on bad players far too often over the last half decade, so the £1.5m they gave Blackburn for Dann deserves to be shouted from the rooftops for its savviness. Head down, get on with it, no fuss. – Daniel Storey
89. Patrick van Aanholt – Chelsea to Sunderland, 2014 (£1.5m)
Losing Van Aanholt was no skin off Chelsea's nose – he was turning 24 and had spent the previous two-and-a-half years at Vitesse, where Chelsea prospects go to die. But without them the Holland international has at least, and at last, shown his Premier League worth.
He repaid Sunderland's faith on the pitch and then off it, netting them an eight-figure profit in joining Crystal Palace, where he continues to provide an unexpected goal threat – not many left-backs score five per season from open play. – Huw Davies
88. Steven Davis – Rangers to Southampton, 2012 (£800,000)
After six-and-a-half years at Southampton, Davis has just returned to Rangers, where his previous spell ended badly. Indeed, some would argue he's joined a new club altogether. Davis actually joined newly-promoted Saints for nothing when Rangers went pop; a small compensation fee followed, but £800,000 still represents just £3,500 per Southampton appearance (226 of them in all).
He scored against reigning champions Manchester City within three minutes of making his debut, then offered consistency, drive and attacking movement even when playing as the world's least threatening No.10. – Huw Davies
87. Danny Murphy – Tottenham to Fulham, 2007 (free)
In 2007, Murphy was 30. He had enjoyed a memorable seven years at Anfield, moved to Charlton and seen a big transfer to Tottenham go sour. But having played regularly since the age of 17, he could have relaxed.
Instead, he chose to move to Fulham, helped keep them up and was then a key part of a team that reached the Europa League final in 2010. In his last season, at the age of 34, he created more chances than any other Englishman. – Daniel Storey
86. Oyvind Leonhardsen – Rosenborg to Wimbledon, 1994 (£650,000)
Don't laugh, but Magpie-baiting, Bird-abusing punchline Joe Kinnear was once a savvy manager. During Wimbledon's early Premier League seasons, he picked up several bargain buys; none better than Norwegian midfielder Leonhardsen.
On the left wing or in the middle, Leonhardsen's industry and eye for goal made him an instant fan favourite. Wimbledon achieved two top-10 finishes in his three seasons at the club, and it's not entirely coincidental that, after his 1997 departure to Liverpool for £3.5m, the Dons slid down the table and were relegated in 2000. – Alex Reid
85. Brede Hangeland – Copenhagen to Fulham, 2008 (£2.5m)
Roy Hodgson made his name in Scandinavia. He made one of his finest Fulham signings there too, bringing in his former Viking centre-back and skipper Hangeland to help save the Cottagers from relegation.
Fulham got 270 appearances for their £2.5 million. With Hangeland the cornerstone of their defence, they finished seventh, eighth and ninth and reached the 2010 Europa League Final. It was the most remarkable part of his time at Craven Cottage... until Felix Magath told him to treat his injured leg with cheese. – Richard Jolly
84. Robbie Savage – Crewe to Leicester, 1997 (£400,000)
Whatever your thoughts on Sav the pundit, the Manchester United trainee proved a steal of a buy when Martin O'Neill nabbed the 22-year-old from Crewe Alexandra. With his flowing, young Jaime Lannister hair and filthy, Tyrion Lannister mouth, the combative midfielder was never dull.
He wound up opponents and racked up yellow cards, but was dynamic, committed and could play a bit as well. He featured over 200 times for Leicester as they won the League Cup in 2000, and was then bought by Birmingham for £1.25m in 2001. – Alex Reid
83. James Beattie – Blackburn to Southampton, 1997 (£1m)
Beattie was a bit-part in Blackburn's £7m deal for Kevin Davies in 1997, yet the 20-year-old soon proved his worth. The powerful striker scored just six times in his first season, but two goals in his final three games – including a spectacular volley against Leicester – helped Saints escape relegation.
Injuries ruined his second season, but from 2000 Beattie began regularly reaching double figures. In 2002/03 he struck 23 Premier League goals and eventually joined Everton in 2005 for £6m. Not bad for a makeweight. – Alex Reid
82. James McCarthy – Hamilton Academical to Wigan, 2009 (£1.1m rising to £3m)
Impressed by the Glasgow-born central midfielder's young, scrappy and hungry performances as Hamilton gatecrashed the Scottish top flight, Roberto Martinez's Wigan swooped to sign James McCarthy in 2009.
He'd made his debut at 15 and won Scotland's Young Player of the Year award, but even Wigan may not have predicted that the future Republic of Ireland international would put in such commanding displays as to attract a £13m offer from Everton, where he was reunited with Martinez and half of his Wigan team-mates. – Huw Davies
81. James McArthur– Hamilton Academical to Wigan, 2010 (£540,000)
Impressed by the Glasgow-born central midfielder's young, scrappy and hungry performances as Hamilton gatecrashed the Scottish top flight, Roberto Martinez's Wigan swooped to sign James McArthur in 2010.
He'd been impressive for the Accies, but even Wigan may not have predicted that Crystal Palace would later make him their record transfer. McArthur stayed and McCarthy left when Wigan went down in 2013, but the latter playing a few games before joining Everton means the Latics' midfield in 2013/14 included McCarthy, McArthur, McEachran, McCann, McClean and McManaman. Lovely. – Huw Davies
100-81 • 80-61 • 60-41 • 40-21 • 20-1
80. Andre Ayew – Marseille to Swansea, 2015 (free)
A particularly odd one. Swansea looked have played the transfer game perfectly when they signed Ayew on a free transfer from Marseille, watched him hit the ground running in the Premier League and then sold him a year later for £20.5m to West Ham, where his form took a downturn.
The fly in the ointment is that the Welsh side then paid almost the same again to bring him back, where it hasn't worked out. But we'll always have 2015/16. – Daniel Storey
79. Craig Dawson – Rochdale to West Brom, 2010 (£270,000)
Scoring goals for Rochdale is a strangely successful apprenticeship to play in the Premier League, as Glenn Murray, Grant Holt, Rickie Lambert and Adam Le Fondre can testify.
Dawson was a prolific defender at Spotland, scouted by virtually everyone and signed by West Brom for a fee seemingly plucked from the 1980s. Tony Pulis took to the centre-back, converting him to a right-back and making him a stalwart of a defence which, even in 2017/18 relegation, still only conceded 56 times. – Richard Jolly
78. Michael Carrick – West Ham to Tottenham, 2004 (£3.5m)
Of West Ham's touted youngsters at the turn of the century, Carrick was a distant third behind Joe Cole and Rio Ferdinand. So much so that after the Hammers' relegation in 2003, the 22-year-old was left to play a season of second-tier football.
Even after his move to Spurs in 2004, manager Jacques Santini didn't seem to fancy him – or indeed, even know who he was at first – and it took Martin Jol's arrival to give Carrick a platform upon which to show his classy playmaking skills. A fine second season ended in disappointment after an unfortunate encounter with a lasagne, but Manchester United had seen enough and coughed up over £18m. A decent profit for a more than decent player. – Alex Reid
77. Pascal Gross – Ingolstadt to Brighton, 2017 (£3m)
Brighton stole a march on their Premier League bottom-half peers when they managed to pick up one of the Bundesliga's most creative players for a fee of just £3m immediately following their promotion. Gross had just been relegated with Ingolstadt, but no player had created more chances in Germany that season.
And so the playmaker merrily carried on doing exactly the same with Chris Hughton's side in the Premier League, scoring seven and assisting eight more in his debut campaign. Scouting suddenly looked very easy indeed. – Daniel Storey
76. Claus Lundekvam – Brann to Southampton, 1996 (£400,000)
The 23-year-old Norwegian joined Southampton for a pittance and made 290 Premier League appearances there (which is a lot), scoring one Premier League goal (which isn't). He retired at Saints a full 12 years later, having given them so much as a captain, off-field influence and no-nonsense centre-back, and last year was even voted into an all-time Southampton XI.
His career had an unhappy postscript, featuring alcoholism, a drug addiction and two suicide attempts, but now he works to help others enduring the same hell. – Huw Davies
75. Josh King – Blackburn to Bournemouth, 2015 (£1m)
Bournemouth's transfer business upon invading the Premier League wasn't convincing: Max Gradel was an ambitious purchase that didn't work out, while Lee Tomlin and Tyrone Mings (even allowing for injury) were overpriced and Sylvain Distin was over the hill.
King, signed on a free from Blackburn before commanding £1m at tribunal, could have gone the same way – this was a forward who'd scored six times in 90 Championship appearances – but he flourished on the south coast, peaking with a 16-goal Premier League campaign in 2016/17. – Huw Davies
74. Gary Speed – Newcastle to Bolton, 2004 (£750,000)
When Speed signed for Bolton at age 34, it seemed an age since he'd been the midfield tyro that helped Leeds win a league title in 1992. Yet this veteran was far from a spent force.
Speed might have lost some of his dynamism, but his intelligence, skill, commitment, vision and eye for goal remained. In the Welshman's three full Premier League seasons, Bolton finished 6th, 8th and 7th – with Speed contributing eight league goals in 2006/07; the season he turned 37 years old. – Alex Reid
73. Gareth McAuley – Ipswich to West Brom, 2011 (free)
Recently appointed a MBE for his services to Northern Irish football, McAuley had to wait for his chance at the top. He was 24 when he signed for his first English club, Lincoln City, and didn't play his first Premier League game until the age of 31.
That came after a free transfer move to West Brom, which proved to be a masterstroke. He only left in June 2018 after 203 Premier League appearances, including one surprisingly prolific 2016/17 season of seven goals. A Pulis dream. – Daniel Storey
72. Niall Quinn – Man City to Sunderland, 1996 (£1.3m)
Paying £1.3m for a striker just a few months shy of his 30th birthday looked poor business in the mid-90s – more so when Quinn's injury-hit first season ended in the Black Cats' relegation from the Premier League. But the arrival of Kevin Phillips and Quinn's return to fitness revived Sunderland.
The ultimate little-and-large partnership, Phillips and the 6ft 4in Quinn terrorised the second tier, then did much the same after their return to the Prem as Sunderland finished 7th twice in a row. Quinn became a talismanic figure on Wearside, as a player and later as a chairman, when he once spent £8,000 of his own money to get stranded supporters home. – Alex Reid
71. Eric Dier – Sporting to Tottenham, 2014 (£4m)
There are still some doubts as to whether Dier is a truly elite defensive midfielder or merely an effective utility player capable of filling in at right-back or in central defence. It's also doubtful whether Tottenham could still command the £50m that Manchester United were reportedly willing to pay in summer 2017.
But what isn't in question is that Tottenham found a gem of a player in Portugal for a fee of £4m, and one who didn't even need to acclimatise to English football. – Daniel Storey
70. George Boateng – Feyenoord to Coventry, 1997 (£250,000)
Boateng played at Coventry for about 18 months, and they recouped 18 times their initial investment when selling him to Aston Villa. If Gordon Strachan (who felt the midfielder was tapped up) was unhappy to lose him, signing the Dutchman was both a financial and a footballing success.
He scored twice in Coventry's first win at Villa Park for 63 years, struck in a victory over Liverpool and went on to play 383 Premier League games for four clubs. – Richard Jolly
69. David Bentley – Arsenal to Blackburn, 2006 (£1m)
Set-piece expertise, classy crossing and long-range shooting: the common denominators between Bentley and David Beckham once stretched beyond shared initials. They could capture the limelight and, in his first game after signing a permanent deal with Blackburn, Bentley scored the first Premier League hat-trick against Manchester United.
Scorer and creator, signed for £1 million and sold for £18 million, he represented brilliant business for Blackburn. It was just a shame his career declined after he left. – Richard Jolly
68. Mark Schwarzer – Bradford to Middlesbrough, 1997 (£1.5m)
Schwarzer is the only non-British player to reach 500 Premier League games, and for the vast majority of those, the rock-solid Aussie gloveman was in a Middlesbrough shirt. He was just 24 when he joined Boro and spent 12 seasons at the club; 11 in the top flight.
He was also present for Middlesbrough's first major honor, the 2004 League Cup (although he'd make an uncharacteristic error in the final). After Schwarzer departed for Fulham in 2008, Boro were duly relegated in the following season. – Alex Reid
67. Aaron Lennon – Leeds to Tottenham, 2005 (£1m)
Mauricio Pochettino's Spurs can blind us to the achievements of their predecessors, and the Argentine's arrival marked the beginning of the end for Lennon. But while overshadowed by Gareth Bale, the Leeds native helped Spurs to seven top-six finishes, one trophy and a Champions League quarter-final.
Searingly quick and a fine crosser, he made 364 appearances for Tottenham. It was an even better deal as they took advantage of Leeds's financial problems to get him for a cut-price £1 million. – Richard Jolly
66. Ryan Nelsen – DC United to Blackburn, 2005 (free)
There was a time when Mark Hughes was synonymous with bargain hunting, not moaning about referees. At Blackburn, he got a redoubtable centre-back partnership for a combined £400,000. Christopher Samba was the giant but Nelsen was the leader.
A rare case of a trialist earning a Premier League contract, the New Zealander was captain within two years of his arrival. He played 208 times for Rovers, helping them to four top-10 finishes. – Richard Jolly
65. Marians Pahars – Skonto Riga to Southampton, 1999 (£800,000)
'The Latvian Michael Owen' sealed cult status in his first few months at Southampton. Pahars arrived for the end of the 1998/99 season and his brace in a must-win final game at Everton capped a remarkable relegation escape for the Saints.
He wasn't done there, though, and his 36 goals over the next three seasons proved crucial for a club struggling to survive. Niggling injuries eventually robbed him of his pace and starting spot, but by that stage he'd repaid his fee many times over. – Alex Reid
64. Hugo Lloris – Lyon to Tottenham, 2012 (£7.9m rising to £11.9m)
Lloris has been one of the league's best goalkeepers throughout his time in England, making him a deadline-day steal even with those add-on fees. Now, for the first time since he ended Brad Friedel's insane record of 310 consecutive Premier League games, his starting spot at Spurs is under threat due to Paulo Gazzaniga's excellent showings and his own occasional errors becoming more frequent.
But Lloris isn't done yet – it's easy to forget that, despite already being a fixture in European football, he was only 25 when he joined Spurs. – Huw Davies
63. Yohan Cabaye – Lille to Newcastle, 2011 (£4.8m)
Buy low, sell high. If it's a principle that made Mike Ashley a fortune, his Newcastle gained a reputation as similarly astute traders. The Magpies quadrupled their money on Cabaye when they sold him to Paris Saint-Germain for £19 million.
They had realised that the French market was undervalued. Cabaye averaged a goal every five games and brought the creativity and class in midfield that made him a catalyst for the side who finished 5th in 2012, earning Alan Pardew the LMA Manager of the Year award. – Richard Jolly
62. James Milner – Manchester City to Liverpool, 2015 (free)
It's unlikely that even Liverpool anticipated just how useful Milner might be as a free transfer. He had fallen to the fringes of Manchester City's first team having played key roles in two title-winning sides.
Brendan Rodgers offered him the chance to be a squad player at a club with lofty ambitions, but Milner has surpassed that brief under Jurgen Klopp. He played 40 times in 2016/17, largely as an auxiliary left-back, before returning to central midfield and mucking in there too. A manager's dream. – Daniel Storey
61. Stefano Eranio – Milan to Derby, 1997 (free)
He was either washed-up or he didn't care anymore. Why else would a player who'd won Serie A three times, picked up 20 Italy caps and played in a Champions League final be let loose on a free to join Derby?
It turns out, Eranio was neither of these things. The 30-year-old right-sided midfielder instantly impressed with his dedication, class and ability to pick a pass or find space in a crowd where lesser players couldn't. He spent four seasons excelling for an entertaining Derby side and even scored the first goal, a penalty, at the newly opened Pride Park in 1997. – Alex Reid
100-81 • 80-61 • 60-41 • 40-21 • 20-1
60. Toby Alderweireld – Atletico Madrid to Tottenham, 2015 (£11.5m)
Tottenham knew Alderweireld was capable in the Premier League after a fine loan spell at Southampton, but it's fair to suggest he has probably surpassed even their expectations. In truth, the wonder is that they've managed to hold on to him for so long with bigger and richer clubs circling. That's a testament to Spurs' year-on-year improvement under Pochettino.
Alderweireld is close to the complete defender, perhaps lacking the aerial presence of Virgil van Dijk but ceding nothing else to the world's most expensive centre-back. Tottenham will sure miss him when he's gone. – Daniel Storey
59. Kevin Davies – Southampton to Bolton, 2003 (free)
It looked over. A £7m flop at Blackburn, back when that was big money, not even a return to Southampton had revived Kevin Davies's career. Injury had robbed him of his pace and his goalscoring touch had vanished.
Yet when he arrived at Bolton in 2003, he was a player transformed. Now a strong and cunning centre-forward, he struck 10 goals in a superb debut season, but there was more to him than scoring. Over his 10 seasons, 'Super' Kevin was a leader for overachieving Bolton, menacing defenders, aiding team-mates and even winning an England cap in 2010. – Alex Reid
58. Dimitri Payet – Marseille to West Ham, 2015 (£10.7m)
Those who hadn't watched Payet asked why West Ham were paying just under £11m. Those who had asked how West Ham were paying just under £11m. He arrived from Marseille having created more goalscoring opportunities than any other player in the world's top five leagues, raised the Hammers' levels and took them into Europe. Incredibly, they went into May with a real shot at Champions League qualification.
Seeing a recalled Payet score a belting late winner for France in their Euro 2016 opener, before creating the most chances at the tournament, was genuinely satisfying. – Huw Davies
57. Marc Albrighton – Aston Villa to Leicester, 2014 (free)
A reassuring example of a player taking the patient route to the top, Albrighton spent half a decade as an unremarkable bit-part player at Aston Villa before moving across the Midlands in a free transfer that flew largely under the radar.
Two years later Albrighton was a key figure in one of the most mind-blowing stories in sporting history, his diligent, no-frills wing play a vital part of the Leicester side that stormed to the title. Villa, the club who all too happily released him, were relegated. – Alex Hess
56. Pablo Zabaleta – Espanyol to Manchester City, 2008 (£6.45m)
Not just one of the best players in Manchester City's history, but one of its best-loved, too. Signing the day before Robinho did – and for a fifth of the price – Zabaleta quickly won over the City faithful with his heart-on-sleeve defending and lung-busting exertions down the flank.
His remarkable consistency barely let up throughout his nine years at Eastlands. But it was his grace and generosity off the pitch, and his embracing of the local area, that makes him a true City legend. – Alex Hess
55. Steven N'Zonzi – Amiens to Blackburn, 2009 (£500,000)
Another testament to the rigour of Sam Allardyce's scouting network, N'Zonzi was playing in the French second tier when Blackburn tabled a low-key, six-figure bid in 2009. He quickly established himself as a midfielder without real weakness: calm on the ball, physically imperious and with the lungs of a distance runner.
He's since moved to Roma via Sevilla and Stoke, collected a Europa League medal and played for France in last summer's victorious World Cup final. – Alex Hess
54. Freddie Ljungberg – Halmstads to Arsenal, 1998 (£3m)
It borders on the scandalous that Arsene Wenger was able to acquire his Invincibles-era midfield of Pires-Gilberto-Vieira-Ljungberg for a total of around £15 million.
Ljungberg was perhaps slightly overshadowed by the more eye-catching wing work of his French team-mate, but his poacher's instinct and angled off-the-ball runs were, for a midfielder, a revelation to English eyes. Ljungberg was superb in the Double-winning season of 2001/02 and had a handy knack of saving his best moments for the big games. – Alex Hess
53. Pascal Chimbonda – Bastia to Wigan, 2005 (£500,000)
After Wigan's promotion to the top flight in 2004/05, they were widely tipped to go right back down. Instead, the Latics finished 10th and reached a League Cup final – thanks in no small part to the new signing marauding forward rapidly from right-back.
Infamously, Chimbonda – so good that season he made the PFA Team of the Year – played his last game for Wigan with a transfer request stuffed down his sock. This did little to endear him to manager Paul Jewell, but it did get the France international a move to Tottenham for £4.5m (a tidy £4m profit)... where he duly bombed. – Alex Reid
52. Christian Eriksen – Ajax to Tottenham, 2013 (£11m)
Tottenham's summer of 2013 was a disaster, as they squandered their Gareth Bale proceeds on a clutch of signings who would ultimately fail to make the grade at White Hart Lane.
But in signing Eriksen for £11m, Spurs arguably did the best piece of business in their history. The Dane has become a majestic creative influence, but a player who has also embraced the demands of Mauricio Pochettino's system to become the complete attacking midfielder. – Daniel Storey
51. Dean Holdsworth – Brentford to Wimbledon, 1992 (£720,000)
England had a surfeit of prolific strikers in the '90s. Andy Cole won only 15 caps for his 187 Premier League goals; Les Ferdinand, 17 for his 149; Dion Dublin, four for 111; Chris Sutton, 83 goals but one solitary England appearance. Dean Holdsworth's 63 Premier League goals brought him zero caps.
He shrugged off the leap from third division to shiny top-flight rebrand, finishing third in the 1992/93 scoring charts with 19 goals for Wimbledon and plundering another 17 the following season. Bolton made him their record signing for £3.5m in October 1997. – Huw Davies
50. Luis Suarez – Ajax to Liverpool, 2011 (£22.7m)
Remember when we said context was key at the start? Suarez is one of the most expensive players on this list, but Liverpool made an enormous profit on him and could never have wished to get better value for their initial outlay. Famously, he signed on the same January day that Reds shelled out £35m for Andy Carroll.
Those racism and biting incidents dampened a glorious reputation, but Suarez's goalscoring prowess places him within the very top echelon of Premier League strikers. Only Mohamed Salah has scored more goals in a 38-game Premier League season than Suarez's 31 in 2013/14 – when he missed the first five games through suspension. – Daniel Storey
49. Demba Ba – Hoffenheim to West Ham, 2011 (£500,000)
It's not often that a Premier League club will sign someone two weeks after he failed a medical elsewhere, but a) this is West Ham, and b) it worked.
Ba's injury problems were so well-known that Stoke's aborted £7m transfer in January 2011 resembled a complex insurance scam, but their loss was the relegation-battling Hammers' gain. A four-month pay-as-you-play deal was a punt worth taking: the Senegalese striker scored seven goals in 10 league starts – enough to save his career, if not his club. – Huw Davies
48. Demba Ba – West Ham to Newcastle, 2011 (Free)