FourFourTwo's 100 Best Bargains in Premier League History
Phenomenal free transfers, curious steals from far-flung corners of the world and more: they're all here in our comprehensive celebration of the league's greatest value buys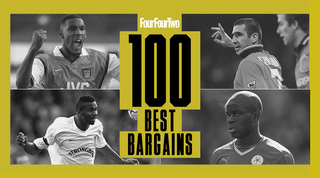 Everybody loves a bargain – and in our opinion, the 100 transfers below are the shrewdest in Premier League history. 
But let's clear something up first and foremost: this list is not ordered by playing ability, but perceived value for money. Context is essential – consider, for example, that the British transfer record upon the Premier League's inception was Paul Gascoigne's £5.5m move from Tottenham to Lazio (see also: David Platt to Bari, Trevor Steven to Marseille). That fee wasn't beaten until Andy Cole's £7m move to Manchester United in January 1995.
Many of the clubs involved here bought low and sold high. Some found value while their rivals splashed immense sums on comparable players. Others simply enjoyed the talent they bought and were rewarded with years of diligent service. The lucky sides managed all three of those things.
Either way, we've had a crack at ranking our 100 favourites. Read on, then tell us your thoughts @FourFourTwo...
100-81 • 80-61 • 60-41 • 40-21 • 20-1
100. Xherdan Shaqiri – Stoke to Liverpool, 2018 (£13m)
Signing relegated players doesn't guarantee a bargain – Sam Clucas cost Swansea more than double what Liverpool paid for Andrew Robertson (more on him later) – but it has served the Reds so well that they've done it four years running: Danny Ings, Georginio Wijnaldum, Robertson and Shaqiri were all prised from the grasp of sinking clubs. Shaqiri was available so cheaply thanks to a knockdown release clause that Jurgen Klopp was all too happy to trigger.
The Swiss star's perfectly-executed bicycle kick on debut, against Manchester United in pre-season, was a sign of what was to come. Unlike Stoke, Liverpool could hardly have asked for more. – Huw Davies
99. Paulo Wanchope – Herediano to Derby, 1997 (£600,000)
It's no longer possible for a club to have a good 'March window', but in March 1997, before transfers were limited to January and the summer, that term applied to Derby.
Jim Smith signed Wanchope and Mauricio Solis from Costa Rica, then Estonian goalkeeper Mart Poom a few days later. Poom (£500,000) and Wanchope more than repaid their modest fees in performances and subsequent transfers, despite their initial arrivals having caused consternation from news crews stuck in the '50s. – Huw Davies
98. Michel Vorm – Utrecht to Swansea, 2011 (£1.5m)
There are different types of statement signings, and Vorm's arrival showed that Swansea wanted a footballing goalkeeper who was equally capable with his feet and his hands. It transpired that he excelled with both.
He swept the board for Swansea's player-of-the-year awards in his debut campaign to help relegation favourites finish in mid-table, and ultimately flourished for three seasons in Wales. Even his 2014 departure proved a great deal for Swansea: they got Gylfi Sigurdsson back in part-exchange from Tottenham. – Richard Jolly
97. Matt Phillips – Wycombe to Blackpool, 2010 (£325,000)
A slow-burner, this one, but in buying Phillips on deadline day, Blackpool reaped the benefits of their mad trolley dash (three days before their opening match, the Premier League debutants still had only 15 players, with Phillips following as one of a dozen late signings).
He scored on debut, and though that would be his only top-flight Tangerines goal, the teenager added invaluable impetus from the bench and some fine assists – including a particularly delightful backheel for Marlon Harewood to score against Aston Villa – before bossing the second tier and being sold for a healthy fee. – Huw Davies
96. Geovanni – Manchester City to Hull, 2008 (free)
Geovanni wore No.10 and scored spectacular goals. He played for Barcelona and Benfica. So far, so stereotypically Brazilian. But he also starred for Hull as an exotic anomaly in their unexpectedly brilliant start to the 2008/09 season.
He had scored a winner in a Manchester derby, but Phil Brown still got him on a free transfer as a 28-year-old. He scored from 25 yards in victory at Arsenal and from 30 to defeat Tottenham as Hull, briefly, went joint top. – Richard Jolly
95. Winston Reid – Midtjylland to West Ham, 2010 (£875k)
West Ham supporters have a penchant for flair players; those who have lifted the club above mediocrity and allowed them to dream – think Joe Cole, Paolo Di Canio and Dimitri Payet.
But in Reid they found an alternative cult hero, one whose impact came through his commitment and loyalty. He stayed following relegation, has repeatedly battled back after injury and stood tall as a monument to permanence while almost everything around him changed. – Daniel Storey
94. Alex Song – Bastia to Arsenal, 2006 (£1m)
In the seasons after his year-long loan was made permanent in 2006, a teenage Song struggled. Another failed Arsene Wenger gamble, the world hooted. Until 2008/09 that was, when it clicked.
A strong midfield anchor and slick passer, the Cameroonian was also comfortable in attack, where spectacular chipped assists to Robin van Persie became a trademark. After four excellent seasons, Song was poached by Barcelona for 15 times his original price – although his career never reached the heights of those lofted passes after his Gunners spell ended. – Alex Reid
93. Joao Moutinho – Monaco to Wolves, 2018 (£5m)
Wolves's current squad has a few candidates for bargain signings, at least partly thanks to the network of contacts provided to the club by Jorge Mendes's cosy relationship with owners Fosun.
But none may prove to be better business than the remarkably skinny £5m they paid to Monaco for Moutinho. Even at the age of 32, the Portugal international adds a vital creative force and his seniority complements Ruben Neves's youth perfectly. – Daniel Storey
92. Ayoze Perez – Tenerife to Newcastle, 2014 (£1.5m)
'Plethora' means not just a lot, but too many – and mid-2010s Newcastle made a plethora of bad European signings. Amid various Frenchmen and De Jongs, however, was a 20-year-old Spanish bargain who had reportedly been courted by both Barcelona and Real Madrid.
Perez doesn't turn many heads, but in a low-scoring side he averaged a goal or assist every other league game last season – a better rate than Messrs Shaqiri and Zaha, among others – while only five other players outside the 'big six' clubs contributed more in 2018. If Newcastle go down again, Perez will have more suitors this time. – Huw Davies
91. Robert Huth – Stoke to Leicester, 2015 (£3m)
"So if you're just joining us…#lcfc are winning 3-0 and Robert Huth is on a hat-trick." Leicester's official Twitter feed perfectly captured the improbability of victory at Manchester City in their title-winning campaign.
But Huth's contribution stretched far beyond those two goals – although he did also score a crucial winner at White Hart Lane against the Foxes' closest challengers for much of that season. His old-school centre-back partnership with Wes Morgan helped Leicester keep five consecutive clean sheets in a nail-biting run-in, but he first excelled at the other end of the table: when on loan, he was vital in their great escape of 2015. – Richard Jolly
90. Scott Dann – Blackburn to Crystal Palace, 2014 (£1.5m)
Dann is one of those players who is too easy to overlook. He's appeared in the Premier League for nine of the last 10 seasons, yet his dependency rarely makes him stand out.
But Crystal Palace have wasted good money on bad players far too often over the last half decade, so the £1.5m they gave Blackburn for Dann deserves to be shouted from the rooftops for its savviness. Head down, get on with it, no fuss. – Daniel Storey
89. Patrick van Aanholt – Chelsea to Sunderland, 2014 (£1.5m)
Losing Van Aanholt was no skin off Chelsea's nose – he was turning 24 and had spent the previous two-and-a-half years at Vitesse, where Chelsea prospects go to die. But without them the Holland international has at least, and at last, shown his Premier League worth.
He repaid Sunderland's faith on the pitch and then off it, netting them an eight-figure profit in joining Crystal Palace, where he continues to provide an unexpected goal threat – not many left-backs score five per season from open play. – Huw Davies
88. Steven Davis – Rangers to Southampton, 2012 (£800,000)
After six-and-a-half years at Southampton, Davis has just returned to Rangers, where his previous spell ended badly. Indeed, some would argue he's joined a new club altogether. Davis actually joined newly-promoted Saints for nothing when Rangers went pop; a small compensation fee followed, but £800,000 still represents just £3,500 per Southampton appearance (226 of them in all).
He scored against reigning champions Manchester City within three minutes of making his debut, then offered consistency, drive and attacking movement even when playing as the world's least threatening No.10. – Huw Davies
87. Danny Murphy – Tottenham to Fulham, 2007 (free)
In 2007, Murphy was 30. He had enjoyed a memorable seven years at Anfield, moved to Charlton and seen a big transfer to Tottenham go sour. But having played regularly since the age of 17, he could have relaxed.
Instead, he chose to move to Fulham, helped keep them up and was then a key part of a team that reached the Europa League final in 2010. In his last season, at the age of 34, he created more chances than any other Englishman. – Daniel Storey
86. Oyvind Leonhardsen – Rosenborg to Wimbledon, 1994 (£650,000)
Don't laugh, but Magpie-baiting, Bird-abusing punchline Joe Kinnear was once a savvy manager. During Wimbledon's early Premier League seasons, he picked up several bargain buys; none better than Norwegian midfielder Leonhardsen.
On the left wing or in the middle, Leonhardsen's industry and eye for goal made him an instant fan favourite. Wimbledon achieved two top-10 finishes in his three seasons at the club, and it's not entirely coincidental that, after his 1997 departure to Liverpool for £3.5m, the Dons slid down the table and were relegated in 2000. – Alex Reid
85. Brede Hangeland – Copenhagen to Fulham, 2008 (£2.5m)
Roy Hodgson made his name in Scandinavia. He made one of his finest Fulham signings there too, bringing in his former Viking centre-back and skipper Hangeland to help save the Cottagers from relegation.
Fulham got 270 appearances for their £2.5 million. With Hangeland the cornerstone of their defence, they finished seventh, eighth and ninth and reached the 2010 Europa League Final. It was the most remarkable part of his time at Craven Cottage... until Felix Magath told him to treat his injured leg with cheese. – Richard Jolly
84. Robbie Savage – Crewe to Leicester, 1997 (£400,000)
Whatever your thoughts on Sav the pundit, the Manchester United trainee proved a steal of a buy when Martin O'Neill nabbed the 22-year-old from Crewe Alexandra. With his flowing, young Jaime Lannister hair and filthy, Tyrion Lannister mouth, the combative midfielder was never dull.
He wound up opponents and racked up yellow cards, but was dynamic, committed and could play a bit as well. He featured over 200 times for Leicester as they won the League Cup in 2000, and was then bought by Birmingham for £1.25m in 2001. – Alex Reid
83. James Beattie – Blackburn to Southampton, 1997 (£1m)
Beattie was a bit-part in Blackburn's £7m deal for Kevin Davies in 1997, yet the 20-year-old soon proved his worth. The powerful striker scored just six times in his first season, but two goals in his final three games – including a spectacular volley against Leicester – helped Saints escape relegation.
Injuries ruined his second season, but from 2000 Beattie began regularly reaching double figures. In 2002/03 he struck 23 Premier League goals and eventually joined Everton in 2005 for £6m. Not bad for a makeweight. – Alex Reid
82. James McCarthy – Hamilton Academical to Wigan, 2009 (£1.1m rising to £3m)
Impressed by the Glasgow-born central midfielder's young, scrappy and hungry performances as Hamilton gatecrashed the Scottish top flight, Roberto Martinez's Wigan swooped to sign James McCarthy in 2009.
He'd made his debut at 15 and won Scotland's Young Player of the Year award, but even Wigan may not have predicted that the future Republic of Ireland international would put in such commanding displays as to attract a £13m offer from Everton, where he was reunited with Martinez and half of his Wigan team-mates. – Huw Davies
81. James McArthur– Hamilton Academical to Wigan, 2010 (£540,000)
Impressed by the Glasgow-born central midfielder's young, scrappy and hungry performances as Hamilton gatecrashed the Scottish top flight, Roberto Martinez's Wigan swooped to sign James McArthur in 2010.
He'd been impressive for the Accies, but even Wigan may not have predicted that Crystal Palace would later make him their record transfer. McArthur stayed and McCarthy left when Wigan went down in 2013, but the latter playing a few games before joining Everton means the Latics' midfield in 2013/14 included McCarthy, McArthur, McEachran, McCann, McClean and McManaman. Lovely. – Huw Davies
100-81 • 80-61 • 60-41 • 40-21 • 20-1
80. Andre Ayew – Marseille to Swansea, 2015 (free)
A particularly odd one. Swansea looked have played the transfer game perfectly when they signed Ayew on a free transfer from Marseille, watched him hit the ground running in the Premier League and then sold him a year later for £20.5m to West Ham, where his form took a downturn.
The fly in the ointment is that the Welsh side then paid almost the same again to bring him back, where it hasn't worked out. But we'll always have 2015/16. – Daniel Storey
79. Craig Dawson – Rochdale to West Brom, 2010 (£270,000)
Scoring goals for Rochdale is a strangely successful apprenticeship to play in the Premier League, as Glenn Murray, Grant Holt, Rickie Lambert and Adam Le Fondre can testify.
Dawson was a prolific defender at Spotland, scouted by virtually everyone and signed by West Brom for a fee seemingly plucked from the 1980s. Tony Pulis took to the centre-back, converting him to a right-back and making him a stalwart of a defence which, even in 2017/18 relegation, still only conceded 56 times. – Richard Jolly
78. Michael Carrick – West Ham to Tottenham, 2004 (£3.5m)
Of West Ham's touted youngsters at the turn of the century, Carrick was a distant third behind Joe Cole and Rio Ferdinand. So much so that after the Hammers' relegation in 2003, the 22-year-old was left to play a season of second-tier football.
Even after his move to Spurs in 2004, manager Jacques Santini didn't seem to fancy him – or indeed, even know who he was at first – and it took Martin Jol's arrival to give Carrick a platform upon which to show his classy playmaking skills. A fine second season ended in disappointment after an unfortunate encounter with a lasagne, but Manchester United had seen enough and coughed up over £18m. A decent profit for a more than decent player. – Alex Reid
77. Pascal Gross – Ingolstadt to Brighton, 2017 (£3m)
Brighton stole a march on their Premier League bottom-half peers when they managed to pick up one of the Bundesliga's most creative players for a fee of just £3m immediately following their promotion. Gross had just been relegated with Ingolstadt, but no player had created more chances in Germany that season.
And so the playmaker merrily carried on doing exactly the same with Chris Hughton's side in the Premier League, scoring seven and assisting eight more in his debut campaign. Scouting suddenly looked very easy indeed. – Daniel Storey
76. Claus Lundekvam – Brann to Southampton, 1996 (£400,000)
The 23-year-old Norwegian joined Southampton for a pittance and made 290 Premier League appearances there (which is a lot), scoring one Premier League goal (which isn't). He retired at Saints a full 12 years later, having given them so much as a captain, off-field influence and no-nonsense centre-back, and last year was even voted into an all-time Southampton XI.
His career had an unhappy postscript, featuring alcoholism, a drug addiction and two suicide attempts, but now he works to help others enduring the same hell. – Huw Davies
75. Josh King – Blackburn to Bournemouth, 2015 (£1m)
Bournemouth's transfer business upon invading the Premier League wasn't convincing: Max Gradel was an ambitious purchase that didn't work out, while Lee Tomlin and Tyrone Mings (even allowing for injury) were overpriced and Sylvain Distin was over the hill.
King, signed on a free from Blackburn before commanding £1m at tribunal, could have gone the same way – this was a forward who'd scored six times in 90 Championship appearances – but he flourished on the south coast, peaking with a 16-goal Premier League campaign in 2016/17. – Huw Davies
74. Gary Speed – Newcastle to Bolton, 2004 (£750,000)
When Speed signed for Bolton at age 34, it seemed an age since he'd been the midfield tyro that helped Leeds win a league title in 1992. Yet this veteran was far from a spent force.
Speed might have lost some of his dynamism, but his intelligence, skill, commitment, vision and eye for goal remained. In the Welshman's three full Premier League seasons, Bolton finished 6th, 8th and 7th – with Speed contributing eight league goals in 2006/07; the season he turned 37 years old. – Alex Reid
73. Gareth McAuley – Ipswich to West Brom, 2011 (free)
Recently appointed a MBE for his services to Northern Irish football, McAuley had to wait for his chance at the top. He was 24 when he signed for his first English club, Lincoln City, and didn't play his first Premier League game until the age of 31.
That came after a free transfer move to West Brom, which proved to be a masterstroke. He only left in June 2018 after 203 Premier League appearances, including one surprisingly prolific 2016/17 season of seven goals. A Pulis dream. – Daniel Storey
72. Niall Quinn – Man City to Sunderland, 1996 (£1.3m)
Paying £1.3m for a striker just a few months shy of his 30th birthday looked poor business in the mid-90s – more so when Quinn's injury-hit first season ended in the Black Cats' relegation from the Premier League. But the arrival of Kevin Phillips and Quinn's return to fitness revived Sunderland.
The ultimate little-and-large partnership, Phillips and the 6ft 4in Quinn terrorised the second tier, then did much the same after their return to the Prem as Sunderland finished 7th twice in a row. Quinn became a talismanic figure on Wearside, as a player and later as a chairman, when he once spent £8,000 of his own money to get stranded supporters home. – Alex Reid
71. Eric Dier – Sporting to Tottenham, 2014 (£4m)
There are still some doubts as to whether Dier is a truly elite defensive midfielder or merely an effective utility player capable of filling in at right-back or in central defence. It's also doubtful whether Tottenham could still command the £50m that Manchester United were reportedly willing to pay in summer 2017.
But what isn't in question is that Tottenham found a gem of a player in Portugal for a fee of £4m, and one who didn't even need to acclimatise to English football. – Daniel Storey
70. George Boateng – Feyenoord to Coventry, 1997 (£250,000)
Boateng played at Coventry for about 18 months, and they recouped 18 times their initial investment when selling him to Aston Villa. If Gordon Strachan (who felt the midfielder was tapped up) was unhappy to lose him, signing the Dutchman was both a financial and a footballing success.
He scored twice in Coventry's first win at Villa Park for 63 years, struck in a victory over Liverpool and went on to play 383 Premier League games for four clubs. – Richard Jolly
69. David Bentley – Arsenal to Blackburn, 2006 (£1m)
Set-piece expertise, classy crossing and long-range shooting: the common denominators between Bentley and David Beckham once stretched beyond shared initials. They could capture the limelight and, in his first game after signing a permanent deal with Blackburn, Bentley scored the first Premier League hat-trick against Manchester United.
Scorer and creator, signed for £1 million and sold for £18 million, he represented brilliant business for Blackburn. It was just a shame his career declined after he left. – Richard Jolly
68. Mark Schwarzer – Bradford to Middlesbrough, 1997 (£1.5m)
Schwarzer is the only non-British player to reach 500 Premier League games, and for the vast majority of those, the rock-solid Aussie gloveman was in a Middlesbrough shirt. He was just 24 when he joined Boro and spent 12 seasons at the club; 11 in the top flight.
He was also present for Middlesbrough's first major honor, the 2004 League Cup (although he'd make an uncharacteristic error in the final). After Schwarzer departed for Fulham in 2008, Boro were duly relegated in the following season. – Alex Reid
67. Aaron Lennon – Leeds to Tottenham, 2005 (£1m)
Mauricio Pochettino's Spurs can blind us to the achievements of their predecessors, and the Argentine's arrival marked the beginning of the end for Lennon. But while overshadowed by Gareth Bale, the Leeds native helped Spurs to seven top-six finishes, one trophy and a Champions League quarter-final.
Searingly quick and a fine crosser, he made 364 appearances for Tottenham. It was an even better deal as they took advantage of Leeds's financial problems to get him for a cut-price £1 million. – Richard Jolly
66. Ryan Nelsen – DC United to Blackburn, 2005 (free)
There was a time when Mark Hughes was synonymous with bargain hunting, not moaning about referees. At Blackburn, he got a redoubtable centre-back partnership for a combined £400,000. Christopher Samba was the giant but Nelsen was the leader.
A rare case of a trialist earning a Premier League contract, the New Zealander was captain within two years of his arrival. He played 208 times for Rovers, helping them to four top-10 finishes. – Richard Jolly
65. Marians Pahars – Skonto Riga to Southampton, 1999 (£800,000)
'The Latvian Michael Owen' sealed cult status in his first few months at Southampton. Pahars arrived for the end of the 1998/99 season and his brace in a must-win final game at Everton capped a remarkable relegation escape for the Saints.
He wasn't done there, though, and his 36 goals over the next three seasons proved crucial for a club struggling to survive. Niggling injuries eventually robbed him of his pace and starting spot, but by that stage he'd repaid his fee many times over. – Alex Reid
64. Hugo Lloris – Lyon to Tottenham, 2012 (£7.9m rising to £11.9m)
Lloris has been one of the league's best goalkeepers throughout his time in England, making him a deadline-day steal even with those add-on fees. Now, for the first time since he ended Brad Friedel's insane record of 310 consecutive Premier League games, his starting spot at Spurs is under threat due to Paulo Gazzaniga's excellent showings and his own occasional errors becoming more frequent.
But Lloris isn't done yet – it's easy to forget that, despite already being a fixture in European football, he was only 25 when he joined Spurs. – Huw Davies
63. Yohan Cabaye – Lille to Newcastle, 2011 (£4.8m)
Buy low, sell high. If it's a principle that made Mike Ashley a fortune, his Newcastle gained a reputation as similarly astute traders. The Magpies quadrupled their money on Cabaye when they sold him to Paris Saint-Germain for £19 million.
They had realised that the French market was undervalued. Cabaye averaged a goal every five games and brought the creativity and class in midfield that made him a catalyst for the side who finished 5th in 2012, earning Alan Pardew the LMA Manager of the Year award. – Richard Jolly
62. James Milner – Manchester City to Liverpool, 2015 (free)
It's unlikely that even Liverpool anticipated just how useful Milner might be as a free transfer. He had fallen to the fringes of Manchester City's first team having played key roles in two title-winning sides.
Brendan Rodgers offered him the chance to be a squad player at a club with lofty ambitions, but Milner has surpassed that brief under Jurgen Klopp. He played 40 times in 2016/17, largely as an auxiliary left-back, before returning to central midfield and mucking in there too. A manager's dream. – Daniel Storey
61. Stefano Eranio – Milan to Derby, 1997 (free)
He was either washed-up or he didn't care anymore. Why else would a player who'd won Serie A three times, picked up 20 Italy caps and played in a Champions League final be let loose on a free to join Derby?
It turns out, Eranio was neither of these things. The 30-year-old right-sided midfielder instantly impressed with his dedication, class and ability to pick a pass or find space in a crowd where lesser players couldn't. He spent four seasons excelling for an entertaining Derby side and even scored the first goal, a penalty, at the newly opened Pride Park in 1997. – Alex Reid
100-81 • 80-61 • 60-41 • 40-21 • 20-1
60. Toby Alderweireld – Atletico Madrid to Tottenham, 2015 (£11.5m)
Tottenham knew Alderweireld was capable in the Premier League after a fine loan spell at Southampton, but it's fair to suggest he has probably surpassed even their expectations. In truth, the wonder is that they've managed to hold on to him for so long with bigger and richer clubs circling. That's a testament to Spurs' year-on-year improvement under Pochettino.
Alderweireld is close to the complete defender, perhaps lacking the aerial presence of Virgil van Dijk but ceding nothing else to the world's most expensive centre-back. Tottenham will sure miss him when he's gone. – Daniel Storey
59. Kevin Davies – Southampton to Bolton, 2003 (free)
It looked over. A £7m flop at Blackburn, back when that was big money, not even a return to Southampton had revived Kevin Davies's career. Injury had robbed him of his pace and his goalscoring touch had vanished.
Yet when he arrived at Bolton in 2003, he was a player transformed. Now a strong and cunning centre-forward, he struck 10 goals in a superb debut season, but there was more to him than scoring. Over his 10 seasons, 'Super' Kevin was a leader for overachieving Bolton, menacing defenders, aiding team-mates and even winning an England cap in 2010. – Alex Reid
58. Dimitri Payet – Marseille to West Ham, 2015 (£10.7m)
Those who hadn't watched Payet asked why West Ham were paying just under £11m. Those who had asked how West Ham were paying just under £11m. He arrived from Marseille having created more goalscoring opportunities than any other player in the world's top five leagues, raised the Hammers' levels and took them into Europe. Incredibly, they went into May with a real shot at Champions League qualification.
Seeing a recalled Payet score a belting late winner for France in their Euro 2016 opener, before creating the most chances at the tournament, was genuinely satisfying. – Huw Davies
57. Marc Albrighton – Aston Villa to Leicester, 2014 (free)
A reassuring example of a player taking the patient route to the top, Albrighton spent half a decade as an unremarkable bit-part player at Aston Villa before moving across the Midlands in a free transfer that flew largely under the radar.
Two years later Albrighton was a key figure in one of the most mind-blowing stories in sporting history, his diligent, no-frills wing play a vital part of the Leicester side that stormed to the title. Villa, the club who all too happily released him, were relegated. – Alex Hess
56. Pablo Zabaleta – Espanyol to Manchester City, 2008 (£6.45m)
Not just one of the best players in Manchester City's history, but one of its best-loved, too. Signing the day before Robinho did – and for a fifth of the price – Zabaleta quickly won over the City faithful with his heart-on-sleeve defending and lung-busting exertions down the flank.
His remarkable consistency barely let up throughout his nine years at Eastlands. But it was his grace and generosity off the pitch, and his embracing of the local area, that makes him a true City legend. – Alex Hess
55. Steven N'Zonzi – Amiens to Blackburn, 2009 (£500,000)
Another testament to the rigour of Sam Allardyce's scouting network, N'Zonzi was playing in the French second tier when Blackburn tabled a low-key, six-figure bid in 2009. He quickly established himself as a midfielder without real weakness: calm on the ball, physically imperious and with the lungs of a distance runner.
He's since moved to Roma via Sevilla and Stoke, collected a Europa League medal and played for France in last summer's victorious World Cup final. – Alex Hess
54. Freddie Ljungberg – Halmstads to Arsenal, 1998 (£3m)
It borders on the scandalous that Arsene Wenger was able to acquire his Invincibles-era midfield of Pires-Gilberto-Vieira-Ljungberg for a total of around £15 million.
Ljungberg was perhaps slightly overshadowed by the more eye-catching wing work of his French team-mate, but his poacher's instinct and angled off-the-ball runs were, for a midfielder, a revelation to English eyes. Ljungberg was superb in the Double-winning season of 2001/02 and had a handy knack of saving his best moments for the big games. – Alex Hess
53. Pascal Chimbonda – Bastia to Wigan, 2005 (£500,000)
After Wigan's promotion to the top flight in 2004/05, they were widely tipped to go right back down. Instead, the Latics finished 10th and reached a League Cup final – thanks in no small part to the new signing marauding forward rapidly from right-back.
Infamously, Chimbonda – so good that season he made the PFA Team of the Year – played his last game for Wigan with a transfer request stuffed down his sock. This did little to endear him to manager Paul Jewell, but it did get the France international a move to Tottenham for £4.5m (a tidy £4m profit)... where he duly bombed. – Alex Reid
52. Christian Eriksen – Ajax to Tottenham, 2013 (£11m)
Tottenham's summer of 2013 was a disaster, as they squandered their Gareth Bale proceeds on a clutch of signings who would ultimately fail to make the grade at White Hart Lane.
But in signing Eriksen for £11m, Spurs arguably did the best piece of business in their history. The Dane has become a majestic creative influence, but a player who has also embraced the demands of Mauricio Pochettino's system to become the complete attacking midfielder. – Daniel Storey
51. Dean Holdsworth – Brentford to Wimbledon, 1992 (£720,000)
England had a surfeit of prolific strikers in the '90s. Andy Cole won only 15 caps for his 187 Premier League goals; Les Ferdinand, 17 for his 149; Dion Dublin, four for 111; Chris Sutton, 83 goals but one solitary England appearance. Dean Holdsworth's 63 Premier League goals brought him zero caps.
He shrugged off the leap from third division to shiny top-flight rebrand, finishing third in the 1992/93 scoring charts with 19 goals for Wimbledon and plundering another 17 the following season. Bolton made him their record signing for £3.5m in October 1997. – Huw Davies
50. Luis Suarez – Ajax to Liverpool, 2011 (£22.7m)
Remember when we said context was key at the start? Suarez is one of the most expensive players on this list, but Liverpool made an enormous profit on him and could never have wished to get better value for their initial outlay. Famously, he signed on the same January day that Reds shelled out £35m for Andy Carroll.
Those racism and biting incidents dampened a glorious reputation, but Suarez's goalscoring prowess places him within the very top echelon of Premier League strikers. Only Mohamed Salah has scored more goals in a 38-game Premier League season than Suarez's 31 in 2013/14 – when he missed the first five games through suspension. – Daniel Storey
49. Demba Ba – Hoffenheim to West Ham, 2011 (£500,000)
It's not often that a Premier League club will sign someone two weeks after he failed a medical elsewhere, but a) this is West Ham, and b) it worked.
Ba's injury problems were so well-known that Stoke's aborted £7m transfer in January 2011 resembled a complex insurance scam, but their loss was the relegation-battling Hammers' gain. A four-month pay-as-you-play deal was a punt worth taking: the Senegalese striker scored seven goals in 10 league starts – enough to save his career, if not his club. – Huw Davies
48. Demba Ba – West Ham to Newcastle, 2011 (Free)
A relegation-release clause in his Hammers contract sent Ba to Newcastle, who promptly and inexplicably finished fifth. Countryman Papiss Demba Cisse arrived in January, triggering an odd quirk: Ba had nabbed 16 goals in his first 20 Premier League games for Newcastle, and both players scored on Cisse's debut – but then Ba didn't score again that season in 14 starts, while Cisse netted 12 in 13. Weird.
Ba was still performing, though, and the goals returned in 2012/13 (13 in 20 games) before he fetched Newcastle £7m from Chelsea. – Huw Davies
47. Cesar Azpilicueta – Marseille to Chelsea, 2012 (£6.5m)
"Jean-Claude Dassier [the Marseille president] told us he's Spain's future right-back. If that's the case, I'll eat a rat."
So said Eric Di Meco, former Marseille and France defender, shortly after Azpilicueta joined l'OM in 2010. Within two years, Azpilicueta had joined Chelsea; within two-and-a-half, he was receiving his first Spain cap and Di Meco was eating a rat (don't watch – it's disgusting).
For just £6.5m Chelsea found a player who was reliable on the right, the left and in the centre. Tasty. – Huw Davies
46. Paolo Di Canio – Sheffield Wednesday to West Ham, 1999 (£1.75m)
A Dr Jekyll and Signor Hyde figure, but the Hammers saw more of Di Canio's Hyde side than any other club. Sheffield Wednesday wanted rid of the Italian after his shove on referee Paul Alcock, hence the cut-price move to London's East End.
His vision, skill and fiery commitment instantly endeared him to his new club's fans. As did the goals, including a spectacular scissor kick against Wimbledon. Alex Ferguson tried to sign the thirty-something for Manchester United in 2001/02, but Di Canio stayed put until even his heroics couldn't prevent West Ham's relegation in 2003. – Alex Reid
45. Yakubu – Everton to Blackburn, 2011 (£1.5m)
The Yak was not a player famed for a love of tracking back, and he'd had his injury issues at Everton, but when fit the Nigerian was a proven Premier League goal-getter. So Blackburn nabbing the definitely-28-year-old striker for £1.5m always looked good business.
It looked even better on his debut when Yakubu scored twice in a 4-3 win over Arsenal. Further heroics followed, including four goals in a 4-2 win over Swansea and a brace against Manchester United. He finished the season with 17 goals from 30 league games, but thanks to the genius of Steve Kean, Blackburn were still relegated and Yakubu left after one spectacular season. Sigh. – Alex Reid
44. Michael Keane – Manchester United to Burnley, 2014 (£2m)
Another fine example of how, if judged on the consistency with which they churn out Premier League-level players, then Manchester United's academy has been the most productive in the country for some time.
Keane may never have been destined to make it at Old Trafford, but it was at Burnley where he came of age thanks to regular exposure to top-flight football. Under Sean Dyche's guidance he matured, blossomed and was sold on after three years for 12 times his cost. Ker-ching. – Alex Hess
43. Emmanuel Adebayor – Monaco to Arsenal, 2006 (£3m)
The last great bargain of Arsene Wenger's reign? Adebayor's acquisition in 2006 was, at the time, an example of the manager doing what he'd become renowned for: plucking a youngster from semi-obscurity in France and fast-tracking him to the sharp end of English football.
And while Adebayor's career derailed some years ago – and neither is he remembered particularly fondly in north London these days – it's worth remembering just how good he was in his unplayable pomp. He peaked in 2007/08, netting 24 Premier League goals as the Gunners went close in the title race. – Alex Hess
42. Gary Cahill – Bolton to Chelsea, 2012 (£7m)
Not many get a relegation and Champions League win in the same season. Cahill started 2011/12 at Bolton, who ultimately went down, and ended it anchoring a patched-up Chelsea defence to European glory.
He showed that January buys need not be overpriced and can have an early impact. Cahill went on to win every major English and European trophy at Chelsea, contributing valuable goals in his 289 games and, in effect, captaining them to the title in 2016/17. – Richard Jolly
41. Jussi Jaaskelainen – VPS to Bolton, 1997 (£100,000)
It works out at £188 a game. Jaaskelainen played 530 times for Bolton – a tally topped only by Eddie Hopkinson and Roy Greaves – which, for just £100,000, makes him one of the great value-for-money buys in recent history.
The Finn's understated style generated few headlines, and he took a while to convince Trotters fans of his worth, but he was an ever-present in six top-flight campaigns and helped Bolton to four consecutive top-eight finishes. Only four foreigners have made more than his 436 Premier League appearances. – Richard Jolly
100-81 • 80-61 • 60-41 • 40-21 • 20-1
40. Mohamed Salah – Roma to Liverpool, 2017 (£34m)
Salah is easily this top 100's most expensive player – oh, er, spoiler alert – but many people, not least Liverpool fans, would call him the bargain of the decade. For a start, in the same transfer window, Romelu Lukaku cost £75m, Alvaro Morata £60m and Gylfi Sigurdsson £45m.
Then £34m man Salah broke the record for most goals in a 38-game Premier League season, scoring 32 times in 36 appearances, and helped Liverpool to the Champions League final, where he was murdered by Sergio Ramos. – Huw Davies
39. Clint Dempsey – New England Revolution to Fulham, 2007 (£1.5m)
A Premier League club buying a player direct from MLS is a risk, but whoever green-lit the move for a 23-year-old Dempsey deserves a fist bump and a bro shake.
'Deuce' scored a crucial goal in his first half-season at Fulham, a winner over Liverpool which effectively guaranteed top-flight football. A fine all-round attacker and a terrific aerial threat, Dempsey became more prolific the longer he was in west London; the 23 goals he scored in his last full season prompted Tottenham to spend £6m on him in 2012. – Alex Reid
38. Michael Ballack – Bayern Munich to Chelsea, 2006 (free)
There's a good argument to be make that among a generation of all-time great midfielders – Keane, Scholes, Gerrard, Xavi and the rest – that Ballack was the most complete. He had brains, brawn, height, two good feet, vision, an eye for goal and a delicious nasty streak.
Crowbarring himself into a team built around Frank Lampard meant he never hit his full heights at Chelsea, but to acquire a player that absurdly good – he finished with an international record of 42 goals in 98 games for Germany – for a fee of... well, nothing at all, is quite the deal. – Alex Hess
37. Christopher Samba – Hertha Berlin to Blackburn, 2007 (£450,000)
The Congolese colossus was warming the bench for Hertha Berlin having made a handful of senior starts in his entire career when Mark Hughes brought him to Blackburn for a pittance in 2007.
He quickly became a defensive titan alongside fellow bargain Ryan Nelsen (see No.66): aggressive, dependable and emphatically no-frills. Moves to Anzhi, QPR and Dynamo Moscow brought him more dollars than they did accolades, but for his five years at Ewood Park there were few better. – Alex Hess
36. Carlo Cudicini – Castel Di Sangro to Chelsea, 1999 (£200,000)
The Miracle of Castel Di Sangro profiles a club from a tiny Italian town of 5,500 inhabitants making it into Serie B and surviving (temporarily), despite drug busts, fatal car crashes and a 'new signing' who turned out to be an actor.
Amid the madness (after the brilliant book was published) emerged reserve goalkeeper Carlo Cudicini, son of former Roma and Milan stopper Fabio. Why Chelsea plucked the 25-year-old from Serie C1 is a mystery, but he ended up being an extremely reliable No.1 who deserves more appreciation today – only six Premier League keepers had or have a better clean-sheet ratio. – Huw Davies
35. Marko Arnautovic – Werder Bremen to Stoke, 2013 (£2m)
The problem with Arnautovic succeeding at Stoke, having arrived with a certain status (partly as Mario Balotelli's mate), is that it convinced Mark Hughes to continue down the marquee-signing path that doomed QPR: after Arnautovic came Bojan and Ibrahim Afellay from Barcelona, Xherdan Shaqiri from Inter and Jesé from PSG, with mixed results.
But the Austrian gave Stoke fight as well as flair, becoming ever more consistent until he fetched Stoke £25m. Then West Ham made him a striker and he peaked, while Stoke slipped into the Championship. – Huw Davies
34. Youri Djorkaeff – Kaiserslautern to Bolton, 2002 (free)
Bolton's plan to create a set of aged, discount Galacticos in north-west England didn't always pay off (see: Jardel, Mario), but it certainly worked with Djorkaeff. And he was the first; therefore, incredibly influential to Sam Allardyce's grand plan.
A World Cup winner with France, this exquisite between-the-lines attacker was a month away from his 34th birthday when he signed for Bolton. Yet the hurly-burly of the Premier League rarely seemed to faze a player who always found space, slid in killer passes and produced some spectacular finishes. By the time he departed, the Trotters had been transformed from unfancied newcomers to 8th-place finishers in the Premier League. – Alex Reid
33. Robbie Keane – Leeds to Tottenham, 2002 (£7m)
Consider this. 1999: Keane costs Coventry £6m to buy from Wolves. 2000: he costs Inter £13m. 2001: Leeds, £12m. 2002: Spurs buy Keane for £7m. 2008: Spurs sell Keane to Liverpool for £19m up front. February 2009: Spurs buy Keane back again for £12m up front. And 2011: Spurs sell Keane to LA Galaxy for £3.5m.
Now, you may ask why clubs kept getting rid, but the main takeaway is this: the Irishman scored hatfuls of goals for Spurs, was named their Player of the Year three times, and effectively cost them minus £3.5m in transfer fees. Top Levying. – Huw Davies
32. Patrice Evra – Monaco to Manchester United, 2006 (£5.5m)
Ashley Cole probably pips Evra to the award of best left-back in Premier League history, but the Frenchman should take that as compliment rather than insult.
It's hard to imagine a foreign player more enthusiastic about buying into the culture of a football club than Evra – he was a cult hero by sheer personality. He won six league titles and the Champions League, but Evra also played with a semi-permanent smile. He was a reminder that football is supposed to be fun. – Daniel Storey
31. Gus Poyet – Real Zaragoza to Chelsea, 1997 (free)
One of the great free transfers of the Premier League era, Uruguay international Poyet turned up at Stamford Bridge in 1997 and promptly picked up a cruciate injury. An inauspicious start, although he did return to play in the side that beat Stuttgart in the 1998 Cup Winners' Cup Final.
After this, the goals flowed. Many of them important, most of them spectacular; Poyet nabbed a winner over Real Madrid, two FA Cup semi-final goals to see off Newcastle and more, all while acting as manager Claudio Ranieri's unofficial translator. The midfielder left the Blues in 2001, having scored 49 goals in 145 games, while pulling in a £2.2m fee from Tottenham. – Alex Reid
30. Michu – Rayo Vallecano to Swansea, 2012 (£2m)
Some flames burn long, slow and steady. Others spend a decade doing very little in the Spanish lower leagues before a two-year blaze of glory at the top. Michu had put in a 17-goal season for Rayo Vallecano when he joined Swansea, but his debut campaign in Wales was remarkable nonetheless: a year that made King Midas look like the Princess Bride.
Four years later he was retired, having long since returned to the Iberian anonymity from whence he came. A player firmly in the 'brief but bright' bracket – no shame in that. – Alex Hess
29. Ashley Cole – Arsenal to Chelsea, 2006 (£5m)
While Cole won few friends by the manner of his move – infamously recounted in his autobiography – he sure won a lot of trophies after it. Eight, to be precise, plus an enduring reputation as one of the finest English full-backs of all time.
Perhaps the Premier League's most consistently excellent performer of the last 20 years – and the only member of England's 'Golden Generation' to live up to that label on the world stage. – Alex Hess
28. Mikel Arteta – Real Sociedad to Everton, 2005 (£2m)
A midfielder defined by his haircut: neat, tidy, consistent, unwavering. Arteta's career was in danger of drifting before he joined Everton for a miniscule fee of £2m in 2005. In that same year, Everton spent the same on Andy van der Meyde and almost three times as much as Per Kroldrup.
Arteta won the club's Player of the Season award in his first full year, and eventually played more than 200 games for them before getting his dream move to Arsenal. – Daniel Storey
27. John Stones – Barnsley to Everton, 2013 (£3m)
The perfect embodiment of why those clubs that sit below the financially bloated elite must look to be smarter in their bid to bridge the artificial gap. Everton did wonderful business in signing Stones for £3m, partly because he was excellent at Goodison, and partly because their development of him landed them a profit of around £45m when they sold him to Manchester City in 2016.
Stones deserves plenty of credit too, but Everton really did find the (then) most expensive defender in the world in South Yorkshire. – Daniel Storey
26. Andy Robertson – Hull to Liverpool, 2017 (£8m)
It was surprising that nobody picked up Robertson when Hull were relegated in 2015, after a year in which he'd signed from Dundee United for £2.8m – a bargain in itself – and subsequently shone. But Liverpool swooped when the Tigers went down again.
The idea that Robertson settled slowly is extraordinary in retrospect: how many 24-year-olds start a Champions League final in their first season? Now he's arguably the Premier League's best full-back, having cost Liverpool less than half what Chelsea paid for Baba Rahman two years earlier. – Huw Davies
25. Kolo Toure – ASEC Mimosas to Arsenal, 2002 (£150,000)
The story of Toure's Arsenal trial is the stuff of legend: hacking down Thierry Henry and Dennis Bergkamp, before the Ivorian completed his hat-trick by two-footing Arsene Wenger. A limping Wenger decided to sign Toure, claiming he "liked his desire".
It proved an inspired move. The youngster was a superb foil to Sol Campbell in the central defence of an Arsenal side which won the league unbeaten in 2003/04 and reached a Champions League final in 2006. By the time Toure switched to Manchester City for £14m in 2009, he'd played over 300 games for the Gunners. – Alex Reid
24. Philippe Coutinho – Inter Milan to Liverpool, 2013 (£8.5m)
Raised on a diet of small-sided futsal in Brazil, Coutinho spent his early years in Europe struggling to impose his Velcro-booted skills on the expansive pitches of Italy and Spain – so when Liverpool parted with £8.5m, it was met curiosity rather than hysteria.
But five years on Merseyside transformed him into a playmaker of elite pedigree, adding responsibility and refinement to his samba flair. And when profit margins on a player represent a 1,700% mark-up, it's a job well done. – Alex Hess
23. Robin van Persie, Feyenoord to Arsenal, 2004 (2.75m)
When Van Persie arrived at Arsenal he was a well-regarded Dutch winger, but there were major doubts over his productivity and temperament. Arsene Wenger – a man who knew a bit about Dutch creatives prone to flashes of red mist – took a punt, showed patience and was rewarded in kind.
Injuries limited Van Persie's time at the top, but there have been few more unerring finishers in the modern age and his talismanic title win at Old Trafford – much as it will have pained Wenger – was belated reward for his dazzling gifts. – Alex Hess
22. Tim Cahill – Millwall to Everton, 2004 (£1.5m)
In 2004, a £1.5m fee actually appeared risky for a 24-year-old with no top-flight experience. Yet from the start, Cahill looked at home in the blue of Everton.
The Australian midfielder was top scorer for the club in his first season, and the goals kept coming – particularly via his head – with several against Liverpool. Following a season of dire underachievement (Everton had finished 17th in 2003/04), Cahill became the face of a revived Toffees. He departed a local hero after eight seasons. – Alex Reid
BIG INTERVIEW Tim Cahill – "When I said I was leaving Everton, Phil Jagielka turned around and half-slapped me"
21. Ruud Gullit – Sampdoria to Chelsea, 1995 (free)
Sometimes a player's impact can't be measured by numbers alone. Gullit scored four Premier League goals for Chelsea. But he also transformed their identity.
Before him, they signed Paul Furlong and Scott Minto. After the Dutchman, players like Gianfranco Zola, Gianluca Vialli, Frank Leboeuf and Roberto Di Matteo headed to Stamford Bridge. Chelsea became cool and Gullit, a year after signing, their manager. While Glenn Hoddle's attempts to use him as a sweeper didn't work, he was outstanding in midfield and named in the Premier League's PFA Team of the Year of 1995/96. – Richard Jolly
100-81 • 80-61 • 60-41 • 40-21 • 20-1
20. Jay-Jay Okocha – PSG to Bolton, 2002 (free)
It was the ultimate odd couple. Sam Allardyce's unfashionable Bolton and a flashy Nigerian playmaker who'd just been mentoring Ronaldinho at PSG. Yet true love was found.
Okocha scored seven goals to help keep Bolton in the Premier League in his first season, including a dazzling long-range strike against West Ham. However, it was his jaw-slackening array of rainbow flicks and skills that delighted fans and baffled opponents (just ask Ray Parlour, below) during his mesmerising four-season spell in the north-west. – Alex Reid
19. Seamus Coleman – Sligo Rovers to Everton, 2009 (£60,000 rising to £300,000)
No, there isn't a zero missing, although it's been 50 years since top-flight English clubs habitually paid under £100k for a player.
Wigan boss Paul Cook, who was Sligo Rovers' manager in 2009, later told The Times that they ended up getting £300,000 for the right-back – other sources say different – but arguing whether Coleman cost Everton five figures or six isn't so much splitting hairs as dissecting atoms now that he's closing in on 250 Premier League appearances. – Huw Davies
18. Shay Given – Blackburn to Newcastle, 1997 (£1.5m)
Kenny Dalglish's tenure as Newcastle boss is rarely warmly recalled, but he did leave one lasting legacy. Dalglish signed Given, a player he'd originally nabbed for Blackburn, and installed him as No.1.
Through thick and thin, the Irishman was a near-constant for the next 12 years. Boasting remarkable reflexes, the 6ft 1in keeper could be reluctant to leave his line, but he was a spectacular shot-stopper who regularly bailed out an iffy defence.
Given left in 2009 to join Manchester City for £6m, just 33 games short of being Newcastle's all-time appearance-maker. – Alex Reid
17. Joe Hart – Shrewsbury to Manchester City, 2006 (£600,000, rising to £1.5m*)
It seems ridiculous to say this about a 31-year-old goalkeeper, but we tend to forget how good Hart was before his rapid decline. He was a Premier League No.1 at the age of 20, which is just unheard of, and at his peak was consistent, organised and the league's best stopper.
He demonstrated so in his first game upon being reinstalled at Manchester City in 2010 – after his Birmingham loan and bafflingly appearance-less World Cup – by keeping out top-four rivals Spurs with a sensational first-half performance. £600k? Wowzers. – Huw Davies
* Ex-chairman John Wardle claims the fee was much lower. "I told Shrewsbury we didn't have any money, but I found some," he later said. "We did some bartering with Shrewsbury and got him for £100,000. I'm not saying this to blow my own trumpet."
16. Graeme Le Saux – Chelsea to Blackburn, 1993 (£700,000)
For club accountants, it must be satisfying to receive a substantially bigger fee from the people who sold you a player they now want back. When he's also assisted in a rare title triumph – the club's third and last – there's every reason to feel quite smug.
Hence Le Saux's inclusion in our top 20: Blackburn took him from Chelsea for £700,000 and returned him four years later, Premier League winner's medal and all, for exactly 10 times that. The left-back was vital to their success and improved Chelsea too, so everybody was happy. – Huw Davies
15. Nemanja Vidic – Spartak Moscow to Manchester United, 2005 (£7m)
One of the most complete defenders in Premier League history, comfortable with ball at feet but at his happiest when blocking shots, making tackles and winning headers.
There was more to Vidic than brute strength and aggression, but the sheer love of keeping the ball away from his goal was incredibly endearing. As Robin van Persie said: "Nemanja puts his head where other players are scared to put their feet." – Daniel Storey
14. Vincent Kompany – Hamburg to Manchester City, 2008 (£6m)
In the early summer months of 2008, Manchester City were in a state of flux: the takeover was still to come and the endless churn of nondescript mid-market imports had instilled identity crisis.
Ironically, the remedy was to be found in a mid-priced Belgian centre-back bought from Germany. Over the next decade of City's trophy-hoarding overhaul, Kompany has been the one constant: unwavering on the pitch and statesmanlike off it. Now in his dotage, he has gone from peerless talisman to passable squad player. But for roughly 20% of an Eliaquim Mangala, there can be few complaints. – Alex Hess
13. David Ginola – PSG to Newcastle, 1995 (£2.5m)
That Kevin Keegan persuaded Ginola – PSG hero, French player of the year in 1993/94 and reportedly on the shopping lists of both Barcelona and Real Madrid – to sign for Newcastle is remarkable.
The impact was instant: the winger won Premier League Player of the Month honours in August 1995 as Newcastle won four games from four. Blessed with dazzling skill (and hair), Ginola was the epitome of the Magpies' Entertainers era. Tottenham might well argue that nabbing him for £2.5m themselves, after two seasons on Tyneside, was an equally good buy. – Alex Reid
12. Jimmy Floyd Hasselbaink – Boavista to Leeds, 1997 (£2m)
Hasselbaink was a fine, physical striker who also happened to boast an absolute hammer of a shot. He showed that ability sporadically when he arrived in Yorkshire, scoring five goals before Christmas – until he recalled how much he hated goal nets and whomped in 17 more as Leeds finished fifth.
In his second season, Hasselbaink was joint-winner of the Premier League Golden Boot. However, a fall-out with manager David O'Leary (who said: "Some people have formed that opinion that he is a greedy son of a bitch") resulted in a £10m move to Atletico Madrid. Given the wages Leeds would reportedly go on to pay, investing in JFH may been one of the Whites' smarter fiscal strategies. – Alex Reid
11. Jurgen Klinsmann – Monaco to Tottenham, 1994 (£2m)
One of the most influential foreign imports of the Premier League's early years, alongside Eric Cantona, Ruud Gullit and Juninho. Klinsmann arrived in England with a reputation for simulation and addressed the issue with a sense of humour that a xenophobic English media hadn't expected.
The German scored 21 league goals and 30 in all competitions, was named the Football Writers' Association Player of the Year and promptly left for Bayern Munich having become a cult hero. His stellar reputation was cemented with another successful loan spell at White Hart Lane in 1997/98, when he helped save Spurs from the drop. – Daniel Storey
10. Ole Gunnar Solskjaer – Molde to Manchester United, 1996 (£1.5m)
A rare bargain from yesteryear where more context adds to the absurdity of the money involved. In the summer of 1996, Solskjaer's transfer fee equated to roughly half a John Hartson, one-third of a Jason McAteer or half a Darren Peacock.
The Norwegian's off-the-bench heroics, in Barcelona and elsewhere, would plant him firmly in Old Trafford's hall of fame, but the 'supersub' tag does a great injustice to a player of sumptuous technique and tactical understanding – his late-career conversion to jobbing winger was a quiet masterstroke. The only player outside the Class of '92 to play for Alex Ferguson's great United sides of both the '90s and noughties. – Alex Hess
9. Sami Hyypia – Willem II to Liverpool, 1999 (£2.6m)
Gerard Houllier's greatest signing? The case is compelling. "He transformed our defensive record," Jamie Carragher said. Liverpool conceded 49 league goals the year before Hyypia signed. They never came close to doing that during a decade at Anfield that brought 464 appearances.
Lacking pace, the Finn suited Houllier and Rafa Benitez's low defensive lines, but he had every other attribute a centre-back required, including an outstanding disciplinary record, the knack of scoring useful goals and the resilience to start 58 games in the Treble-winning season of 2000/01. Hyypia formed outstanding partnerships with Stephane Henchoz and then Carragher in the Reds' Champions-League winning side. – Richard Jolly
8. Dele Alli – MK Dons to Tottenham, 2015 (£5m)
Heartening proof that, for all of the Premier League's globalisation and its clubs' star-hungry recruitment strategies, it's still possible to unearth a superstar in England's lower leagues. Alli first caught the public eye when he starred in MK Dons' League Cup humiliation of Manchester United, and it says plenty for both clubs' nous that Spurs snapped up the midfielder less than six months before United parted with £30m for Memphis Depay.
Alli, still just 22, has now scored as many career goals as Steven Gerrard had at 27; the fearlessness and impetuosity honed in the third tier complemented by blindingly quick feet and an eye for the outrageous. – Alex Hess
7. Edwin van der Sar – Fulham to Manchester United, 2005 (£2m)
Arriving aged 34 from a bottom-half club, as the eighth goalkeeper Alex Ferguson had signed in six years post-Schmeichel, with Manchester United well adrift of the past two title races, Van der Sar didn't set many pulses racing. But what was there to lose, paying only £2m – or two-fifths of a Taibi – for a Champions League-winning keeper who'd just won his 100th international cap and had experience of English football?
Ferguson knew the Dutchman's quality but can't have expected to get six years out of him. Today, Van der Sar retains the third-best ratio of matches to clean sheets in Premier League history (minimum 60 appearances) despite spending four of his 10 seasons with Fulham, finishing 13th, 14th, 9th and 13th. Going a world-record 14 games without conceding did help.
To think, he was the first Glazer signing. What a brave new world! – Huw Davies
6. Patrick Vieira – Milan to Arsenal, 1996 (£3.5m)
When Arsene Wenger's ability to rustle up brilliant unknowns was lauded, Vieira was the first and finest example. The 20-year-old was kicking his heels in Milan's reserves when the Gunners swooped, yet he quickly established himself as a titan; a template for what every Premier League club desired in a midfielder.
Vieira wasn't just an enforcer able to cover ground and win the ball with his telescopic legs; he drove the attack, picked passes, dictated play and chipped in with vital goals. A leader on the pitch (and a clobberer of anyone who fouled Thierry Henry too often), he racked up the trophies at Arsenal before departing in 2005 to Juventus for £13.5m. – Alex Reid
5. Nicolas Anelka – PSG to Arsenal, 1997 (£500,000)
The deal that, more than any other, cemented Arsene Wenger's reputation as football's greatest economist. A £500,000 investment was converted into a £22.3 million sale in two years: Wenger only needed to spend half of that to get a greater player in Thierry Henry.
But the profit should not obscure Anelka's importance as a player: he replaced Ian Wright as Dennis Bergkamp's strike partner in the Double-winning 1997/98 campaign, when he scored in the FA Cup final and a further 19 times the following year to attract Real Madrid's attention.
The Anelka effect was also seen when other clubs started to sign from France. – Richard Jolly
4. Lucas Radebe – Kaizer Chiefs to Leeds, 1994 (£50,000)
The sad news of Phil Masinga's death aged just 49 brought a tribute from Radebe and a reminder of the pair's arrival in Yorkshire. Leeds signed Masinga for £250,000 in 1994, with defender Radebe chucked in to keep his fellow South African happy. Radebe turned out to be a bit more than just a great room-mate.
After a sluggish start to his Leeds career (Howard Wilkinson asking him to play on the wing on debut probably didn't help), Radebe soon proved his worth. A powerful and complete central defender and a gentleman to boot, he became captain of a rapidly improving Leeds in 1999.
Clubs such as Manchester United, Roma and Milan were linked, but Radebe stayed loyal until injuries disrupted the end of his stellar, 11-year Leeds career. – Alex Reid
3. N'Golo Kante – Caen to Leicester, 2015 (£5.6m)
Only the second player to win the Premier League in consecutive seasons with two different clubs, Kante was the fulcrum of Leicester's monumental shock triumph and Chelsea's unlikely canter.
If paying £5.6m for a midfielder with one season of top-flight experience and none in English football seemed a gamble, Kante quickly made such suggestions laughable. In 2015/16, his only season at Leicester, he made 31 more tackles and 15 more interceptions than any other Premier League player.
He was the best firefighter in Europe; a one-man midfield who the Foxes could never have done without. – Daniel Storey
2. Sol Campbell – Tottenham to Arsenal, 2001 (free)
Arsene Wenger is much admired for the bargains he spotted overseas, but to seal his greatest deal he only needed to jump on the tube. Campbell was the country's dominant centre-back in 2002, and White Hart Lane was in thrall to their captain's imperious blend of impeccable defending and unruffled leadership.
Wenger's audacity in persuading Campbell to see out his contract was fast repaid with the Double, and the interest kept coming: two years later, Campbell was a bedrock of the Invincibles side.
The most toxic transfer in English history? Those who were there at his return to White Hart Lane – when thousands of balloons bearing the word JUDAS were released into the north London sky – wouldn't argue otherwise. – Alex Hess
1. Eric Cantona – Leeds to Manchester United, 1992 (£1.2m)
Leeds chairman Bill Fotherby thought he was the cheeky one when calling up Manchester United to ask if they'd be willing to sell him Denis Irwin. They weren't, of course – but would Leeds instead be up for offloading that difficult Frenchman of theirs?
It turned out they were – Howard Wilkinson was at the end of his tether. "Howard would say, 'You, Cantona, you stand in front of the centre-half'," recalled Fotherby in 2017. "Cantona would reply, 'I don't do this'. He was causing a little bit of friction."
Little did Leeds know that they were losing the greatest catalyst that the Premier League has ever seen; one who joined a United team in eighth and a club without a league title in 25 years. Cantona inspired them to the first four of 13 in 21 seasons.
If an iconic figure was at his finest in the expansive 1993/94 side, he was at his most crucial two years later, capping his return from an eight-month ban for kung-fu kicking a fan with a series of winners.
Not bad for a man signed as a replacement for the injured Dion Dublin after Sheffield Wednesday refused to sell David Hirst. – Richard Jolly
Who have we missed? Come and tell us @FourFourTwo
100-81 • 80-61 • 60-41 • 40-21 • 20-1
Quizzes, features and footballing fun
Get the best features, fun and footballing frolics straight to your inbox every week.
Thank you for signing up to Four Four Two. You will receive a verification email shortly.
There was a problem. Please refresh the page and try again.