Nike's signature Kylian Mbappe boots have dropped online – and they're the standout boots of World Cup 2022
The signature Kylian Mbappe boots of World Cup 2022 are available to buy – and Nike have knocked it out the park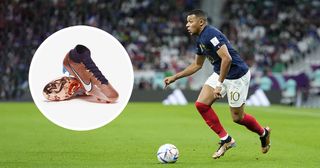 (Image credit: Getty)
Having Kylian Mbappe boots won't definitely make you quicker… it's worth a go though, right?
The top scorer at the World Cup right now with five goals, Kylian Mbappe is Nike's golden boy. The Paris Saint-Germain speedster has donned the Mercurial brand so long as he's been burned the grass beneath his soles – and now, like all good superstars, he has a signature boot.
The American brand have reserved signature boots for Cristiano Ronaldo – so it's cool to see a French-flavoured design for the World Cup.
Kylian Mbappe boots: The Nike Zoom Mercurial Superfly 9 Elite KM FG have landed
You've seen the latest Mercurial boots, we're sure. They're the copper beauties that just about everyone has been wearing on the pitch at the World Cup.
They're also centre of attention in the Nike Footballverse ad that dropped before the tournament. While signature boots tend to be something completely different from the norm – a new colourway is common – Mbappe's new boots look almost identical to the originals, only with the French flag emblazoned across them among other stylish details.
Buy the Nike Zoom Mercurial Superfly 9 Elite KM FG from Pro Direct
Image 1 of 5
"Kylian Mbappe's explosiveness, plus his twitchy change of direction, puts him firmly in the world class of finishers," Nike says. "With nods to his heritage, this boot is made to help you play just like KM—with blinding pace and purpose."
These aren't just among the best Nike boots on the market – they're some of the best boots of 2022. Available in Superfly version (with the ankle support) and the Vapor, these boots are specifically for the knockout stage of the competition. All the tech on these is the same as the standard versions.
Buy the Nike Zoom Mercurial Superfly 9 Elite KM FG from Nike
Image 1 of 3
Nike Zoom Mercurial Superfly 9 Elite KM FG
The exact boots that Kylian Mbappe is wearing during the World Cup knockout stage
Specifications
Colourway:
Metallic Copper/Metallic Copper
Studs:
Firm ground, soft ground, multiground, artificial grass
As worn by:
Kylian Mbappe
Reasons to buy
+
Unbelievably light
+
Great traction
+
Beautiful design
Thank you for reading 5 articles this month* Join now for unlimited access
Enjoy your first month for just £1 / $1 / €1
*Read 5 free articles per month without a subscription
Join now for unlimited access
Try first month for just £1 / $1 / €1