5 ways Pochettino can take Spurs to the next level
As Spurs fans still grumble and mutter about their failure to win the league, John Robertson tells you how Tottenham can improve to go closer to the title next season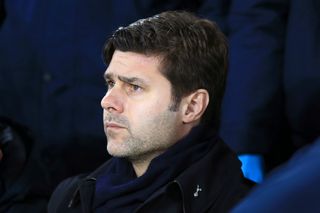 While the idea that Chelsea quashed Tottenham's Premier League hopes with May's 2-2 Stamford Bridge Battle Royal makes for an incendiary narrative, the truth is that Mauricio Pochettino's team were already finished in the title race. 
With three games remaining on the eve of the infamous draw, Spurs were eight points behind a Leicester team that hadn't tasted defeat in their past 12 league games. Earlier draws against West Brom, Liverpool and Arsenal, as well as defeat to West Ham and Leicester, had already sealed Spurs' fate as, at best, runners-up. 
Ultimately, finishing third might taste bitter thanks to the last gasp presence of a certain North London rival in second, but the overall league season has been a tremendous success for the Argentine and his young squad. 
Defeats against Southampton and Newcastle over the final two games of the season tarnished the sheen of a top-three finish, but it would be wrong to place too much emphasis on these games given that the title had already been surrendered. 
In comparison to the previous season, significant gains have been made: two positions and six points, along with qualification for next year's Champions League. Spurs moved from 5th to 2nd in total goals scored and, most dramatically, from 14th to tying Manchester United for fewest goals conceded.
These gains, while commendable, represent two things: that Pochettino has improved his team, but he hasn't improved it enough to win the league Spurs fans so crave. The positive, however, is that there's more to build on than there has perhaps ever been. So what must Pochettino do?
Tottenham Hotspur season comparison
League finish: 5th - 3rd
Wins: 19 - 19
Defeats: 12 - 6
Goals scored: 58 - 69
Goals conceded: 53 - 35
Points: 64 - 70
Improve the 'fringe' players...
Perhaps most urgently, squad depth must be strengthened. For all the quality possessed by the first team, the likes of Ryan Mason, Nabil Bentaleb, Tom Carroll and, despite the brief spark of genius, Nacer Chadli, have failed to prove themselves as suitable deputies. Even Son Heung-Min, so impressive at Bayer Leverkusen, has had a season of topsy-turvy form – sometimes electric, typically invisible.
NEWS Son unfazed by Tottenham exit rumours
Most pressing is the need to find a genuine backup for Harry Kane in the striking position. Without a consistent run in the team Clinton N'Jie hasn't been offered the chance to show what he is truly capable of, but those appearances he has made from the bench suggest that he isn't ready for that chance. 
...to treat both major competitions equally
Next season, squad depth will be of far greater concern than it was for this, due to participation in the Champions League. Unlike during Europa League games, Pochettino will not be able to rest his star players in midweek and expect to end a match without defeat. Conversely, resting players in domestic football to focus on the Champions League is unthinkable.
Many teams have in the past have struggled to combine the stresses of both domestic league and Champions League football – Liverpool, Manchester United, Sevilla, Tottenham themselves – and given the high-tempo style Pochettino prefers to play, he'll need a better-balanced squad to prevent a downturn in overall performance.
Invest in forward thinkers
The encouraging point here is that only a small number of positions lack the required depth, but they are key positions. Spurs are blessed in defence with four full-backs who can all be trusted to start, a goalkeeper who is one of the finest in Europe and a centre-back pairing in Jan Vertonghen and Toby Alderweireld that manages to combine defensive solidity with creative passing ability. 
With Eric Dier sitting just in front of the back line, Spurs have arguably the best defensive midfielder in the league. Most great teams are built on solid defence, but those positions in attack and midfield do need new legs.
Necessary improvements do not solely revolve around the composition of the squad, however. Pochettino himself must learn from this season and previous seasons if he is going to mount a credible title challenge next year. If he doesn't then proven winners in the form of Pep Guardiola, Arsene Wenger, Antonio Conte, Jose Mourinho, Jurgen Klopp and Claudio Ranieri – and probably Jose Mourinho – will make life incredible difficult for him. 
Keep going to the end...
Given that Pochettino is so enamoured with the coaching work and style of the enigmatic Marcelo Bielsa, it perhaps should come as no surprise that the form of his teams tends to dip at the end of a season. Pochettino, like Bielsa, favours the kind of energetic approach that tends to leave players tired for the end-of-season crunch. 
Across his time at Espanyol, Southampton and Tottenham we've now enjoyed six seasons of Pochettino as a manager, and yet in only one of those has he managed to win three of his final six league games (Spurs 2014/15). 
A better squad balance will surely help in this regard and, given the increased TV revenue and Champions League status now enjoyed by Spurs, it's probable that he will have more resources than ever to achieve this. 
...but start games more quickly
Perhaps more pressing, however, is the need to figure out a tactical approach that allows Tottenham to more quickly impose themselves on opponents. For all of their impressive goalscoring numbers, the team created far too much trouble for itself this season by failing to make early chances count. 
Of the 19 Premier League games played in calendar year 2016, for instance, on only four occasions did Spurs score in the opening 30 minutes – while opponents scored five times in the same period.
Other features
SEASON REVIEW The 10 most improved Premier League players of 2015/16
ANALYSIS Stats Zone Premier League Young Player of the Year 2015/16: Dele Alli
GAMING FourFourTwo's 58 best Football Manager 2016 wonderkids
Pochettino's preference for fast-paced football means that teams often begin games against Spurs by sitting very deep, not giving up space close to goal and hoping to create chances through counter-attacks. This provides ample incentive for the likes of Christian Eriksen, Harry Kane and Dele Alli to attack relentlessly, but the hard statistics demonstrate that the effort isn't being rewarded... not a welcome example of cause and effect when you've already a reputation for being a manager that struggles with end-of-season fitness issues. 
Either Pochettino adapts in order to score more early goals, or he seeks to vary his approach early in games in order for his players to not expel so much energy for so little gain.
While it is normal for teams to score more goals later in games as the two sides tire and more space becomes available, Spurs have to work harder for longer because they lag so far behind their rivals in early goals. During 2016 Premier League games, Arsenal and Man City scored in the opening 30 minutes on 9 occasions, Chelsea and Leicester on 8 and Liverpool 7. Undoubtedly, Pochettino would have gained more points through games being easier to manage if goals had gone in earlier.
Crucially, though, Spurs have experienced what it is like to make serious improvements and yet still not be good enough to win a trophy. For a team of young players, motivated by a young manager, this experience, if properly dissected and understood, should serve the team well: it should cement in their minds that constant progress is the only way to victory in a league and sport that is forever changing.
With a few changes to personnel and, most importantly, the embracing of a slightly tweaked mindset, there's no reason why Tottenham can't make another leap forward next season. 
Quizzes, features and footballing fun
Get the best features, fun and footballing frolics straight to your inbox every week.
Thank you for signing up to Four Four Two. You will receive a verification email shortly.
There was a problem. Please refresh the page and try again.