"Africa's Messi" Gervinho goes from Arsenal gloom to Roma glory
A flop in London, Gervinho is running rampant in Rome. Adam Digby reports on the rebirth of the Ivorian...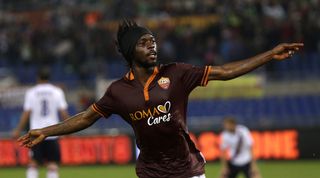 Since arriving at Roma in the spring of 2011, the club's American owners have made a number of questionable decisions. From altering the club's famous badge to appointing Zdenek Zeman as coach, their stewardship appeared to be lunging from one crisis to another, compounded by their desperate on field performances which saw them end 2012-13 no fewer than 25 points behind eventual champions Juventus.
Losing the Coppa Italia final to cross-town rivals Lazio was a bitter pill, not least because it meant they would miss out on European competition this season. The Giallorossi endured yet another summer of sweeping changes: general manager Franco Baldini resigned and moved to Tottenham, Roma's two leading scorers Dani Osvaldo and Erik Lamela followed Baldini to England, and former Lille boss Rudi Garcia arrived to lead the team. 
The Frenchman was the club's sixth coach in little over two years, and it seemed he would be undertaking a major rebuilding project in the Italian capital. What followed was one of the most remarkable transformations in European football as Roma became the first team ever to win their opening 10 Serie A games. Scoring 24 goals and conceding just once thanks to a vastly improved defence, they opened a five-point gap at the top of the table.
While onlookers marvelled at the solidity of a side which last term had conceded more goals than all but three Serie A sides, another derided decision was paying off at the other end of the field. Replacing the much-admired Lamela with Arsenal flop Gervinho seemed to be in keeping with the other poor moves of recent seasons. And at a cost of €8m, it seemed Arsenal had done well considering the Ivorian international's hugely disappointing two-year spell in London.
"Africa has its Messi!"
Yet so influential was his form in that superb first two months of the season, local newspaper Il Romanista declared that "Africa has its Messi!" in the 26-year-old. While that was undoubtedly partisan hyperbole, Roma's sporting director Walter Sabatini knew that the success of the player was entirely down to one man. 
"I wouldn't have signed Gervinho for any other coach," he told Sky Italia. "Garcia specifically requested Gervinho, a player he had worked with and won with before at Lille. Because of that request we worked to bring Gervinho in and it was not an easy negotiation process either."
The coach first worked with the Ivorian six years ago at Le Mans and signed him again at Lille, where they won the Ligue Un title with Gervinho and Eden Hazard on either side of a dynamic front three. Having seen him struggle to adapt to English football, Garcia knew how to bring the best from his protégé, and quickly employed him in a system designed to suit his skills. 
Where his time at the Emirates Stadium was littered with poor decision-making and even worse finishing, the player we see now is unrecognisably powerful and precise. His four goals and two assists are only the start of his vital contribution to Roma's resurgence, with perhaps his most impactful display coming in the recent win over Fiorentina.
With both Francesco Totti and Gervinho missing through injury, the side had followed that initial run of wins with four consecutive draws before they met the Viola, a relative slump which had seen Juventus replace them atop the Serie A standings. It would prove to be an action-packed 90 minutes, as two of the season's best sides went head to head in a wonderful display of attacking football – with the former Arsenal man proving to be the decisive factor.
Roma's go-to guy
He would create both goals in a 2-1 win, which prompted Fiorentina coach Vincenzo Montella to say "Gervinho is fast, devastating, has quality and tends to make the right decisions". That he did so is once again down to Garcia, who understands that getting him the ball with space ahead of him so he can run at the defence will usually yield goals for his team. That was certainly the case here, as he completed 7 of 12 take-ons and 30 of 39 passes, leading to him creating no fewer than 6 clear scoring chances for his team-mates.
Even when he's not scoring or setting up others, his dribbling and pace causes huge problems for defenders: he was hauled down for penalties in consecutive games against Bologna and Inter. A week later, Napoli's Paolo Cannavaro decided fouling was the only way to stop Gervinho and conceded a direct free kick, duly dispatched by Miralem Pjanic to give Roma a lead they would not relinquish. 
International football has seen similar performances, as he was the key player in Ivory Coast's 3-1 World Cup play-off win against Senegal. Having again won a penalty to open the scoring, he cut in from the left and fired a shot which deflected off Lamine Sane and past the goalkeeper, before emerging from a crowd of players to set up Salomon Kalou for the third goal. 
"Gervinho is at his best when he has confidence," his compatriot Didier Zokora said after that win, and he seems to be given plenty at Roma. Of course there have been a few missed chances that Arsenal fans would recognise, the most notable coming last month's rout of Catania – but unlike in England, those are not met with instant derision from supporters. 
He has won a clear admirer in Totti, who told Il Messegero he had seen his new team-mate "play two or three times at Arsenal, but up close he's a beast." The Roma captain continued, saying that "if he were to score goals as well he would be Cristiano Ronaldo, and Roma would never have signed him!" 
Gervinho vs the world
But perhaps more telling than the testimony of team-mates is the manner in which opponents fear him. A week before those international heroics, he had helped the Giallorossi defeat a resurgent Inter 3-0 at San Siro, laying on the opening goal for Totti and winning yet another penalty for the second. 
He played on the right flank that day, tormenting wingback Álvaro Pereira, repeatedly dribbling past him as he completed 5 out of 6 take-ons and forcing him to concede the spot-kick just before half-time.
In the previous game he had scored twice in a 5-0 win against Bologna, netting two goals as the defence backed off him. He and Alessandro Florenzi have regularly swapped flanks during games, presenting opponents with vastly different problems and creating space in which the excellent Totti can thrive. 
So good is his current form that Juventus marked him closely in their top-of-the-table meeting this past weekend, Stephan Lichtsteiner, Andrea Barzagli and Arturo Vidal combining to shut him out of the game. 
Juve coach Antonio Conte usually demands his team press high up the pitch, but here the Bianconeri notably dropped back, largely to restrict Gervinho's opportunities to run at them. He managed just one successful take-on, and the approach of the two-time champions to nullify him is perhaps the greatest compliment he can be paid. 
The absence of Florenzi and Mattia Destro – Garcia opted for Adem Ljajic instead – certainly hampered his impact, as Juve had to worry about only one player getting behind them. 
Even so, the Ivorian still made a contribution, dropping deeper still and completing all 26 of his pass attempts and attempting to lift the Giallorossi. It was excellent planning by the Juventus coach, but very few teams in Serie A have the quality of players it takes to execute such a strategy as well as the Turin giants in their 3-0 win.
Yet once again questions will arise, and it will be interesting to see how the player reacts to the season's first setback. That is nothing new for the Ivorian, who told Il Giornale last month that doubts seem to constantly follow him. 
"The fans were perplexed when I arrived and it was a legitimate concern," he admitted, going on to add that "new players must make themselves known by showing their qualities." 
Gervinho has done just that, ensuring that those poor games are now the exception rather than the expectation.
Quizzes, features and footballing fun
Get the best features, fun and footballing frolics straight to your inbox every week.
Thank you for signing up to Four Four Two. You will receive a verification email shortly.
There was a problem. Please refresh the page and try again.