Argentina World Cup 2022 squad: Lionel Scaloni's full team
The Argentina World Cup 2022 squad reached the quarter-finals of the tournament by beating Australia 2-1 in the last 16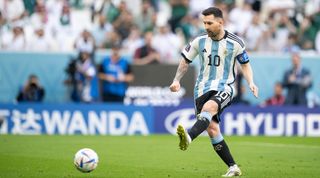 (Image credit: Sebastian Frej/MB Media/Getty Images)
The Argentina World Cup 2022 squad has managed to reach the final in Qatar, beating the Netherlands on penalties in the quarter-finals before defeating Croatia 3-0 in the semis.
The Albiceleste were one of the hot favourites to win the Qatar World Cup 2022 coming into the tournament, not least because the 2021 Copa America winners boast Lionel Messi in their team. Messi has scored five crucial goals for Argentina, his inspired form proving why they were so heavily fancied.
Of course, it hasn't been all plain sailing for Argentina at this World Cup, losing their opening game 2-1 to Saudi Arabia in one of the biggest shocks in the tournament's history. The South Americans managed to dust themselves off, though, recovering in their next two group games to beat both Mexico and Poland 2-0.
Julian Alvarez has usurped Lautaro Martinez as the team's starting striker, the Manchester City man repaying his manager's faith with four goals. Alexis Mac Allister and Enzo Fernandez have both fought their way into Argentina's starting line-up, too, ousting Angel Di Maria and Leandro Parades due to the pair's slow start against Saudi Arabia.
It is Lionel Scaloni's ability to switch things mid-game if the original plan isn't working which could prove crucial against France - that, and Lionel Messi's brilliance, of course. Tactically, Scaloni doesn't cling to any football dogma. He'll switch from 4-2-3-1 to a 5-4-1 in the same game, a trait that has served Argentina well so far in the tournament (Saudi Arabia aside).
Having scratched that 28-year trophy itch at the 2021 Copa America, Argentina now believe it's time to rip the scab off the ghosts of 1986 and win a World Cup.
Argentina World Cup 2022 squad
Argentina World Cup 2022 squad: The final 26-man team
GK: Emi Martinez (Aston Villa)
GK: Franco Armani (River Plate)
GK: Geronimo Rulli (Villarreal)
DF: Marcos Acuna (Sevilla)
DF: Juan Foyth (Villarreal)
DF: Lisandro Martinez (Manchester United)
DF: Nicolas Tagliafico (Lyon)
DF: Cristian Romero (Tottenham)
DF: Nicolas Otamendi (Benfica)
DF: Nahuel Molina (Atletico Madrid)
DF: Gonzalo Montiel (Sevilla)
DF: German Pezzella (Real Betis)
MF: Angel Di Maria (Juventus)
MF: Leandro Paredes (Juventus)
MF: Rodrigo De Paul (Atletico Madrid)
MF: Alexis Mac Allister (Brighton)
MF: Enzo Fernandez (Benfica)
MF: Exequiel Palacios (Bayer Leverkusen)
MF: Guido Rodriguez (Real Betis)
FW: Lionel Messi (PSG)
FW: Lautaro Martinez (Inter Milan)
FW: Paulo Dybala (Roma)
FW: Angel Correa (Atletico Madrid)
FW: Julian Alvarez (Manchester City)
FW: Thiago Almada (Atlanta United)
FW: Alejandro Gomez (Sevilla)
Argentina top scorers
Here are Argentina's World Cup top scorers so far:
5 goals: Lionel Messi
4 goals: Julian Alvarez
1 goal: Enzo Fernandez, Alexis Mac Allister, Nahuel Molina
Argentina yellow cards
Here are all of the Argentina players to receive a World Cup 2022 yellow card so far:
2 yellows: Gonzalo Montiel, Marcos Acuna
1 yellow: Cristian Romero, Lisandro Martinez, Leandro Paredes, Lionel Messi, Nicolas Otamendi, German Pezzella
Argentina manager
Who is Argentina's manager for World Cup 2022?
Lionel Scaloni has proved to be fundamental. Going from caretaker to surprise manager, the former Deportivo La Coruna wing-back, who had a forgettable loan spell at West Ham in 2006, was targeted because of his lack of experience, yet he started a silent renovation. He has shaped a stable team that won its first major title since 1993.
Argentina star player
Who is Argentina's best player?
In his fifth (and last?) World Cup attempt, Lionel Messi is enjoying his time as never before, his critics vanishing since the Copa America victory. Argentines dreamed of winning because of Messi, but now they dream of winning for Messi. Whatever the position, the Flea always plays 90 minutes – Scaloni just wants to keep him happy.
How many players are Argentina allowed to take to the World Cup 2022?
National managers were allowed to bring 26 players to last summer's European Championship for the first time at a major tournament, as a special measure brought in due to the COVID-19 pandemic – while last year's Copa America, which Argentina won, allowed squads of 28 players.
Now it has been announced that 26-player squads will return for the Qatar World Cup, an expansion from the usual 23-man selections.
Thank you for reading 5 articles this month* Join now for unlimited access
Enjoy your first month for just £1 / $1 / €1
*Read 5 free articles per month without a subscription
Join now for unlimited access
Try first month for just £1 / $1 / €1