Arsene Wenger: his 20 most memorable quotes
As Le Professeur announces his departure as Arsenal boss at the end of the season, Chas Newkey-Burden picks out his best utterances from his time in north London...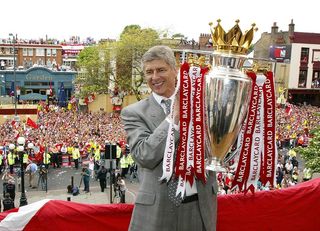 1. "I tried to watch the Tottenham match on television in my hotel yesterday, but I fell asleep."
In his very first press conference as Gunners boss, Wenger took this sly dig at local rivals Spurs.
2. "One of the things I discovered in Japan was from watching sumo wrestling. At the end you can never tell who has won the fight, and who has lost, because they do not show their emotion because it could embarrass the loser. It is unbelievable. That is why I try to teach my team politeness. It is only here in England that everybody pokes their tongue out when they win."
It's safe to say he's not an unconditional Anglophile.
3. "I didn't see it."
A recurring response when Wenger's asked about almost any incident in which his players have been less than polite.
4. "A football team is like a beautiful woman. When you do not tell her, she forgets she is beautiful."
This managerial strategy might be easier to remember with Olivier Giroud than Ray Parlour.
5. "Of the nine red cards this season we probably deserved half of them."
Despite his masters' degree, Le Boss has occasionally got his maths wrong.
6. "I believe [team spirit] is a little bit like a flower. You have to take care of it and look after it every day, or else it will slowly die. But as well, you can make the flower bigger, better and prettier if you care for it."
Wenger goes all horticultural on us.
7. "I am a thunderstorm protector."
The Frenchman promises to shield his players from media criticism in 1997.
8. "I'm not a witch doctor, I'm just a football coach."
But there are limits to his powers, as he admitted in 2002.
9. "If you eat caviar every day it's difficult to return to sausages."
Food for thought after Arsenal fans greeted a 1-1 draw with Middlesbrough with boos, 1998.
10. "It's like a child who is used to having ice cream whenever he wants. When it doesn't come when he asks, he tends to get confused and nervous."
And we've moved to dessert as Wenger describes how it felt to lose top spot in the Premiership, 2004.
11. "Everyone thinks they have the prettiest wife at home."
In response to Sir Alex Ferguson's claim that third-placed Manchester United were superior to title-winning Arsenal in 2001/02.
12. "Ferguson's out of order. He has lost all sense of reality. He is going out looking for a confrontation, then asking the person he is confronting to apologise. He's pushed the cork in a bit far this time."
Having another dig at Fergie, this time in 2005.
13. "He's out of order, disconnected with reality and disrespectful. When you give success to stupid people, it makes them more stupid sometimes and not more intelligent."
In the same year, Wenger also took this swipe at Jose Mourinho.
14. "If you have a child who is a good musician, what is your first reaction? It is to put them into a good music school, not in an average one. So why should that not happen in football?"
His response to Michel Platini and Sepp Blatter's suggestion that top clubs' pursuit of young players was akin to "child slavery" and "child trafficking".
15. "It's like you wanting to marry Miss World and she doesn't want you. I can try to help you but if she does not want to marry you what can I do?"
When Jose Antonio Reyes announced he wanted to leave, Wenger felt powerless to stand in his way.
16. "What is unbelievable is that I am in a position where people reproach me for making a profit. The people who lose money – nobody says a word."
As he defends his thrifty approach to transfers you can sense he's close to snapping.
17. "If I go into a season and I say, 'For f**k's sake, if we don't win anything, they [star players] will all leave,' I have already lost."
Jaws dropped all round when Wenger uncharacteristically dropped the 'f' bomb in 2008.
18. "The only moment of possible happiness is the present. The past gives regrets. And future uncertainties. Man quickly realised this and created religion. It forgives him what he has done wrong in the past and tells him not to worry about the future, as you will go to paradise."
A more serene Wenger, speaking to L'Equipe in 2015.
19. "Religiously, it is said that God created man. I am only a guide. I allow others to express what they have in them. I have not created anything. I am a facilitator of what is beautiful in man."
Another nugget from his L'Equipe chat. Perhaps this is why it didn't work out with Franny Jeffers.
20. "The biggest things in life have been achieved by people who, at the start, we would have judged crazy. And yet if they had not had these crazy ideas the world would have been more stupid."
And the English game would have been all the duller. Thanks for everything, Mr Wenger!
Quizzes, features and footballing fun
Get the best features, fun and footballing frolics straight to your inbox every week.
Thank you for signing up to Four Four Two. You will receive a verification email shortly.
There was a problem. Please refresh the page and try again.