Benitez: I had to clean up Mourinho's trophies
Ex-Liverpool boss has complained that Jose Mourinho left the Inter trophy cabinet full of clutter, report Back of the Net.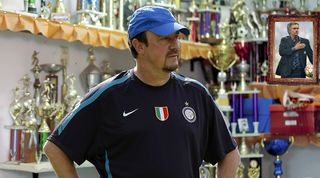 Former Inter Milan boss Rafael Benitez has complained that the trophy cabinet bequeathed to him by predecessor Jose Mourinho was incredibly untidy.
Benitez replaced Mourinho at the San Siro in 2010, and was horrified by the piles of dusty silverware the 'Special One' had allowed to accumulate over his two years in charge.
"The Coppa Italia he won in 2010 was literally balancing on the two Scudettos he won in 2009 and 2010, one of which was upside down," Benitez complained, "And the Supercoppa he won in 2008 was full of pencils and loose change and a lock of Jose's own hair."
ALSO ON FFT.COM
"The Champions League he won in 2010 clearly had port spilled down it, and it was behind the 'Serie A Coach of the Year' awards he'd won in 2009 and 2010, and the Best Dressed Man in Milan Prize, which he won in 2008, 2009, and 2010, and which they discontinued after he left.
"I understand that cups, awards, medals, certificates, prizes and honours can pile up if you're not careful," the current Real Madrid boss continued, "Which is why I take pains not to win any more trophies than I need."
Trophy hunt
Benitez defended his own record at Inter, insisting that he had provided the club with a period of stability to make sure the trophies were polished and displayed properly without any unnecessary new trophies getting in the way.
"I made space for another Supercoppa by clearing out Jose's honorary degree certificate, which shouldn't have been there in the first place," Benitez said, "And I got rid of the finger-painted portrait of Jose by Mario Balotelli to make space for the World Club Cup, which was won by me, Rafael Benitez.
"The World Club Cup is the most prestigious trophy in the world, in a way."
When asked to comment, Mourinho responded that Benitez had also done an excellent job at cleaning out Inter Milan's fridge, before snapping his fingers, dropping the microphone and flicking his hair as he exited the room.
Thank you for reading 5 articles this month* Join now for unlimited access
Enjoy your first month for just £1 / $1 / €1
*Read 5 free articles per month without a subscription
Join now for unlimited access
Try first month for just £1 / $1 / €1