The best free-kick taker EVER: Juninho Pernambucano on how he got so good
Step aside, Becks: the ultimate dead-ball specialist is former Brazil and Lyon playmaker Juninho – even if he's too modest to say it himself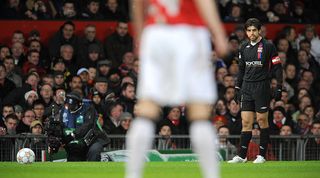 Were you a free-kick specialist as a young player? When did it start?
I was always great at shooting, but as a child I didn't have enough power to score free-kicks. I played futsal until I was 13 and didn't really score much, but it was around then that I started to take some free-kicks. The wall was too close, though, so it was rare that I'd hit the goal. It wasn't until I got to France that I mastered my technique.
When was it that you first started using the 'knuckleball' technique? Does it annoy you that everybody credits it to Cristiano Ronaldo now?
I started by copying free-kicks taken by Marcelinho, who played for Corinthians. He was one of my inspirations, and the first player I had ever seen hit the ball head on and make it dance in the air. That tells you that the technique isn't mine, either! Didi, who won the World Cup with Brazil in 1958 and 1962, was doing it back then, too. Everyone since has just been tweaking the formula.
What was your first free-kick goal?
It was actually quite lucky. I was 19, playing for Recife against Gremio. We were 2-0 down and I think as a team we'd almost lost hope of getting back into the game – that's probably why I was allowed to take that free-kick! I struck it with the outside of my foot from 30 yards and their keeper made a mistake: he thought he could catch the ball, but he ended up pressing it onto the post and it just squirmed in.
Of all the free-kicks you have scored, which are your favourites?
The most important one was for Vasco, away to River Plate in the second leg of the 1998 Copa Libertadores semi-final. The crowd were giving us hell, and we were 1-0 down when I took a free-kick 25 yards out. Both of my feet were in the air when I hit it. I needed so much power and swerve to beat the wall. We won, then won the final.
There's also the one I scored in the Champions League for Lyon against the great Oliver Kahn of Bayern Munich. It was my best knuckleball free-kick from a long distance: it hit Kahn's left post, pretty close to the bar. That win made us feel we could win the tournament, but sadly we didn't.
Another I loved was against Ajaccio in 2006. It was a tough match, locked at 0-0, and that free-kick could have been our only chance to win, even though it was nearly 50 yards out. I noticed that few thought I would try from so far out, but I hit it hard with the outside of my foot. There was a swerve that made it just impossible to stop.
Who do you think are the greatest free-kick takers in football now?
I like Juventus's Miralem Pjanic. I played with him at Lyon: he was young but he knew how to hit it well. Lionel Messi and Cristiano Ronaldo are both great, too.
What's the best free-kick you've seen?
It has to be the one that defies science: the free-kick that Roberto Carlos scored against France in 1997. Any other player that tried the same sort of curve would have sent the ball somewhere towards the corner flag. It was a shot that's never been repeated by anyone since.
How does it feel when people call you the best free-kick taker of all time?
It's nice to hear admiration, although I don't really believe it – how can you measure that? What I feel is that my work was worth it. I gave everything I had – sometimes even more than my body could take. There's only ever the best free-kick-taker of the moment, so maybe there was a moment in which I was the best at it, but that's all. How can I claim that I'm any better than David Beckham or Sinisa Mihajlovic?
More interviews • New features you'd love on FourFourTwo.com
Thank you for reading 5 articles this month* Join now for unlimited access
Enjoy your first month for just £1 / $1 / €1
*Read 5 free articles per month without a subscription
Join now for unlimited access
Try first month for just £1 / $1 / €1
Get FourFourTwo Newsletter
The best features, fun and footballing quizzes, straight to your inbox every week.