Bolton boy Jack Harrison starting to live up to NYCFC's lofty expectations
The first pick in the MLS draft got a late start in the 2016 campaign, but if recent returns are any indication, he'll have something to say about Rookie of the Year honors. FourFourTwo USA's Christian Araos on NYCFC's top young talent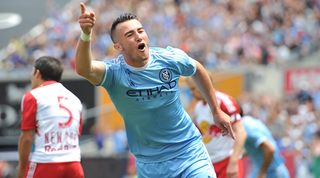 In one month, Jack Harrison went from the carefully managed rookie to the Manchester United-raised saviour of England, a Wake Forest Demon Deacon-turned-prince after posting two goals and two assists for New York City FC.
Harrison has started in each of NYCFC's four consecutive wins, and the club is in first place at the halfway mark, 10 points above the red line. The rookie that David Villa said is good for the team now and for the rest of its history has made Patrick Vieira's comments on draft day come to life.
"He's a modern winger," Vieira said then. "He can come inside, he can go on the line, he can score goals, and he's really good in 1-vs-1 situations. He's the type of modern winger that you like to have in the team. He's young, but I'm sure he will have a massive part to play in our squad. He's enthusiastic, he's full of energy, and this is what we want."
Harrison's form makes Vieira look like an oracle, but the head coach is expecting him to reach his full capabilities in three or four months – when the regular season ends, coincidentally. Harrison will be 19 by that time, but to be a ripening first-overall draft pick in New York is to enter a select pantheon.
One British headline this week read: "Jack Harrison a beacon of hope for England."
Harrison is showing well, but we've been down this road before in MLS. So, what's behind the hype?
Getting him in blue
NYCFC is a unique club in many ways. And yet, they used very MLS methods to acquire Harrison. NYCFC tried and failed to parlay Harrison's time at Manhattan SC into a homegrown player claim, but they ultimately made a draft-day trade for a rookie who they knew wouldn't start the season on time.
Vieira's confidence came as the technical staff knew Harrison's pelvic injury would heal on its own, reducing the risk of trading for him. Harrison would be a mid-season addition much like his mentor, Frank Lampard. The ex-Chelsea man, struggling to recover from his calf injury, encouraged Harrison to be patient and not endure the same fate he suffered last year when he returned to the pitch too soon. But NYCFC's wide play made it tempting to do so.
By starting Thomas McNamara on the left side of their 4-3-3, NYCFC depend on their right winger to stretch play. Khiry Shelton's performance against D.C. United in May showed how effective the approach can be with the right player, but he's yet to score since then. Steven Mendoza joined on loan for the same reason but has one goal and is out injured. NYC won one of their next five matches after the win in D.C. as Harrison began to join the team for training and road trips.
Harrison juggled as often as he trained for much of the spring, but the potential was clear. He seldom missed during crossing drills and danced through defenders in scrimmages. His cameo was the silver lining to the Red Bull Wedding – a 7-0 loss for NYCFC during which Lampard was booed by his own fans. Harrison took to Twitter telling fans to "have some respect". His mentions disagreed. He later clarified on Instagram.
Rested the next weekend, Harrison made his first start at right wing against Real Salt Lake. His deflected goal was the product of a dangerous run cutting inside on his left foot, but he struggled with his crossing towards the byline. He blamed himself for not closing down Demar Phillips to prevent Yura Movsisyan's equaliser.
Vieira was still proud of how the 19-year-old understood the game and patiently managed his minutes. He surprisingly kept Harrison on the bench in the U.S. Open Cup and only brought him on after the New York Cosmos scored in the 88th minute. Vieira took the blame for fielding a weakened lineup, adding that the wide attackers he chose, Shelton and Kwadwo Poku, had let him down.
"I think in football, the most difficult thing is to keep the game simple," Vieira said afterwards. "To allow yourself to keep the game simple, you have to be humble. I don't think tonight we had the humility to win that game or make the right decision at the right time because sometimes we're thinking that we are better than what we are."
Cementing his spot
Goals and assists mean the same to Harrison. At 5ft 9in, he stays on the edge of the box to defend corners. Against the Philadelphia Union, he was the closest player to recover David Villa's loose touch and quickly broke away with the ball. A backheel to Villa beat the two defenders who had recovered and opened the window for him to finish.
Harrison has assisted Villa's last two goals, both on the break, but his play while NYCFC are in possession is how he's become a regular. Harrison's simple passing and combination play with Lampard allows for the team to retain possession and play from back to front. Against the Red Bulls, Harrison had to drop deeper since injuries forced Jason Hernandez to right-back.
"It allowed me to go more one-on-one against my defender and if it didn't work out then I always had the support behind me," Harrison said.
With Hernandez staying at home, Harrison had to choose between taking defenders on 1-vs-1 or playing back to Lampard and the midfield. He chose passing back more often as NYCFC kept to their principle of overloading one side of the field in attack and in defensive pressure. The approach worked as NYCFC forced turnovers upfield and created chances with Lampard and Andrea Pirlo switching play.
Mentor and supporter turned creator as Lampard turned two Red Bull midfielders and played Harrison into space as Aurelien Collin went to close down. Harrison took a touch onto his right foot and – opening his hips like in the crossing drills – curled his cross around two Red Bull defenders to Villa's foot.
"Some players know when to pass, when to dribble and skip past people," Lampard said. "On top of that, he's got a lot of humility. He's a really good kid. He wants to learn, he wants to work hard during the week and he's not ahead of himself. Personally, I think everything he wants is in front of him."
Shepherding the growth
Surrounding young talent with experienced designated players can be a tough proposition in MLS, but NYCFC are beginning to find success. There is a first-overall draft pick and a third-year pro flanking Spain's all-time leading scorer; a former U.S. U20 international picked up on waivers providing cover for two Champions League winners. The pieces are fitting together for NYCFC, but how they remain will determine the team's place as a contender.
This is, however, New York City, and to be successful in MLS is only part of the equation. The idea of a Manhattan SC product bringing play-off football to the Bronx is one of MLS's premises behind launching a second team in this market.
It took one month for Harrison to pick up Vieira's tactics and carry NYCFC to the top of the Eastern Conference. The fact that he's done so while bringing Lampard back to life is powering the Transatlantic hype train. From their times in London, Vieira and Lampard know about emerging players in large, global cities. Brought in to be leaders for a fledgling franchise, the two of them know that to reach new heights, they'll have to keep Harrison's feet on the ground.
Quizzes, features and footballing fun
Get the best features, fun and footballing frolics straight to your inbox every week.
Thank you for signing up to Four Four Two. You will receive a verification email shortly.
There was a problem. Please refresh the page and try again.