Brown Ideye: The pressure is all on Arsenal; we won't sit back; injuries don't matter
Sulaiman Folarin speaks with Olympiakos striker Brown Ideye, who previews their make-or-break Champions League tussle against Arsenal in Athens on Wednesday…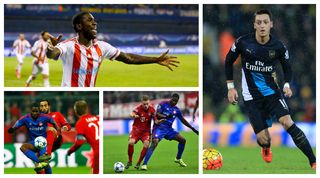 Brown Ideye has warned that Olympiakos are not under any pressure to advance on Wednesday evening in what has been labelled a do-or-die date with Arsenal. The former West Bromwich Albion striker insists that the pressure is all on the Gunners, who face the arduous task of travelling to Athens and winning 2-0 in order to advance to the knockout phase.
"The pressure is on them; we have nine points; they are coming to make sure they win," Ideye told FFT. "They have to score more than one goal because if they score one and we score, they're out. We just have to work on every mistake that they make, and ensure that we make all of our attacks count."
Gunners' injury crisis
Arsenal are have been hit by injuries ahead of their trip to the Karaiskakis Stadium, missing key players such as Alexis Sanchez, Santi Cazorla and Francis Coquelin, but the Nigerian is quick to point out that even with their star attractions, the Gunners still lost to the Greek giants at the Emirates Stadium on matchday two.
"I don't see any difference with the missing players and injuries. In football injuries happen," Ideye said. "It's a pity for them that they are passing through this phase right now, but that does not really affect us in any way." The thought that Arsenal could walk all over Olympiakos shocks the 27-year-old striker. Sitting at home in Athens, he insisted that his club sits in a rather comfortable position already, while the Gunners have to make sure they perform well enough to collect all three points in Greece.
"We have nine points. We're playing at home and we have all the support that we need to bury this game, unless God in heaven gives them the game, but I'm not looking forward to that. We have to qualify."
Tactical conundrum
Will Olympiakos sit back and just soak up the pressure? Ideye believes that would be a bad move on their part because they know what the North London side are capable of. "We don't want to sit back and let them do all the playing," he said. "At the end of the day we could regret it, saying we could have pressed higher."
Mesut Ozil may be confident that Arsenal can reach the knockout stage on Wednesday evening, but Ideye, who scored seven goals in 31 appearances for West Brom last season, admits that Ozil should be exuding such confidence, and that if he was in the same position he would be adopting the same stance.
"You can't expect him to say that Arsenal will go out of the group stage," he said. "Just like I cannot tell you that Olympiakos are going to lose. He's a football player; for sure he's going to put everything in to make sure his team qualifies, but at the end of the day the better side will win."
Knockouts beckoning
Arsenal in the FFT100
If Arsenal do reach the last 16, it would be the first time since Galatasaray in 2012/13 that a side lost their opening two Champions League group games but still went on to qualify for the knockout stages. And Brown is certain that won't happen when he laces up his boots for the Greek hopefuls.
"There is no way we're going to let this slip away from us," he stated. "I don't see us lying back and letting Arsenal pass us. It's not possible. We have to give everything on Wednesday to get the ticket and advance to the last 16."
Olympiakos vs Arsenal LIVE ANALYSIS with Stats Zone
Quizzes, features and footballing fun
Get the best features, fun and footballing frolics straight to your inbox every week.
Thank you for signing up to Four Four Two. You will receive a verification email shortly.
There was a problem. Please refresh the page and try again.