Call that misery? Why Dortmund fans are even gloomier than Arsenal's
Awful form? A string of injuries? If it sounds familiar to Gunners, Hassan Cheema insists Dortmund have it worse ahead of Wednesday's Champions League meeting...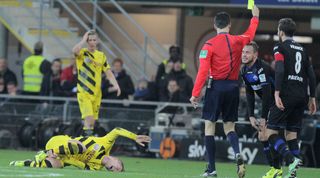 Just over a decade after almost going bankrupt, Borussia Dortmund were finally willing to spend. One of Jurgen Klopp's greatest achievements has been how much he has achieved with the money at his disposal; in the era of billionaire oligarchs Dortmund have found success the old-fashioned way.
DORTMUND FORM
Paderborn 2-2 Dortmund (Lge)
Dortmund 1-0 Gladbach (Lge)
Dortmund 4-1 Galatasaray (CL)
Bayern 2-1 Dortmund (Lge)
St Pauli 0-3 Dortmund (Cup)
Over the course of Klopp's first five seasons, Dortmund's net transfer spend was less than €10 million – not per season, but overall. With Champions League participation now seemingly close to being guaranteed and Bayern using their financial muscle to pull away, it was finally time for Klopp and Michael Zorc to try and bridge the gap. Hence this past summer, the departure of Robert Lewandowski was offset by the signings of Serie A capocannoniere Ciro Immobile, World Cup winner Matthias Ginter, Adrian Ramos, Shinji Kagawa and the permanent signing of Nuri Sahin after he'd spent the previous 18 months on loan at the club where he started.
Thus, it was expected that Dortmund would challenge more closely for the title than they had done in the past two years. The Bundesliga would have its first real title race in three years.
But with a third of the season gone, Bayern are already odds on to win the title. Dortmund, meanwhile, have fewer points than the number of matches played and occupy a place in the relegation play-off. Considering pre-season expectations, hype and hope, it is nothing short of calamitous.
Where have all the defenders gone?
Usually when trying to deconstruct the decline of a team, a multitude of factors come into it, and sometimes the decline borders on the incomprehensible (See Moyes, David). For Dortmund, though, there is one major and most obvious reason: injuries.
Now, of course, fans of other clubs would argue that every club suffers from an injury crisis or two every year, and if Dortmund are to be an elite club they will have to deal with such setbacks. This retort would carry more weight were it not for the fact that Dortmund did exactly that last season, when several of their starters suffered long-term problems.
This season, even more than last, it's not how many injuries they have but who they've got on the sidelines. Each line of the formation has suffered a setback Klopp's men have been unable to cope with.
Even at their best, Dortmund's defence was the most unheralded of units. On paper they don't seem to make sense: two giant centre-backs, neither of whom is particularly quick, playing as the partnership in a team aiming to play a high line. And yet Mats Hummels and Neven Subotic, together with Lukasz Piszczek and Marcel Schmelzer, formed the defence that brought Klopp all his success.
In 2010/11, when Dortmund won their first league title in almost a decade, each of that quartet started at least 29 of the 34 league games. The following season three of the four started at least 28 matches, and only Subotic (who played 25) missed more than a month of action due to injury, as Dortmund achieved the first league and cup double in their history.
In the former season they let in only 22 goals (the second-lowest number conceded in a Bundesliga season ever until that point); in the latter they were still good enough to have the country's third-best defensive record despite a poor start.
But over the past 16 months, the stability of that unit has been compromised. Last season each of Hummels, Subotic and Piszczek missed significant portions of the season due to injury. With all four fit to start the season it seemed the travails of last season would be over.
Instead, with niggles and injuries affecting nearly everyone in the team, Dortmund have had to use nine different back fours in their first dozen league matches, none of which have been the quartet of Piszczek, Hummels, Subotic and Schmelzer.
In fact, only in three matches have as many as three of the first-choice four started. The result is that Dortmund have the fifth-worst defence in the Bundesliga right now. It's said that attacks win matches, defences win championships. Unfortunately for Klopp he can't seem to send out his championship-winning back four anymore.
Marco's magic
BUSYING THE PHYSIO
Marco Reus (torn ligament)
Mats Hummels (stretched ligament)
Sokratis (fractured tibia)
Sven Bender (knock)
If it was just the defence then perhaps Dortmund could have coped, as they did last season, by just trying to blow the opposition away in every match. Instead what they have is a forward line devoid of its knights in shining armour. Last season Robert Lewandowski top scored in the league with 20 goals, averaging a pretty decent 0.64 goals per 90 minutes. He was the undisputed leader of the attack, both as a goal threat and as the point of the spear as Dortmund closed teams down. This year neither Ramos nor Immobile have started more than five league games and Klopp has started to leave both of them on the bench with Pierre-Emerick Aubameyang deployed as the poor man's Lewa.
Yet for all of the Pole's brilliance it was still Marco Reus who was star and saviour of the team. His 16 goals (0.65 goals per 90mins) in the league, to go with the league-high 14 assists, made sure that the issues in Dortmund's defence could be compensated far more often than not. Dortmund ended up scoring 80 goals in the league last year; to equal that this year they will have to score 66 goals in their remaining 22 matches.
This season, Dortmund's first victory (where Reus grabbed a goal and an assist) was followed by him getting injured on international duty. And while Immobile, Ramos and Aubameyang have scored goals this season they haven't been able to counteract the loss of Reus. Klopp has even tried to go with a forward pairing, but in both such league games the result has been a loss.
Perhaps nothing encapsulates Dortmund's bizarre form quite like the fact that both Immobile and Ramos have scored more goals in the Champions League than in the Bundesliga. With Reus's return, Dortmund expected to get better – in the eight games after his comeback from injury he netted six goals and provided two assists. Superstars can paper over all kinds of cracks.
But again Dortmund will have to go on without their star man until January, after he tore ligaments in his right ankle during Saturday's frustrating 2-2 draw with Paderborn (in which he scored, again).
Creativity is key
Perhaps even more important than Reus's return against Köln on matchday eight was that of Ilkay Gundogan in the same match. In the first seven matches this season where they dropped points, Dortmund's average possession was just over 60%.
And while in the post-Pep world possession has often been a by-word for domination, Dortmund, much like Atletico Madrid, prefer to go against the grain. Theirs is a team that wants to exploit the opposition's mistakes and be efficient with their own possession of the ball. For instance, when they reached the Champions League final in 2012/13 they had more possession in only three of their 11 matches.
Thus, with teams now sitting back against them in the league, and them subsequently having even more of the ball than they would want, they require a creative midfielder who can account for the loss of their forward saviours. Instead what they've had is the absence of their two best creators. Sahin is yet to play a game for Dortmund this season, while Gundogan has started just three after a layoff of more than a year.
Against teams that do attack them, they can still survive by the press-and-counter that's become second nature. For instance, in the four games in the Champions League so far their average possession is 48%, and the result is that they have scored 13, conceded one and won all of their matches.
In such matches the partnership of two ball-winners (Sebastian Kehl and Sven Bender) becomes a positive rather than a liability. But when teams sit back against them that midfield becomes a millstone. It is in such matches that the team seems to cry out for someone to take creative control of the game in the middle, and of all the players that have been tried there this season, none seem up to the task.
One step forward, two back
And then there's the motivational factor. With the possible exception of Diego Simeone, no elite manager seems to live and die by his team's performances quite like Klopp. His exuberant celebration after Dortmund's first win in six against Köln was perhaps the most succinct description of the man.
Quite obviously, he strives for excellence at all times. But what of his players? They know that even if they wobble they'll still be good enough to return to the Champions League, but even if they play the whole season perfectly it might not be good enough to overhaul the juggernaut in Bavaria.
Perhaps, although they'd loathe to admit it, they enjoy the Champions League more than the league not just because of the differing expectations but also because success – however they define it – is a possibility there; in the league, even their best would be a continuation of the last two seasons and a step down from the two before that.
The past month had provided some relief for the Dortmund faithful, though. After the loss to Hannover in the league they won at St. Pauli in the cup, followed it up by taking Bayern down to the wire at the Allianz Arena and then achieved consecutive wins for the first time since September against Galatasaray and Borussia Mönchengladbach. They had less than 54% possession in each of the last three of those games and the return of Reus pointed to a return to what made Dortmund who they were.
The charge for the league title may have been over, but just a return to normality after the anarchy and depression of the previous two months might have been enough to sate the appetite and create momentum going into their bout against Arsenal on Wednesday.
Instead, Saturday's match at Paderborn typified Dortmund's season. By half-time they were cruising with a two-goal lead, closing in on the Champions League places. But the one step forward was followed by two steps in the opposite direction.
The second half saw them dominate the ball (they ended with over 60% possession again), blow their two-goal lead and, perhaps most crucially, saw Reus stretchered off with the ankle injury that rules him out until beyond the winter break.
As Arsenal fans recover from the loss, despite sterile domination, against Manchester United over the weekend, they can take solace in the fact that, for once, their opposition shares the mood that persists at the Emirates.
That might be the final straw for two groups of fans to clutch onto as they realise that when things start going against you, it never rains but it pours.
Arsenal vs Dortmund LIVE ANALYSIS with Stats Zone
Quizzes, features and footballing fun
Get the best features, fun and footballing frolics straight to your inbox every week.
Thank you for signing up to Four Four Two. You will receive a verification email shortly.
There was a problem. Please refresh the page and try again.