Craig Johnston: Q&A
"The FA cost me £1.5m and my marriage, so I ran round the car park with knickers on my head shouting 'You're a bunch of tw*ts'"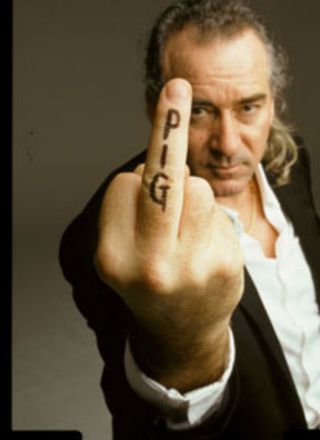 What are you up to?
I've basically stopped everything I do including coaching kids and developing shoes and I'm exclusively a photographer. I've walked away from football and coaching. I had a photography exhibition in Orlando that went really well and was well received by the art crowd. I do a lot of photography for Sotheby's, the auction house. I specialise in sculpture and still life. And I recently photographed Tiger Woods for Tag Heuer. That was my first real paying job as a photographer. I've been doing it for years for free. I'm hooked on it now as a career.
Where did your interest come from?
In Middlesbrough my first wage was £8. It was an amazing place – cobbled streets, misty mornings – and there was a camera shop on the way to Ayresome Park. In the window was a second-hand German camera called a Zenith EM and the moment I saw it I knew I wanted it. I had to save up £64 – so eight weeks' wages – to buy this camera. As I got more successful at soccer and earned more money I was able to buy more expensive photographic equipment and when I moved to Liverpool I actually started a photography business in Bold Street. And in my home at Anfield Park I had a darkroom with the old fashioned enlarger and the chemicals. I was making money playing football but almost every penny of it I spent on photography.
How did your passion fit with other footballers?
I think they found it an annoyance to start with because I always had a camera in their face, but then when they saw the quality of work they'd say 'Oh can I bring my kids over to your house to take some family pictures'. I photographed Alan Hansen or Greame Souness and his kids. I also did Rushie and Mark Hughes together with Porsches. I had a lot of the players over to my house and I've still got all the pictures somewhere. One day I'll have to do a book. I'd photograph them in black and white and develop them and hand colour them.
Is it true you wrote The Anfield Rap?
Absolutely. Conceived, wrote it, directed the video. I went to London and sought out a guy called Derek B who was Britain's first ever rapper. This is before rap had even come to Britain's shores and I was on it and I went to this guy and said: "Look it's a p*ss-take - let's write it". So I wrote the words and he got the Twist and Shout hook. There wasn't a single Englishman in the team at the time. They were all Scots, Irish, Welsh, a Dane, a Zimbabwean, an Australian… So the whole thing was about the dressing room craic. It was about McMahon and Aldridge and accents and how the other lads didn't talk like them.
"Arr 'ey mate, we're great me and you, but the other lads don't talk like we do."
"No they don't talk like we do, do they though la? We'll have to learn them to talk proper."
The whole thing was about accents and how there was only two who had the proper Scouse accent. Now and again I get a royalty from Virgin Records and it's always a cheque for like £1.27 or 89p. I never bank it because it's not worth it. I should frame them though.
You've now had several careers. You must have a lot of drive and entrepreneurial spirit.
I had a lot of drive and entrepreneurial spirit but when you're a pioneer you usually end up with arrows in your back so in older age I don't have the same drive and enthusiasm, I just do what I want to do. I think that is why I love photography because I'm responsible for the end product. It doesn't have to go through a whole process or a bureaucracy or a filter. You don't have to please anyone except yourself.
It tires you; you get a bit jaded and cynical with the whole thing. I've always liked to achieve and to me getting a great picture out is an achievement but there's no-one else to blame if I f**k up but then non-one can blame me if it f**ks up. I've been lucky to have 3 or 4 different careers in things I wanted to do. Writing music wasn't a career – it was just a piss-take. I co-wrote the New Order song World in Motion on which John Barnes did the rap. Then I had a game show called The Main Event which was primetime over here which did extremely well. Then there was the Predator boot.
There was a really good documentary about that.
Well yeah people still say now "There was a really good documentary on you" like I had nothing to do with it. But I totally engineered that. And what was particularly pleasing about that was that I had the foresight to film the development of the shoe the whole way through and then present it the BBC as a fait accompli. It was Janet Street-Porter at the time and I went to her and said here's almost a finished story of how I have taken on the boot world because I think I have a better idea. But logging the process visually was hugely helpful.
And what's this about mini bars?
The minibar thing called The Butler is still going. I've spent a long time in hotel bedrooms in my career and as footballers we always used to get blamed for pinching stuff out of the minibar. Some of it was true but sometimes it wasn't. So I thought there's got to be a better way. Rather than reinvent the fridge I thought why don't we put some shelves in place with sensors that link to the phone. It's a simple idea so when I was living in Ireland I decided to make one and it went from there.
It was design and I've just got a design head. I love the way things are made. As a kid I didn't play with toys I used to pull them apart to see how they worked and then see if I could put them back together again. It was all about how it worked. If you're a designer and you like things that are 3D and are aesthetically pleasing, then you can get immense satisfaction out of good design.
For me it's the same with football. I get a real buzz out of a great performance from a team if it crosses that line and becomes art. There's a wonderful joy in watching someone like Gianfranco Zola beat a man by using ballerina-type moves. Again it's art.
I've always thought visually; I've always thought in 3D space. Hence the love of fine art photography which is what I'm doing now. I'm photographing lovely stuff, you know. How does all this come about? Because it just comes naturally. I was made to be a designer. People say, "How does a footballer end up being an inventor and patenting this and that and that?" And I say, I was an inventor and then I became a footballer.
But you almost didn't become a footballer at all. Didn't you have some problems with your leg?
It was worse than that. My mother actually signed the amputation order to have my leg removed because it was that bad. Osteomylitis is like polio – it rots the bone. You've got to have it off so that the infection doesn't spread. At the time there was a famous American surgeon who was touring Australia and by chance he intervened and said that there is a way of saving limbs. I was days away from losing my leg, it had all been signed off, but then this surgeon came to my rescue. Funnily enough I was there on the weekend at Newcastle hospital. It brought it all back. I was there for nearly eight months.
Do you think that made you more determined?
Absolutely. I lost 8 months to a year when I was five years old and should have been running around. Did you ever see me play football? I'd run around like a f**king lunatic and that is because I used to love doing that as a kid, not having been able to do that for so long when I was five. So I actually made a career out of running around and making a nuisance of myself. It's why I love surfing as well because the hospital is actually on the beach. So it was all of that looking out the window and seeing the surf. That's why I have such a love of surf. I could see all the kids running around and I was just like "let me out of here".
One last thing, didn't you have a big falling out with the FA recently?
Yeah, they f**ked me over. Because of their delaying tactics, incompetence and gamesmanship I went bankrupt. It cost me £1.5 million and my marriage. At one stage, after countless pointless meetings with them, I lost it. I nearly punched one of them out. Instead I ran around the car park with a pair of women's knickers on my head shouting "You're a bunch of tw*ts!" But listen, that's a whole other story so I'll have to tell you that another time.