David James: One-on-One
"Liverpool spoilt the illusion I could break records"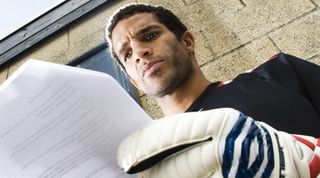 What's with the recent hair experiments? The side partings, then the beard… Were you a barnet maverick as a kid?
Craig Beattie, Yorkshire
As a kid? Not so much if I remember, but definitely more so as an adult. Many moons ago at West Ham I had bleached blond hair. My recent side parting wasn't the first time I'd done that. I had it at Liverpool when we were playing Newcastle years ago. A few of my mates were watching it in a pub and apparently the whole place went mental laughing at me.
Who were your heroes growing up – football or otherwise?
Adam Streeter, via e-mail
Bruce Grobbelaar. I saw him once when I was watching Luton play Liverpool and he was amazing. I liked everything he did. I played on his team and he was a top bloke, too. Cyrille Regis at West Brom was another. He was my mate's hero more than mine but I had a bit of fondness for him. Outside of football, Colin Jackson, Mark Foster [former world champion swimmer] and a few people who have excelled in other industries.
You're brighter than the average footballer. What would you be doing if you weren't a professional sportsman?
Chris Bowden, Torquay
Definitely a dustman. No, I didn't mean that to be derogatory but anyway… I would have been in the army. I like order.
Is it true that you were a real stickler for stats at Watford? How much of a Statto were you exactly?
Olivia Boyd, via e-mail
Who has asked that question? [Long pause, then a shake of the head] Yes, I was. I was always into breaking records. There was an athletics board at school and I always looked at what ones I might go for. That went into football and I was once told to keep a record of every match, the goals that went in, things like that, clean sheets, whatever.
As some sort of measurement I went through the Watford history and found out what records I could try to break. When I got a little bit older I got more into Autocar. I learnt all the 0-60s and top speeds, things like that, and memorised quite a few.
When did I stop? When I got a life! No, it was, in football terms, about seeing how well I was doing in comparison to history. When I joined Liverpool, I knew Ray Clemence had conceded just 16 goals in one season, but after I got to 10 I sort of gave up on it. Liverpool sort of spoilt the illusion I could break records. I still keep my eye on things, like the clean sheets record, but I'm more of a team player now.
Is it true you have OCD tendencies? What areas of your life do they extend to? I've read stories about Pepsi cans and gobbing on urinal walls…
Caroline White, Dover
Gobbing on urinal walls used to be one. My match preparation at Liverpool used to be at least 24 hours long. I'd go through a routine from Friday afternoon onwards. Meals, bed – everything had to be done at the same time, in order. It pretty much worked as well. It wasn't superstition so I didn't have to wear the same suit or shoes or anything like that.
I just had to know things were ready and if someone disrupted my preparation, I wasn't happy. But I never told anyone what I was doing. Then I became more and more into it and the more into it you are, the more you have to do things yourself. At home people knew to leave me to it. I've eased up on it now – I was even late the other day! – but it never stressed me out.
It was your sponsorship deal with Armani that got the Liverpool squad those suits, so do you take full responsibility for the most famous fashion disaster in living memory? Do your former team-mates blame you for any stick they get?
Quentin, via e-mail
[Rolls his eyes] The story is quite simple. The suits we were going to wear were shown, someone asked me whether I had any contacts with Armani and I said 'yes' and passed it on. I didn't choose the suits and I didn't care what people thought – I was playing in the FA Cup final and that's the thing: had we of won they would have been the most fashionable suits. It was just the fact that we lost and didn't play particularly well on the day.
Lots of Liverpool fans blame you for Eric Cantona's last minute goal in the 1996 FA Cup final. What do you think?
Jean Moore, via e-mail
It was a good finish and it went through a lot of players. Next question.
At the height of your 'Calamity James' stick at Liverpool, how much did it affect your form and mental state?
John Richards, Liverpool
[Long pause] Whatever the height was it was better after. It's part of life. It can't be all plain sailing, but every now and then people just keep bringing it back up like a bad habit, a bad smell.
Who's the best defender you've played behind?
Eliza Woodridge, Manchester
Too many to mention… there just isn't a best. There are a number of players who are all very good but with very different attributes. It would be wrong for me to single one out. [FourFourTwo: So you…] That's it. I'm not answering your question.
Which striker you have faced has the hardest shot?
Dave Edwards, Sutton
I saved a shot from Jose Reyes once that felt pretty hard because it hit me in the face. But there's only one: Jimmy Floyd Hasselbaink. Unbelievable. He scored with a two-step run-up from 35 yards. It went like an absolute bullet.
Rumour has it you've painted some of your team-mates nude. Which ones? If you could paint any famous person nude, who would it be?
Jean Moore, via e-mail
That's just not true.
When you were at West Ham in 2003, did people think you were too good to go down?
Gemma Poole, via e-mail
No, not at all. We had a good side we just didn't get enough points. We ended the season well and played some fantastic stuff but it's what happens over the course of the season. We just weren't good enough so… we went down.
You're one of the world's greenest footballers: to what extent does your environmentally-friendly behaviour go?
Jamie Crook, Highgate
I've had my car converted to rapeseed oil. It's a zero-carbon cycle. I am looking at getting bio fuel to heat my house too. Whether I am the greenest or not is very, very arguable. I do so many miles a year that I thought it was about time I did something. Driving green is a good start.
You live in Exeter. That's miles from Portsm…
Will Henley, Cheltenham
[Interrupts] I do live in Devon but not Exeter, hence the reason for the car. I don't do it every day but when I do I get up early and get to see some of the nicest countryside in England coming through Somerset. Hampshire is nice, too. It takes a couple of hours.
What music do you listen to on your long car journeys to work? Or is it Radio Four all the way?
Graham Butler, Cambridge
I listen to Radio Two quite a lot. Whatever the debate is in the morning I enjoy. I like a good debate rather than music on the radio. Classic FM every now and then as well. I have got quite a lot of classical music on my Ipod.
Living out in the sticks, how much of a fan of country pursuits are you? Are you into shooting or fishing?
Stephanie Tiley, Islington
No. I do a bit of gardening now and again but that's it. I spend most of my time in the car driving to and from work so…
When you played up front for 10 minutes against Middlesbrough a couple of years ago, how did you cope? Be honest, you were knackered weren't you? And do you think you would have been shown a red card had your tackle on Stewart Downing been made by an outfield player?
Quentin, via e-mail
I wasn't knackered because it wasn't only 10 minutes but yeah I booted just about every player on their side and I think I was fortunate not to get sent off. It was a good experience, though, I enjoyed it. But do fancy myself as a bit of a striker? No, to compare me to someone like Michael Owen would be simply ridiculous. I'll just stick to going up for corners in the last minute if we need a goal, although I think heading in last-minute winner would be harbouring a little too much of a dream.
You founded the David James Foundation and you're global ambassador to the Special Olympics. How do you choose what campaigns you endorse?
Dave Rhodes, Macclesfield
The David James Foundation was set up by a friend because we wanted to address the issue of sustainability and planting techniques in Malawi after going out there on an AIDS awareness campaign. I've put my name to it and am heavily involved in it but it is more about people wanting to do the work.
The Special Olympics: I wanted to get involved with a sports charity rather than a mainstream one. I say mainstream as in Oxfam or one as big as that, which are all good but there are a lot of names involved so you just become one of the names rather having a more active role, which is what I prefer. There's a difference between putting a T-shirt on and having a photograph taken and actually having a chat with people and finding ways of improving the coverage they need or improving the service they provide. When I finish playing, I plan to get more involved with Malawi.
Is it true that last October you refused to do any more interviews for Sky Sports until December, because that was the earliest an engineer could fix your home satellite system?
James Gant, Brighton
Yes, that's true.
Do you regret admitting to not preparing properly for England's friendly against Denmark in August 2005? Were you subsequently dropped for your honesty or for your mistakes in the second half when England conceded four goals?
Anna, via e-mail
[Long pause] I told the truth. I don't know. At the end of the day it was a decision the manager made and I've managed to get over it in some respects and got back in the squad. I don't know. It wasn't a good day.
You were arguably the form English keeper in the Premiership last season. Do you think Steve McClaren pointedly decided to pick younger players?
Chris Bowden, Torquay
He told me he was going to look at the younger goalkeepers because he knows what I am about. He needs to know who the future is going to be. I think Ben Foster is a good prospect. So is Scott Carson. There are a few good young English goalkeepers and I think my exclusion from the squad isn't down to anything other than that.
Do you think your England career is over?
Peter Harper, via e-mail
I have to be hopeful that if I keep plugging away that I can back in the squad. Keeping going is the plan. I'm happy with the way I'm playing so why should I retire from international football?
You're 36 years old now. How long do you think you can keep performing at the top level? Would you consider dropping down the divisions?
Craig Beattie, Yorkshire
Yes, of course. If I'm still fit and hungry then as long as it was logistically possible then I would do it. Hopefully I'll be around for a few years yet.
What will you do when you retire? Coach, pundit, art teacher?
Alfie Beattie, via e-mail
I don't know. Not a pundit though, I don't know enough about the game.
What's the meaning of life?
Greg, via e-mail
It's a deep one, isn't it? We are all molecules being shared amongst each other and that's it. That's Richard Dawkins. Have you heard of him?
From the September 2007 issue of FourFourTwo.
Quizzes, features and footballing fun
Get the best features, fun and footballing frolics straight to your inbox every week.
Thank you for signing up to Four Four Two. You will receive a verification email shortly.
There was a problem. Please refresh the page and try again.