Dirk Kuyt: 'I almost missed the 2007 Champions League Final – because Peter Crouch drove at me in a go-kart...'
Why did Crouchy nearly run him over? Torres or Suarez: who was better? And has he met a player who works harder? YOUR questions answered by the former Liverpool favourite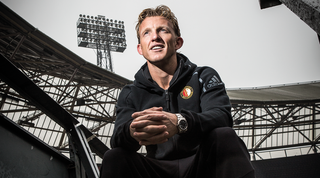 Please note: this feature originally appeared in the February 2017 issue of FourFourTwo. Subscribe now! 5 issues for £5
Before football came along, what did you want to be when you grew up?
Alana Clark, via Twitter
Football has always been my passion. From five until 17 I played at the local amateur side Quick Boys and my dream was to get into their first team. I dared not think any higher back then. I was a painter, after I noticed other players did the same, so I know how it is to have a normal job. From 15 to 17 I'd spend four days working and one day at school. When I signed for FC Utrecht in 1998, I then had to give up my job.
You've played in many positions in your career. What did you start as?
Jamie Cox, via Facebook
In my youth, I'd always played as a striker. I also played there when I joined Utrecht, but in that period I started to play occasionally on the right wing, too. Later I played for Feyenoord as a centre-forward, but when I got selected for the national team I was also used on the right side of attack. Under Marco van Basten, I played almost solely on the wings.
You played non-league football in the Netherlands until you were 18. Why didn't one of the big clubs spot you?
Henk Mulder, via Facebook
I did play in district teams and there had been interest from professional sides – second division clubs such as Haarlem and Telstar. But for me it was OK to play in the youth academy of Quick Boys, which was still at a high level. I was selected for the Dutch national team at 16, but was let go after one of the test training sessions. I knew I was a decent player, but didn't anticipate this would be my path.
Was your display against Feyenoord in the 2003 Dutch Cup Final what convinced them to sign you from Utrecht? Was that the day you really realised you'd made it as a player?
Rupert Lay, via Facebook
I knew I was going to Feyenoord before the cup final. It was a tense situation, because it made for mixed feelings for everyone. There was a lot of pressure on the game, but for me it was clear I wanted to give everything for Utrecht one last time. I saw it as an opportunity to make an early mark at Feyenoord – to show them what they were getting. In the end, I scored and we won 4-1.
It was great to conclude my time at Utrecht in such fashion. It was special to see many fans – of both Utrecht and Feyenoord – give me a standing ovation. On that day my bond with Feyenoord's fanbase really started.
CLUBS AND COUNTRY
1998-2003 Utrecht
2003-06 Feyenoord
2006-12 Liverpool
2012-15 Fenerbahce
2015- Feyenoord
2004-14 Netherlands
I read that you made a record 179 consecutive appearances from 2001-06 - how did you manage that?
Krishnan Tvm, via Facebook
During my career, I've always felt very fit. Having said that, I can't remember many games where I didn't have any pain at all. If you really want to achieve something, you have to make sacrifices, which includes having to put up with aches and pains at times. Football is a contact sport and you will get into a lot of challenges. In five to 10% of the games I was pain-free, but I've always been able to handle strains.
Was there interest from other clubs when you joined Liverpool in 2006?
Mike Canning, via Facebook
A year before I went to Liverpool, I had the opportunity to go to Spurs, where the manager Martin Jol and chairman Daniel Levy expressed an interest. But it was on transfer deadline day, and at that time I didn't want to move.
Later on, Liverpool became the number one club who wanted me, although all the negotiations took a while. Other clubs showed an interest too, such as Atletico Madrid. That's also a nice club, but once I'd heard of Liverpool's interest, it was the only club I wanted to go to. From a young age I'd always liked Liverpool.
What was your reaction when Rafa Benitez asked you to play right wing for the first time? Did you have any idea it would become a regular thing?
Storm Simpson, via Facebook
I started at Liverpool as a forward, or in fact as a second striker. And in my first season it went really well, as I finished as the team's top scorer in the Premier League. During summer 2007, while I was relaxing on holiday in Aruba, I read that the club had signed a certain Fernando Torres.
During the next season, I experienced a difficult period: my father passed away, and on the pitch I didn't play quite as well in the first couple of months. Both Torres and Steven Gerrard started to work really well, with Gerrard deployed in the No.10 role. It created space on the right wing for me. One of the first important games I played there was against Inter, and from that moment it went really well. I scored some important goals and I was also providing assists. Everything kind of fell into place – I fitted quite well into that system.
In an average week, how many times would Steven Gerrard mention the 2005 Champions League Final?
Tommy Harper, via Twitter
He never really talked too much about the successes he gained on the pitch, but he is someone who's so ambitious and it was clear to see that Liverpool meant everything to him. He's the best player that I have ever played with. He had everything: speed, an incredible shot, but he was also someone who kept going for the 90 minutes and didn't shy away from challenges. He was a born leader, in his own way.
He was so versatile and it was fantastic to play in a team with him. I had a good bond with him. We played together for six years and have remained in contact ever since. It was nice when he invited me to play in his testimonial – that expressed an appreciation for me, as he's played with so many good players throughout his career.
How nervous were you when you took your penalty against Chelsea in the 2007 Champions League semi-final?
Andre Green, Lambeth
It was actually all a bit of a haze, as it was such an incredible, nerve-wracking game. I remember scoring in extra time – a goal which would have decided the tie – but it was wrongly disallowed. During the penalty shootout I was focused on trying to reach the final.
It then became apparent that I could decide the game with our fourth kick. I can still hear the noise in the stadium after slotting the ball home. It was one of my most special nights at Anfield. European matches were all fantastic experiences - and I also remember incredible games against Barcelona and Real Madrid.
We came across Chelsea so many times in that era – there was never really a dull game. It was in the time of Jose Mourinho, who always likes to add some fuel to the fire. There was also a last-eight tie in 2009, when Guus Hiddink was at Chelsea. We lost 3-1 at home, but at Stamford Bridge we got involved in this crazy game that ended 4-4. It swung one way and the the other. The thing with Liverpool, particularly at that time, was that we were a machine and never gave up.
How annoying was it to score in the 2007 Champions League Final against Milan in Athens, but still end up losing?
Andy G, Merseyside
To play in that Champions League final was a fantastic achievement, but losing it is one of my biggest disappointments. We didn't control the game enough in order to hurt them, and they scored two goals at the right moment. In the end I scored our goal a bit too late, or we could have come back like Istanbul.
To be honest, I was happy that I was playing in that match at all; before the final there had been an incident that almost prevented me from taking part. When we were in the training camp before the final, the squad went go-karting. I didn't join in, as I wanted to rest a small injury, but I went along to watch and picked a safe-looking spot to stand beside the track with Rafa.
Out of nowhere, Peter Crouch drove straight at me at roughly 35mph. He couldn't brake! The only thing I could do was to jump in the air, and in the end I just managed to jump over Peter, and he crashed into cardboard boxes behind me. I was within a whisker of having my ankles torn to pieces, and would surely have missed the Champions League final. It was incredible that I saw him just in time and could jump over him! Crouchy's face was as pale as death, he'd had some kind of blackout. Fortunately everything was all right.
Fernando Torres or Luis Suarez: who was better during your Anfield career?
Rob Kennedy, Dublin
That's a difficult one as it wouldn't do justice to them to make a choice. I had the privilege to play with Torres when he was at the top of his game. There was nobody else at his level at that time. He had a special style of playing, where he put this explosiveness into his movements, and he was deadly when facing towards the opposition's goal. If you gave him the service, then there was always a good chance of success.
Luis is a different type of player, but another fantastic forward. He's a very different character on and off the pitch. Away from the field he is very relaxed and down to earth, a fantastic person. On the pitch he does everything to win. At times that attitude causes trouble, but it's also what makes him so good.
Before Luis' arrival at Liverpool, I was aware of the club's interest. They had asked my opinion of him as a player, and of course I was very positive. Just after I heard that Luis was about to sign, I called to congratulate him and tell him that if he or his family needed anything – like advice on housing – he could call. From the start there was a mutual click – with our families, too. Our bond was reflected on the pitch. In his first six months we played together up front, and we became a really good pairing. We both scored a lot of goals and helped the team win lots of points.
Which did you prefer – the league hat-trick against Manchester United in 2011, or the 88th-minute winner against them in the FA Cup in 2012?
Alex O'Leary, via Facebook
Both were special moments, so it would be impossible to pick. The hat-trick was unique. Not many players score three against United, and to do it in a Reds shirt was great. I scored all the goals from close range, and the first came after some great work from Suarez.
When I scored the winner in the FA Cup 10 months later, it came in a more challenging period, as I wasn't playing as regularly as I wanted to at the time. Kenny Dalglish gave me the chance to come on with 25 minutes left. To decide the game in that way in front of the Kop was also fantastic.
Do you think you would fit into Jurgen Klopp's team at Anfield?
Josh Hamer, via Facebook
Judging from a distance, I think I would, yes. I don't really know him, of course, and I don't know how he trains, but from everything I've seen I think he's a manager I would've liked to play for.
Football in Turkey has a reputation for being a little crazy – what was the maddest thing that happened during your time as a Fenerbahce player?
Will Newman, Oxford
We played a match at Trabzonspor, which totally spiralled out of control. It got so heated we had to hide in the dressing room from their fans for four hours after the match. Eventually we were transported to the airport in an armoured police car. The people in Turkey are very emotional – mostly in a positive way, but sometimes also in a negative way.
Was there anyone you wish you'd stuck a reducer on in the 'Battle of Nuremberg' between Holland and Portugal at the World Cup in 2006?
Darren Walsh, via Facebook
That game was incredible. I was not involved in a personal battle; I was too busy calming down the fights! My main memory is having a chance where I missed the ball by an inch. Perhaps that could have changed the match, but unfortunately we lost.
How the hell did the Dutch manage to smash Italy and France at Euro 2008, then lose to a pretty average Russia team in the quarter-finals?
Alfie Griffiths, via Twitter
The first three of our games were fantastic, but then we had a difficult day against Russia. We were below our level and lost what was a war of attrition; I think cramp and fatigue took their toll on some of our players. Personally it was a disappointment for me, as I got substituted at half-time.
I remember thinking at that moment that it could prove to be a long game, and in those encounters I can be decisive. So many times in my career I've made goals at the end, in the last minute or in stoppage time, because I've got some extra stamina.
Nine Dutch players were booked in the 2010 World Cup Final. Was a lack of discipline the reason you eventually lost to Spain?
Jordan, via Facebook
No, I don't believe so. I know it was a really physical match, but we didn't play with a lack of respect for our opponents. I remember some of the Dutch and Spanish players were discussing the match together afterwards, as there was a mutual respect. It was a World Cup final, and in that high-pressure situation things happen in the heat of the moment. The game was settled on small details; if we could have hung on for a little longer, we would have had a penalty shootout. Then, who knows?
You've played in some fierce derby matches with Feyenoord, Liverpool and Fenerbahce, but which one was the most heated and passionate?
Jun Kaloustian, via Facebook
They have their own character. What I liked about the Merseyside Derby is that both sets of fans are able to attend. In Holland [Ajax-Feyenoord] that's no longer the case, and with Galatasaray against Fenerbahce that's not possible at all. I remember scoring in the derby for Liverpool and seeing joy on the faces of the Reds fans, and the disappointment among Everton's.
My brother-in-law was there and he thought: 'When we leave the stadium, it will be war.' But once outside, red and blue blended into one another and no incidents took place. When Fenerbahce beat Galatasaray, it almost leads to a national festival. I have had similar experiences in games between Ajax and Feyenoord. The feeling of how the stadium just explodes after you score a goal in those games is unparalleled.
You always worked hard. Did you ever come across another player who worked even harder than you?
Martin Thompson, Oldham
I definitely played with some guys who worked hard and were always there on the forefront. Of course, Steven Gerrard worked tirelessly, but I also remember John Arne Riise always kept going too.
What springs to mind most are South Americans, like Luis Suarez and Javier Mascherano, who trained and played straight after they had come back from an international on a Wednesday. We'd adapt training in order for them to join after they had just flown in. They were exhausted and had jetlag, but didn't complain. That showed great mentality.
What does the future hold for Dirk Kuyt? How much longer do you think you can keep playing? And will you become a coach after you retire?
Jim Orchard, Chester
It'd be nice to be a coach, but there's no guarantee that you'll be a good boss if you've been a good player. If I get the right feeling for it, I want to give it a go. I want to continue with my foundation, which helps sporting projects for people with physical or mental disabilities. We've supported some causes abroad in the past, too. Robin van Persie once donated £30,000, an amount he was able to give after he'd won a Premier League award in 2012.
Then read...
WHERE ARE THEY NOW? Liverpool's Champions League finalists of 2007
LIST The 9 best teams that DIDN'T win a thing
Photography: Antim Wijnaendts van Resandt. This feature originally appeared in the February 2017 issue of FourFourTwo.
While you're here, why not take advantage of our brilliant subscribers' offer? Get 5 copies of the world's greatest football magazine for just £5 – the game's greatest stories and finest journalism direct to your door for less than the cost of a London pint. Cheers!
Thank you for reading 5 articles this month* Join now for unlimited access
Enjoy your first month for just £1 / $1 / €1
*Read 5 free articles per month without a subscription
Join now for unlimited access
Try first month for just £1 / $1 / €1
Get FourFourTwo Newsletter
The best features, fun and footballing quizzes, straight to your inbox every week.
Arthur Renard has been writing for FourFourTwo since 2013, when Ronald Koeman hosted him for a Readers interview in a small room in stadium De Kuip. Two years later Arthur moved to London, where he still lives and from where he covers English football, while he has also been travelling the world to cover events like the World Cup and Copa America.