Estonia emerging from the shadows of Soviets and skiing
Former FourFourTwo Editor turned Champions chief Paul Simpson reflects on the Baltic nation determined to make its mark on Europe...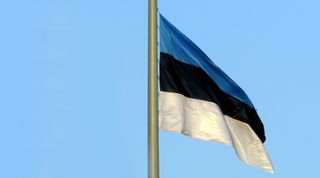 Estonia has a rare flair for making the wrong kind of football history. Eighteen years ago, in a dispute over the calibre of floodlights at Tallinn's Kadrioru stadium, the national side refused to play a World Cup qualifier against Scotland. After three seconds – during which the Tartan Army chanted "There's only one team in Tallinn" – the match was abandoned and later, for reasons known only to FIFA, replayed as a 0-0 draw in Monaco.
That episode was embarrassing. Estonia's 0-0 draw away to San Marino in November – a result that secured the home side's first ever point in European Championship qualifying – was shameful. San Marino's first point after 61 straight defeats prompted Barney Ronay to ask where he could catch the highlights, to which Gary Lineker tweeted: "Relax, after 61 defeats, they'll make a movie."
In between these twin depths, Kuressaare defender Jaanis Kriska earned the unwanted distinction of scoring the fastest-ever own goal, after five seconds in September 2009, in an 8-0 defeat to Levadia Tallinn.
FEATURE One team in Tallinn: when Scotland kicked off against nobody – and still didn't win
These were not the kind of headlines Estonia wanted to make in 1991 when, fired by the kind of optimism that only newly-restored independence can generate, they entered qualifying for the 1994 World Cup.
For Estonia, Latvia and Lithuania, simply competing in the World Cup was morale-raising proof that, after 50 years of occupation by the Soviets, Nazis and Soviets again, they belonged to the global community of nations once more.
Estonia factfile
Population 1.3m (similar to Glasgow)
Area 17,400 sq m
League Three nationwide divisions, with 10 teams each
In his book Football Against The Enemy, Simon Kuper reflects on Estonia's 6-0 home defeat to Switzerland, whom they face again this Friday: "The Estonians were a soft lot. The main thing they had in common with the great Soviet sides of the 1980s was the lack of any will to win."
Attacking constantly against Roy Hodgson's Swiss side, but never tackling, Estonia were ridiculed for their naivety. As Kuper noted: "Hodgson spoke approvingly of Malta who were 'realistic about their ability' and played more defensively. It was sad to think of Estonia curbing their style so as to lose 3-0 instead of 6-0."
The only Estonian footballer to impress Kuper was central midfielder Martin Reim who, in his words, "played like a Baltic Carlos Valderrama", setting up team-mates who didn't have a clue how to score.
Danger dearth
Not knowing how to score has been a recurring theme in Estonia's Euro 2016 campaign. In four games so far they have done so just once, Ats Purje finishing from close range against 10-man Slovenia. However, they have only conceded twice: Estonia's Swedish coach Magnus Pehrsson has heeded Hodgson's advice, made a realistic appraisal of his resources and done a Malta.
That hasn't necessarily made Estonia any easier on the eye. Nor has it helped the country develop a distinct football identity. According to Angelo Palmeri, editor of the only English-language portal devoted to Estonian football: "In theory, Estonians love good attacking football. In practice, especially against the powerhouses, they sit back and wait to strike on the counter."
When raising their game, as they did while losing 1-0 to England last October, the national side epitomise the diehard spirit of a nation that has defied a terrible history. At their worst, as at San Marino, they can be so listless as to leave many fans feeling they'd rather watch basketball.
The 22 years since that hammering by Switzerland have been a tough reality check for Estonian football – as it has for so for many of the countries to emerge from the wreckage of the Soviet Union.
That is even true of Russia, who have won just two matches at World Cup finals since 1994 and didn't even qualify for three finals. In the Soviet era, the failure of many gifted players to display even a glimmer of competitive instinct was, some pundits argued, ideologically driven. In a post-Marxist/Leninist Russia, the explanation for the unerring consistency with which the national side loses when it matters remains elusive.
Fashion disasters
Estonia cannot match Russia's spectacular record of underachievement. It has learned to take comfort in the occasional against-odds triumph – such as its 3-1 victory away to Serbia in October 2010, hailed as the most important result in the history of Estonian football, or club side Nömme Kalju's victories in the qualifying rounds of UEFA club competitions – and persevere in the hope that things will get better.
And they are, slowly. Reim, the Baltic Valderrama, now coaches the country's under-21s having never played in a foreign league, whereas centre-back Ragnar Klavan, Estonia's captain and player of the year in 2013 and 2014, plays for Augbsurg.
Eighteen-year-old winger/striker Frank Liivak is so determined to make it in Spain that he has joined fourth-tier club Alcobendas Sport to learn the language and culture as he seeks to climb up the league ladder.
Another 18-year-old youth international, Fulham's Mattias Käit, is the likely focal point of Estonia's attack in years to come, according to Angelo Palmeri.
The inspiration for all these players is Mart Poom, a goalkeeper still affectionately remembered at Derby after a five-year spell there, even though he headed an injury-time equaliser against them for Sunderland in September 2003. Poom's autobiography My Story sold 9,000 copies in its first month on sale in Estonia and is being devoured by many of the country's footballers who aspire to be – and this may sound a sad aspiration, but remember this is still a relatively young football country – bigger than Poom.
The export trade in footballers can be hit and miss – Estonian footballers are hardly fashionable, and one bad injury can be enough to marginalise them at foreign clubs – but Palmeri is convinced it remains the best hope for improving the national team and the game. "The more young Estonian footballers complete their education abroad, the better it will be for Estonian football in the future," he says. That will sound depressingly pragmatic to many Estonian fans but he is probably right.
From scratch
Yet there is more to Estonia's football history than a dismal procession of false dawns and dashed hopes. The country was in chaos when it declared independence in 1991, so the fact it has a semi-professional top flight, the Premium Liiga, a decent non-league competition and a national side that can, on its day, upset the likes of Serbia is a kind of triumph.
Like neighbouring Latvia and Lithuania, Estonia had to create a football industry almost from scratch in the early 1990s.
It didn't help that, Palmeri says, "In Soviet times football was seen as the sport of the occupying forces. As an act of silent rebellion, Estonians preferred basketball and cross-country skiing."
Though Estonians have learned to like football, a basketball game typically attracts around 1,000 spectators, compared to 256 for a Premium Liiga match. (The country's population is only 1.3m.)
Soviet rule had stifled the country's love for the game. Luckily, some Estonians decided to change that. Striker, referee and children's author Aivar Pohlak was one of those pioneers, founding FC Flora in 1990 and later becoming president of the Estonian FA.
He is hardly your typical football administrator, eschewing blazers for the wardrobe of a 1970s rock guitarist, though maybe such unorthodoxy helps if you aim to build a sport from nothing.
As he told FFT on a Tallinn visit in December 2010, launching a football club in Estonia in the 1990s was a leap of faith. Why should fans go to a stadium when they could watch Europe's finest at home on TV or the internet? The challenge for clubs like Flora, he said, was to show Estonians their club was worth loving.
Qualifying (or not)
1934 3rd of 3, 0pts
1938 3/4, 2pts
1994 6/6, 1pt
1996 6/6, 0pts
1998 5/6, 4pts
2000 5/6, 11pts
2002 4/6, 8pts
2004 4/5, 8pts
2006 4/7, 17pts
2008 6/7, 7pts
2010 5/6, 8pts
2012 2/6, 16pts (lost in play-offs)
2014 5/6, 7pts
Pohlak's multi-tasking role has caused controversy – and comedy. He also partly owns Kuressaare and, two years ago, refereed one of their cup ties. The assistant referees on that day were his daughter Anna, and his future son-in-law Tomi Rahula. Pohlak's son Pelle happened to be playing for Kuressaare, who won 1-0. The Estonians have a saying for such events – "ainuit Estonia" – "only in Estonia".
Four teams in Tallinn
The best measure of Pohlak's success is not silverware – though Flora have won nine league titles – but the calibre of the opposition he now faces.
The irony of that "one team in Tallinn" chant is that Estonia's charming capital is home to four Premium Liiga sides: Levadia, Nömme Kalju and FC Infonet. Tallinn's 'Clasico' pits Flora against reigning champions Levadia, who changed their name after metal and recycling entrepreneur Viktor Levada acquired them.
Nömme Kalju (champions in 2012 and owned by nightclub impresario Kuno Tehva) and FC Infonet (owned by former IT programmer Andrei Leshkin, who manages the internet company of the same name) are the closest rivals to Flora and Levadia.
The one idea that could transform Estonian football, the much-debated Baltic League, may never happen because Estonia, Latvia and Lithuania would lose their automatic entry into the UEFA Champions League and UEFA Europa League.
So the next big step forward may have to be inspired by an overachieving qualifying campaign – it's probably too late for Euro 2016 – or an Estonian footballer becoming 'bigger than Poom'. Indeed, as Palmeri points, one of Estonia's most promising prospects is Infonet keeper Matvei Igonen, an under-21 international who has had trials in Italy.
Although tabloid hacks, impatient fans and mega-rich owners pretend otherwise, long-term success in football is often built on the ability to manage failure. Only one team can win the league or cup every season and every four years 177 countries miss out on the World Cup finals.
For most clubs, teams, players, coaches and countries, the absence of silverware is not a catastrophe, requiring an immediate, inordinate knee-jerk reaction – it's everyday life.
They learn to measure their progress in subtler ways. Estonian football has shown its stickability – through Pohlak and his fellow founding fathers, Klavan holding his own at over-achieving Aubsurg and Livaak playing in Spain's fourth tier in expectation of a brighter future.
If you had to reduce Estonia's progress as a football nation since 1990 to a soundbite it would be 'spectacular' – and, from a fan's point of view, slightly unsatisfactory.
Quizzes, features and footballing fun
Get the best features, fun and footballing frolics straight to your inbox every week.
Thank you for signing up to Four Four Two. You will receive a verification email shortly.
There was a problem. Please refresh the page and try again.