Fabio Cannavaro opens up about being the last defender to ever win the Ballon d'Or
2006 Ballon d'Or winner Fabio Cannavaro was the last centre-back to be given the award – but he says now that in many ways, he was lucky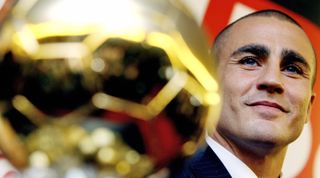 (Image credit: AFP via Getty Images)
Italy's World Cup-winning captain Fabio Cannavaro has opened up about being the last defender to win the Ballon d'Or award.
Cannavaro, who enjoyed huge success at both domestic and international level, won the prestigious award in 2006 after leading Italy to glory on the world stage in Germany, before a high-profile switch to Real Madrid.
After Kaka won in 2007, the award has largely been monopolised, somewhat understandably, by Cristiano Ronaldo and Lionel Messi ever since, well thought of as two of the greatest players ever.
Karim Benzema won the award last year and Luka Modric in 2018, but no defender has won since Cannavaro, with Liverpool's Virgil van Dijk the only one to even make the top three, finishing runner-up to Messi in 2019.
"Winning those sorts of accolades as a defender is hard," Cannavaro tells FourFourTwo. "I was also a 'real' defender, so to speak: I wasn't scoring much at all. My game was based on the defensive side of things. My goal was to prevent strikers from scoring. That probably made things even more difficult for me.
"To win the Ballon d'Or, you also need the necessary bit of luck – let's not forget what Zidane did in the World Cup final, or the fact that Ronaldinho and Thierry Henry didn't play up to their full potential that year.
"At the same time, if I look back to my performances on the pitch, I must admit that I had a fantastic season and I won a World Cup as the team's captain. Planets have aligned nicely for me and I am happy to display those trophies in my house."
It wasn't Cannavaro who won the Best Player award at the 2006 World Cup, though. That went to Zinedine Zidane – who famously retired following his infamous red card in the final. Of the Azzurri's squad, however, only one player – Luca Toni – netted two goals, though Cannavaro still says that it's natural that forwards are considered first for solo gongs.
"It's somehow right that strikers get more attention when it comes to individual prizes," the Italian adds, "But when defensive performances are so evident, it's also right to reward them with such a special accolade. Paolo Maldini and Franco Baresi never won it, despite their incredible careers. At the moment, I can't see any current defenders repeating this feat. Their way of playing and what trainers expect from them has changed."
More on Fabio Cannavaro and the Ballon d'Or
Speaking to FFT, Fabio Cannavaro has explained why AC Milan passed on the opportunity to sign him and why Diego Maradona rewarded him for a bad tackle.
In the Ballon d'Or, Lionel Messi is favourite ahead of Erling Haaland.
Thank you for reading 5 articles this month* Join now for unlimited access
Enjoy your first month for just £1 / $1 / €1
*Read 5 free articles per month without a subscription
Join now for unlimited access
Try first month for just £1 / $1 / €1
Get FourFourTwo Newsletter
The best features, fun and footballing quizzes, straight to your inbox every week.