FIFA 18 review: like Ronaldo, it's fashionable to hate but mostly exceptional
The biggest name in sports gaming puts on another accomplished performance to emphatically answer its critics – and keep its rivalry with PES 2018 burning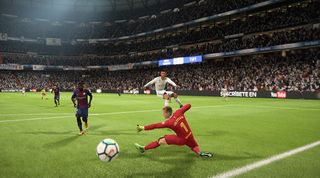 If there's an overriding theme within FIFA 18, it's 'status quo maintained'. That might not be a phrase publisher EA chooses to stick on the packaging, but it's intended as a compliment: FIFA 17 was so strong that to rip everything out and start again, at a time when rival PES is stronger than ever, would have been a Lee-Dixon-esque own goal.
The biggest game on the planet improves markedly in every key area. FIFA fans will adore it. PES die-hards: well, be grateful that your beloved is a beauty too.
While FIFA 18 disposes with the tradition of initially feeling unfamiliar – or, as social media posts proclaim every September, "broken" – its on-pitch improvements only become clear with sustained play. So while speed and physicality remain matchday pillars, crossing can now be devastating too; players properly whip balls through the box, and in both Ultimate Team and Career Mode you'll find yourself hunting affordable equivalents of Gareth Bale and Arjen Robben to capitalise on this new ability to cause aerial havoc.
Madness in the middle
Quality central play still unlocks chances too, although centre-backs and defensive midfielders are quicker to close you down or pounce on loose balls. In that respect this harks back to FIFA 16, where higher-difficulty opponents' pressing abilities felt superhuman.
For now, it's a satisfying middle ground between the two previous games. AI teams are savvier going forwards too, varying up their tactics – so Arsenal drive you mad by retaining possession around the box, while Burnley or Stoke deploy more direct approaches. The variety still doesn't match that of PES, but it's a definite improvement over FIFA 17's everyone-tries-tiki-taka blueprint.
When not hunting bargain-bin Bales in Ultimate Team, you're racking up coins in recognisable ways: seasons (online and off), weekend leagues, FUT Draft, and the again-brilliant Squad Building Challenges.
The mode's main new feature, Squad Battles, pits you against AI teams selected by celebrities and other FIFA experts; the more matches you win in any given week, the better your rewards. It's a basic concept, but hugely welcome for offline-only players unable to get close to weekend league qualification. Otherwise, updated pack-opening visuals are as fresh as FUT gets – but you'll play it non-stop for nine months regardless.
Career Mode receives more attention, with a lovely transfer hub from which you conduct your business replacing the endless menu cycling that used to accompany attempts to buy players. Potential ins and outs are presented in super-clean list form, with negotiations now handled face to face with the selling club's manager – a cute, if superficial, inclusion.
It's in Career Mode that the aforementioned AI tactical variation really adds longevity; at long last the sense of facing the same opponent wearing a different kit each week has eased.
Chasing the Hunter
For the second year running it's a pretend footballer who outshines all of his real-life counterparts. The Journey: Hunter Returns brings back fictional prospect Alex Hunter for a storyline in which you compete in matches across the globe – no spoilers, other than to say the introductory FIFA Street-style kickaround in a Brazilian favela is outstanding – and partake in cut-scenes with cameos by Rio Ferdinand, Cristiano Ronaldo (terribly acted, bless him), plus Hunter's team-mates, agents and family.
Its worldwide scope offers a broader story than FIFA 17's, and it's more tightly written and believably acted, too – as though Adetomiwa Edun has effectively become one with his on-screen alias.
Most ingenious are GTA-style editing options, right down to the tape worn around Hunter's socks, which constantly drive you to unlock more goodies. His is a character that already feels as integral to FIFA as white boots and online tantrums – and if it means yet another Hunter adventure arriving in FIFA 19, we're quite happy with 'status quo maintained' to be the developer's plan for that game, too.
Four things we love…
1. Licences to thrill
FIFA's licenses are taken for granted, but they shouldn't be. Again, this year's list is gargantuan, and expanded with the addition of Germany's third division.
2. Devil in the detail
The Frostbite engine comes into its own visually, with some incredible lightning and likenesses, plus tiny details like ticker tape on South American pitches.
3. Run, Raheem, run
A subtle but fantastic tweak is the implementation of player-specific running styles. Ronaldo and Raheem Sterling are instantly identifiable in this way.
4. Take you on a journey
The Journey: Hunter Returns is so good that even devoted PES fans should try it – there really is no other football game mode that compares.
And one we hate…
1. Curse of the commentators
FIFA 18's visual presentation remains peerless, with bespoke overlays for La Liga and MLS – so it's shame Martin Tyler and Alan Smith's commentary is starting to grow stale. Time for a new analyst to join Tyler in FIFA 19?
Score: 4.5 out of 5
Now read this stuff...
NEWS The FIFA 18 soundtrack has been revealed
ICONS 7 all-time legends we really want to see included
EARLY ACCESS 5 ways to get it
Thank you for reading 5 articles this month* Join now for unlimited access
Enjoy your first month for just £1 / $1 / €1
*Read 5 free articles per month without a subscription
Join now for unlimited access
Try first month for just £1 / $1 / €1
Get FourFourTwo Newsletter
The best features, fun and footballing quizzes, straight to your inbox every week.