The 5 best formations in FIFA 19: our favourite systems explained
FIFA 19's slower style of play means picking the right setup is more important than ever. Bradley Russell dons his tactical hat to select the best formations in the game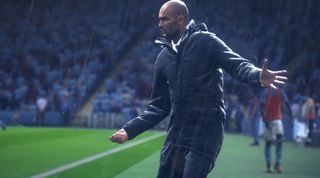 Rock, paper, scissors: which is the best formation in FIFA 19? As ever, there is no correct answer; every formation has its major strengths and weaknesses.
Right now, Pep Guardiola's Manchester City are tearing up the Premier League with a swashbuckling 4-3-3, but Leicester famously won the title with a good old-fashioned 4-4-2 that would have made Mike Bassett proud.
But when it comes to FIFA 19's best formations, there are a few things to know – not least the ideal players you need to make them work, and the roles you should give them. Let us explain...
4-5-1 Attack
Wing play is back in a big way for FIFA 19, so why not take advantage by targeting your attacks down the flanks? The 4-5-1 formation might be a little adventurous for some, but with the right set of players you can overwhelm your opponents from the get-go.
Things to consider: While the two wingers won't be your most advanced midfielders, they'll need pace to burn and, crucially, medium work rate for both attacking and defensive play. This means they won't be bombing forward with reckless abandon, but also contributing in the defensive third if required. A burly, physical frontman is also a must.
What to avoid: Even a quick glance at this formation shows an obvious weak point: the lone central midfielder. With individual 50-50s imperative to winning midfield battles, you can't afford to have a fragile player in the engine room, no matter how technically gifted they are. For a real-world example, think of the sterling work Fernandinho does in balancing out Manchester City's midfield.
Player instructions and game plans: If possible, your lone striker should have Attacking Runs set to 'Target Man' so that he can make a real nuisance of himself. Elsewhere, your central midfielder should be set to Stay Back While Attacking.
For game plans, the Offensive Style 'Fast Build-Up' can pay off in a big way, ensuring your entire team works as one swift, attacking collective. Forward play is the name of the game here – and this approach allows you to lean heavily on that mantra.
5-4-1 Diamond
Looks confusing? Fret not: the 5-4-1 diamond formation gives you both flexibility and razor-sharp ferocity in the opposition penalty box. This system has the ability to overload even the best defences, although it's worth noting that it tends to work better online than offline.
Things to consider: Again, wing play is key. You'll also need full-backs who are comfortable attacking with the ball at their feet and overlapping the players in front of them. Without that, this formation can become overly negative.
What to avoid: Old-school centre-halves have no place here. Focus on defenders who have a bit about them technically, whether that's with laser-focused passing ability or decent dribbling technique. If not, the midfield can become isolated, especially if the holder plays more like one of the aforementioned Sunday League brutes.
Player instructions and game plans: There isn't actually too much that needs tweaking here, such are the obvious strengths of the generic setup (i.e. attack, attack, attack). For some peace of mind, setting each centre-back to Conservative Interceptions means they won't mindlessly dive in when an opportunity presents itself.
Conversely, game plans can be altered to within an inch of their life. Weirdly, the Drop Back Defensive Style may be your best bet – just be sure to keep the Width and Depth at a high level, which will allow you to break with lightning speed on unsuspecting teams who have over-committed.
4-4-1-1 Midfield
Now for something completely different. The 4-4-1-1 midfield formation is perfect for those who want a no-frills setup to counteract all but the most devilish of configurations, while still having enough attacking impetus to cause problems going forward.
Things to consider: As long as you've got two competent all-round midfielders, this formation will work. The central pair will provide the solid base needed to soak up pressure and then unleash a flurry of fast breaks to catch your opponents out. A No.10 who can dribble wouldn't go amiss, as you'll need someone to carry the ball upfield in transition.
What to avoid: Honestly? There's not much you can do wrong here. The room for error is so limited that, no matter how you want to play, you're going to thrive. Whether pacey, plodding or patient, the 4-4-1-1 can suit any overarching style.
Player instructions and game plans: Both your wide midfielders should have Stay Wide set under Chance Creation to ensure they remain disciplined. For game plans, stick to Balanced but have a few additional tactical tweaks in your back pocket - in FIFA 19, you can switch to them whenever you want by flicking the D-pad during a game.
5-2-3
While the name of the formation may belie its inspiration, this is as close to an Antonio Conte-style back three as you're going to get. This shape allows both rigidity in the centre and free-flowing attacks on the wings, making it - for our money - the best setup in FIFA 19.
Things to consider: No formation is perfect, though, and you'll be left high and dry if you employ two central midfielders with high attacking work rates. Shaking things up a bit in the final third could also prove useful; mixing and matching wingers to suit your own style is key, though one rapid wide man alongside a more technical player (such as Bernardo Silva) could pay off.
What to avoid: You're going to want to steer clear of wing-backs who can't run quickly and for long periods of time. They're going to be key to your attacking strategy, so pace and stamina ratings should ideally be in the mid-80s.
Player instructions and game plans: A striker set to False 9 under Attacking Runs is a must, otherwise they'll be cut off for the majority of the game. Additionally, having both wing-backs set to Join the Attack with Overlap Runs means you'll have three or four passing options to choose from when you're approaching the penalty area.
Pressing after Possession Loss (with width and depth both shifted up to an eight or nine out of 10) would also be wise, particularly if you want to bolt out of the blocks.
4-2-2-2
We know what you're thinking: finally, a two-man strikeforce. Lone centre-forwards appear to work better in FIFA 19, but the 4-2-2-2 can also be effective - particularly when you're chasing a game.
Things to consider: It's old-school, yes, but you can't go wrong with a little-and-large strike partnership. Flick-ons are more important this year, not only as a viable base tactic but also as a crutch to lean on when the going gets tough. It goes without saying that the two defensive midfielders should be defence-minded players.
What to avoid: Avoid using two attacking midfielders who both have a high work rate in defensive and/or attacking mentalities. If they get burned out, you'll lose your best route to goal.
Player instructions and Game Plans: If you opt for an Owen/Heskey-esque strike duo, then you'll want the smaller, nimbler forward to have Attacking Runs set to Get in Behind. To cause further confusion for defences, one (or both) attacking midfielders should have Free Roam enabled.
Thank you for reading 5 articles this month* Join now for unlimited access
Enjoy your first month for just £1 / $1 / €1
*Read 5 free articles per month without a subscription
Join now for unlimited access
Try first month for just £1 / $1 / €1
Get FourFourTwo Newsletter
The best features, fun and footballing quizzes, straight to your inbox every week.