The 11 best cheap Premier League players on FIFA 19
Phillip Ekuwem has hunted out some bargains so you don't have to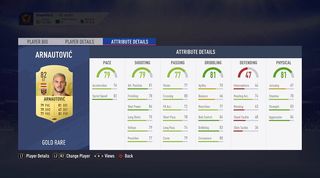 It's always tricky putting together a cheap Premier League starter squad in FIFA 19 (opens in new tab) FUT, as players from the world's most popular league tend to be particularly expensive.
But we're here to help with that, courtesy of the best cheap Premier League squad you can build before you start raking in enough coins to set up an elite line-up.
SEE ALSO The 7 most effective skill moves in FIFA 19 (opens in new tab)
The 10 most overpowered players on FIFA 19 (opens in new tab)
GK: Rui Patricio
Potential Cost: 1.9k
In FIFA 18, Asmir Begovic was the go-to Premier League goalkeeper due to his 'saves with feet' trait which allowed him to block low, driven shots. But now that EA have made such strikes more difficult to execute, Begovic has relinquished his title of the best cheap Premier League goalkeeper.
Wolves shot-stopper Rui Patricio, who can be bought for just 1,900 coins, is now the leading option for those on a budget. The Portuguese consistently pulls off excellent saves, although just like any other goalkeeper on FIFA he's liable to concede some funny goals from time to time.
RB: Serge Aurier
Potential Cost: 4.5k
Costing only 4,500 coins, you can't go wrong with Aurier as your right-back on FIFA 19. With his base jumping rated at 94, the Ivory Coast international is unlikely to come out second best in aerial duels.
Aurier's rashness is one of the reasons he's not Mauricio Pochettino's first-choice right-back, but on FIFA his 86 aggression rating allows him to go shoulder to shoulder with many of the game's best attackers. The Spurs man is a great alternative to the costly Antonio Valencia and Kyle Walker.
CB: Sokratis
Potential Cost: 11k
Davinson Sanchez and Virgil Van Dijk are widely regarded as the Premier League's best centre-backs in-game, but Sokratis isn't too far behind them. The Greek's key stats are his pace, defending and physicality, which go up to 74, 93 and 87 respectively, while an anchor chemistry style makes him capable of outmuscling most opposition strikers.
The Arsenal man's passing is quite poor, though, so be sure to only play safe passes with him. Overall, he's a fine defender to have in your team - particularly for just 11,000 coins.
CB: Antonio Rudiger
Potential Cost: 5k
Rudiger has made a fantastic start to life under new Chelsea boss Maurizio Sarri, and he's no less effective on FIFA 19. The German's base stats may not be the best, but his 6ft 3in frame and anchor chemistry style mean he becomes one of the foremost defenders in the Premier League. He complements Sokratis well, too.
LB: Ben Davies
Potential Cost: 2.5k
Danny Rose proved to be the most reliable budget left-back in FIFA 18, but he's now passed that baton to Tottenham team-mate Davies.
The Welshman's card doesn't stand out at first glance - none of his stats are over 80 - but it's still early in the game and he's good enough to get the better of most attackers even without a chemistry style boost. Davies also receives 85 additional in-game stats which boost his pace, defending and physicality.
CM: Idrissa Gueye
Potential Cost: 2.7k
Regarded as the poor man's N'Golo Kante due to his superb defensive stats, Gueye is a FIFA 19 bargain. His ability to intercept the ball and make standing tackles are rated 86 and 89 respectively; with a shadow chemistry style, both stats nearly get maxed out.
He's average in front of goal, though, so make sure that Gueye's job in your team is limited to regaining possession and marking opposition midfielders.
CM: Abdoulaye Doucoure
Potential Cost: 1.6k
Unlike Gueye, Doucoure has decent shooting stats and is therefore a threat around the opposition box. His agility isn't great, but he makes up for that with 83 physicality which allows him to play a box-to-box role alongside the more defence-minded Everton man.
RW: Xherdan Shaqiri
Potential Cost: 3k
Shaqiri possesses sublime dribbling and passing skills on FIFA 19, while his five-star skill moves allow him to perform the El Tornado trick - flicking the ball up and unleashing a fierce volley.
The Swiss is best used with a dead-eye chemistry style, which bumps his shooting and passing up to 88 and 87 respectively.
CAM: Manuel Lanzini
Potential Cost: 2k
West Ham's Argentine wizard is by far the best-value attacking midfielder in the Premier League. A passing rating of 78 combined with his terrific dribbling stats make him the ideal No.10 for your team, particularly as his 39 strength means he could get overpowered in a deeper role.
Lanzini is a four-star skiller, so if your opponent makes use of the constant pressure tactical option, you can easily go past defenders with skill moves such as La Croqueta or the Ronaldo Chop.
LW: Andre Schurrle
Potential Cost: 1.4k
The cheapest pacey left winger on FUT is Marcus Rashford, who costs 32,000 coins. Schurrle is available for a fraction of that price, and is a brilliant option for those counting the pennies.
Pace isn't as important on FIFA 19 as it was in previous editions, so the German is still effective despite being slower than many of his fellow wide men. Schurrle's shooting is his standout stat, and it rises as high as 93 - together with 86 dribbling - if you use a sniper chemistry style.
ST: Marko Arnautovic
Potential Cost: 5.3k
Despite possessing the same overall rating as FIFA 18, Arnautovic's stats are much better this year than last. He's also been made into a striker having been re-deployed up front by West Ham last term.
Target men are more useful than ever - and at 6ft 4in and with four-star skill moves, Arnautovic is one of the best in the league. Able to both run in behind and receive the ball to feet with his back to goal, the former Stoke man is also a threat in the air with his heading accuracy. A dead-eye chemistry style and 93 finishing rating means he's clinical in the 18-yard box.
More like this...
The 5 best formations in FIFA 19: our favourite systems explained (opens in new tab)
12 FIFA 19 hidden gems you NEED to sign in Career Mode (opens in new tab)
The 11 best FIFA 19 free agents you can't afford to miss
Revealed! EVERY five-star skill player in FIFA 19
Thank you for reading 5 articles this month* Join now for unlimited access
Enjoy your first month for just £1 / $1 / €1
*Read 5 free articles per month without a subscription
Join now for unlimited access
Try first month for just £1 / $1 / €1