Football's maddest tour EVER: When Dallas Tornado wandered the world in 1967
Introducing the bonkers story of NASL side Dallas Tornado and their epic adventure: featuring raging monkeys, rock-throwing rabbles... and a run-in with the Viet Cong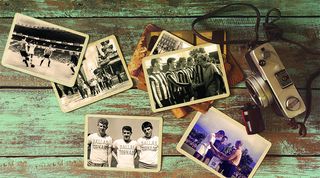 The next time you hear a Premier League manager bemoan the travails of yet another arduous pre-season tour abroad, spare a thought for Bob Kap.
His name may be unfamiliar, but in 1967, he and his Dallas Tornado players embarked on football's maddest world tour – one that featured bullet trains, exploding planes, monkeys staging war re-enactments, baying mobs and the Viet Cong.
Over six-and-a-half months, they visited 19 different countries and played 45 games with a threadbare squad, one coach, no medical staff, no physios and no idea where and when their trip would end.
This magical mystery tour was all thanks to the work of American sports entrepreneur Lamar Hunt, who in 1967 was on a mission to sell football to a mass audience in the United States. The man who a year earlier had helped to devise the Super Bowl had been blown away after seeing England beat West Germany in the 1966 World Cup Final and wanted a piece of the action.
With his North American Soccer League (NASL) set to kick off the following year, Hunt wanted a team from his hometown of Dallas to spread the word and alter perceptions.
"Hunt was hoping the trip would do some goodwill for Dallas," Mike Renshaw, a midfielder from Manchester who played for and coached the Tornado, tells FourFourTwo. "At that time, all it was really known for abroad was being the place where JFK had been shot. I'd certainly never heard of it until that happened."
Getting the band together
Assembling a team proved a speedy process. Kap, a Skopje-born journalist, psychiatrist and antique dealer who had escaped Europe with his family to Canada during the 1956 Hungarian Revolution, was appointed as the Tornado's manager. Adverts were placed in newspapers across Europe offering players the chance of a new life in the USA.
Renshaw, just 19 years old at the time, was on Blackpool's books and had trials at Manchester United, but fancied a new adventure.
It was a similar story for defender John Stewart, for whom being released from his beloved Liverpool by legendary gaffer Bill Shankly was a bitter pill to swallow. Fellow Scouser Brian Harvey, the younger brother of Everton favourite Colin, was also in need of a change after making just one senior appearance for Chester City.
Kap would be their salvation, although it wasn't clear at that stage exactly what that salvation was going to entail.
Throughout the previous six months, Hunt's assistant Paul Waters had travelled the globe greasing the palms of a number of clubs and football associations to put together a touring schedule that would be mad for 2017, but was just plain bonkers during the late-1960s.
Trips to Australia, Tahiti, Japan and New Zealand seemed tame in comparison to jaunts to India, Pakistan, Iran and war-torn Vietnam. "It was crazy," Stewart tells FFT with a chuckle and a grin. "Imagine a group of players going on tour to somewhere like Iraq these days. They didn't think it all through fully."
There was never any kind of detailed itinerary for Dallas's players to get an idea of what might be lying in wait for them. Often, they'd be told a couple of days in advance. "I became a bit blasé about all of the places we visited," says Bill Crosbie, another Liverpool cast-off.
And no wonder – on this whistle-stop tour of places that could hardly be described as football hotbeds, there was always something going on to distract them from the action on the pitch.
Although the tour was planned to start in Spain, the squad assembled in the south of France for a get-to-know-you session in Nice. This was, after all, a group of strangers who were about to go on a globetrotting adventure unique in that age.
The young squad of 18 consisted of Englishmen, Dutchmen, Swedes, Norwegians and a solitary American player by the name of Jay Moore. Nonetheless, everybody was ordered to sport the full 'Dallas' outfit - jeans, checkered shirt and a Stetson. Anyone with a Beatles haircut was sent off to the barbers. The look was to be strictly American, even if the personnel were not.
"It was the '60s – hippies and all that – so a lot of us had long hair," says Swedish midfielder Jan Book. "Hunt didn't want that look. He wanted us to be tall, strong, clean cut."
Baiting the bull
Considering the craziness of the scheduling on tour, training sessions were lacking. A bonding trip to watch a bullfight in Madrid had to be brought to an abrupt end when they were thrown out for showing disrespect to the matador, much to the anger of the Spanish locals.
"He chucked his hat to us, but we threw it back at him," chuckles Book. "We were all being a bunch of smart-arses – but it backfired."
The team had barely played together, but their first match came against esteemed opposition – Spanish outfit Cordoba, who just three weeks previously had beaten the mighty Real Madrid. "We were scared to death," explains Book. "We had never played under floodlights."
It was the first time that an American side had ever played on European soil. A 4-0 loss was to follow, but that could hardly be regarded as an embarrassment.
Despite Dallas's haphazard preparations, there was still enough talent and youthful exuberance among the ranks to keep things competitive for the most part. After all, the average age of the group was under 20. "We were a young side and fit," says Harvey. "There was so much travelling – but we just wanted to play."
A couple of victories quickly followed, soothing any lingering pessimism or nerves, before a meeting with Ferenc Puskas – an old pal of Kap's from the Hungarian academy – and his Real Madrid team-mates gave the starry-eyed Tornado a look at how the other half live.
Yet, things took a turn soon after they crossed the Strait of Gibraltar. With minutes left of their fourth tour encounter against Moroccan outfit UD Tangier, Kap's boys looked to be heading towards another win. But the referee had other ideas.
He kept playing in the hope that the hosts would pull level. Much to his disappointment, not even an extra quarter of an hour was enough for the Moroccans to grab an equaliser, and he eventually called it a day.
Incidents like this soon helped to forge a rigid team bond, and this came to the fore again in Turkey, where Dallas faced a very strong Fenerbahce side including Lefter Kucukandonyadis – often cited as the best Turkish footballer of all time.
"Some of them were playing dirty," recalls Book. "They were doing all sorts of things, including pinching our testicles. But we managed to come away with a great 2-2 draw."
But what came next for the touring Tornado would test the resolve of even the stoniest of souls.
As the players waited to board a plane going from Athens to Cyprus, they learned that the previous flight on the same route had exploded in mid-air over the Mediterranean Sea, killing all 66 people on board. As if that hadn't made them nervous enough, the man thought to be the target of the bombing had missed his scheduled flight, and would instead be travelling with the Tornado.
"We'd never heard of planes being bombed before," says Book, who dismisses a claim made online that the players would have been aboard the ill-fated flight, had it not been for some lax timekeeping. "It's not right that it was supposed to be our plane – but it was still very scary."
The players arrived in Iran to witness the spectacular crowning of the Shah, which saw capital city Tehran lit up on what was known as 'the night of a thousand lights'.
Sacked in a toilet
Five games in eight days, in what was then called Persia, tested the squad's resolve – especially now it had been whittled down to just 16 members. Norwegian Tom Weinholdt left injured, while Brit Graham Stirland was accused of ruining team spirit by the iron-fisted Kap, who sacked him inside an airport toilet.
Substandard pitches did little to turn frowns upside down and nor did the refs, who seemed to be making it up as they went along. Arduous bus trips without air-conditioning – or in some cases, seats – weren't a barrel of laughs either. "Think about the worst buses you have ever seen," Book tells FFT. "Ours were about 10 times worse."
"We just kept on going," explains Stewart. "A lot of it felt like life or death, but it was an adventure we would remember for the rest of our lives. It not only helped us become good players, but good people."
The Iranian coronation wouldn't be the only indelible experience; witnessing the shocking realities of life within India and Pakistan has been forever seared into their souls. "We saw a snake fighting a mongoose on the street – it was different to being back in Manchester."
Many of the squad had barely been out of Western Europe before, let alone savoured the gut-wrenching hopelessness of poverty-stricken places such as Calcutta and Karachi.
"People were walking around naked, begging," says Book somberly. "We saw people dying in the streets."
The culture shock rocked some, but inspired others. Keeper Odd Lindberg, who went on to play for Sven-Goran Eriksson at IFK Gothenburg, undertook a Masters degree in sociology and later a PhD after having his mind opened by scenes that were a world away from his native Oslo. "It helped me to understand new cultures," he says. "None of us were prepared for what we saw."
However, in among the hardship, there were still some moments that lightened the general mood. "There was a guy who had a bag full of snakes outside our hotel," Renshaw says with a grin. "If you gave him a few rupees, he'd take one out to fight with a mongoose.
"The mongoose would just kill it straight away, and that was that. There was also another guy with a monkey and an organ, and the monkey was able to stage war re-enactments. It was dressed up as a Pakistani soldier and when the guy said, 'make like Indian soldier', the monkey would throw an old empty rifle up into the air and then run off in the other direction."
A six-week winless run finally ended in Pakistan with a 2-1 victory in Karachi, but the very next day, in a so-called Second Test, they lost to a much-changed home team. Uncomfortable trips to Dhaka, Chittagong and Lahore then followed, and one game even had to be abandoned at half-time amid fears the midday heat might kill someone.
As if having to play a match every few days wasn't enough, more problems for the players were around the corner as the tour lurched worryingly towards the unknown.
When the team attempted to drive across the tempestuous border between Pakistan and India, those in possession of British passports were pushed through. Non-Commonwealth players, however, were held back. Kap, with Canadian papers in his pocket, had no worries.
"We thought we'd probably be stuck there for a few hours while all of the visas were sorted, but we ended up having to spend the night in a hut," reveals Book. "It was a small border town and I'm sure no one had ever seen a white person before. They all stood outside staring at us. We threw them balls and they gave us some chicken and orange juice – we had no food."
Hope was waning, too. "The next evening we thought we were going to get across, but the papers expired at midnight and when we turned up at the border at 11pm, the general in charge was asleep," Book explains. "He said that he would shoot anyone who woke him.
"We were in the jungle, pitch black. Ten of us were stranded, and two were really sick. We bribed someone to cut a hole in the fence and crawled through it with our luggage and soccer gear in the middle of the night, thinking that we could get shot from either side. When we got to India, the doctor gave the sick ones medicine, but they started to get worse. It turned out they had been given sleeping pills.
"We finally arrived in Calcutta at 6am, having not slept for 48 hours, and had a match at noon. We drew 0-0 but how can you focus on a game when you've come through something like that?"
Unsurprisingly, the Tornado's results on their Indian leg of the tour weren't the best, with only one victory from seven matches. Swimming in the glittering oceans of Sri Lanka helped to calm the minds, even if the national team beat them twice. Burma was the next checkpoint – one that saw a visit to an embassy "so opulent, some of the chairs were made out of elephants' legs," admits Stewart.
Under fire... literally
Singapore was to follow, but back in 1967 it was not the westernised metropolis it is now. The crowd was predominantly made up of Chinese communists, which meant the American team didn't get the warmest of welcomes.
The encounter was a dirty, tetchy affair played in front of a baying mob of 50,000 spectators all chanting 'Go Home, Yankees' and 'Kennedy Killers'. The Tornado players were chased with the sharp end of corner flags and had to take refuge in the dressing room. The match was called off, yet the nightmare would continue.
"We ended up sitting in the changing room for several hours waiting for a military escort," says Book, who was hit by a rock hurled from the stands. "People were waiting outside for us – it was a low moment."
A scheduled match the following evening was cancelled and, given what had gone on in recent days, it probably seemed like a good time for a breather. Instead, they headed for Vietnam.
"As the plane got ready to land, the pilot came on said: 'If you see white smoke bombs outside, that's the enemy shooting at us'," Book remembers. "'Therefore, we are going to fly very high and then land very quickly'. Then we looked down and realised: 'Shit, this is a war'."
They weren't wrong. "Once we'd landed on the tarmac, all we saw was the body bags," recalls Crosbie. Trips to the American Embassy for security briefings followed, and orders to travel in small groups to avoid being targeted by locals with grenades.
"I visited the Army Hospital with Per Larsson," explains Book. "We sat watching the American soldiers come in with all kinds of injuries – some really awful, bullets inside them. I remember seeing them cut a guy's elbow open to take out some shrapnel, with no shot for the pain or anything. And there was Per who had got a dislocated shoulder from playing a game of football."
A rare day off saw the squad take in a trip down the Saigon River and a meeting with US soldiers at a massive arms dump. "It was unreal to be sat talking to the American troops," says Stewart. "They told us how it was... and it wasn't very good."
Two draws against Vietnam and Saigon – watched mostly by military police to the brutal backdrop of helicopters and bombs – were decent results.
"Soldiers faced the crowd with guns while we were playing," says Crosbie, one of six Scousers in the travelling party. "It was South Vietnam, so the people were friendly, but it was all a bit strange."
A month later, the Viet Cong and North Vietnamese People's Army unleashed the Tet Offensive – regarded as the turning point of the war. It was one of the largest and bloodiest campaigns of the conflict, killing tens of thousands of people.
The Tornado had long departed by then, with their whistle-stop tour of Eastern Asia taking in Taiwan, Tokyo (where they faced a Japanese team who later won a bronze medal at the 1968 Olympics) and the Philippines, before the relative safe havens of Australia and New Zealand beckoned. After Iran, Pakistan, India and Nam, enjoying the fruits of Sydney was like heaven.
Nine games in Australasia were then followed by a gruelling 24-hour journey back home to Dallas. A big welcoming party at the airport greeted the frazzled Tornado squad home, their overall record of 10 wins, nine draws and 26 defeats clearly not dampening their spirits.
Finally, the start of that new life everyone had been working so hard towards had arrived. "We checked into a hotel and ordered cheeseburgers at breakfast for two weeks," laughs Book. "In fact, we had them for every meal..."
But there was still a mini-tour of Central America to navigate, and games on rock-hard pitches against decent, physical teams in Costa Rica, Honduras and Guatemala weren't exactly high on the players' wish lists. Unsurprisingly, the Tornado returned home without a victory and completely exhausted.
Back home and battered
Just 15 days later, the NASL season started with a 6-0 defeat and within four games, four of the tourists – including Book – were axed.
The standard of the domestic competition proved too high and the Tornado finished fourth in the four-team 'Gulf Division' of the Western Conference, winning just two of their 32 matches and conceding 109 goals. By the end of that first campaign, four tour members were left.
Book returned the following year and began coaching, while Stewart went to play in Australia. Kap didn't last much longer either, replaced by Englishman and former Ajax manager Keith Spurgeon – yet his life would take several fascinating turns.
He became a respected artist, an agent for NFL kickers, and fronted a failed bid to bring Argentine legends Ricky Villa and Ossie Ardiles to the US before they chose Tottenham.
Sadly, Dallas Tornado folded in 1981, having overspent to keep up with the New York Cosmos, like many other American sides of the era. However, their place in crazy world tour folklore will remain forever.
"It could have been so much better," concludes Stewart, who later enjoyed 30 years as a policeman, with much of it spent looking after the Royal Family. "But I'd go tomorrow and do it all again if I could."
This feature originally appeared in the August 2017 issue of FourFourTwo. Subscribe!
Quizzes, features and footballing fun
Get the best features, fun and footballing frolics straight to your inbox every week.
Thank you for signing up to Four Four Two. You will receive a verification email shortly.
There was a problem. Please refresh the page and try again.