How Russia wasted seven years ahead of hosting the 2018 World Cup
At Euro 2008, they looked like one of Europe's most exciting emerging sides – yet their World Cup build-up has been a shambles, as Michael Yokhin explains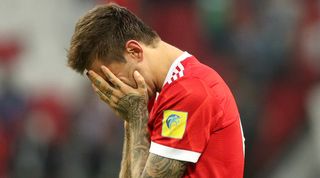 Even as Russia are about to host a World Cup, it's very difficult to find an optimistic home fan. Reaching the last 16 would be considered a major success. Most Russians don't believe that the team even has a decent chance of surviving a relatively comfortable Group A.
They are expected to beat Saudi Arabia on the opening day, but Mohamed Salah's Egypt and the dangerous Uruguay appear to be too strong for them. Russia, then, are widely expected to join South Africa as the only host country to be eliminated after just three matches.
The situation is especially bizarre when you take into account that they had more than seven years to prepare for the biggest tournament in their history, after FIFA's hugely controversial decision in December 2010 – and that their starting point was actually very promising. A decade ago, Russia were considered a significant force with good reason.
From Russia with love
After all, they made headlines when reaching the semi-finals at Euro 2008, playing some brilliant football – especially in the magnificent 3-1 win over Holland. That team had a world-class star in Andrei Arshavin (below), and he was ably supported by the likes of Roman Pavlyuchenko, Konstantin Zyryanov and Pavel Pogrebnyak, not to mention Igor Akinfeev between the posts.
Granted, Russia failed to qualify for the 2010 World Cup after being sensationally knocked out by Slovenia on away goals in the play-offs, but that seemed to be a recoverable setback. Many neutral fans actually felt sorry that Russia didn't go to South Africa, because they would have been excited to see them in action.
There was club success in Europe to be considered too. CSKA Moscow won the UEFA Cup in 2005, Zenit followed in 2008, and both had healthy a Russian backbone to their lineups. Naturally, Russia were still behind the top European nations, but the gap didn't appear huge.
With such a long time before 2018, fans could be forgiven if they dreamed that their team could actually be crowned world champions on home soil.
They could at least have been the dark horses, which is exactly how Russia were treated ahead of Euro 2012. With Dick Advocaat replacing Guus Hiddink, the team continued playing positive attacking football, and hopes were high after they thrashed the Czech Republic 4-1 in their first fixture with rising star Alan Dzagoev calling the shots. Unfortunately, it fell apart as a draw with Poland and surprise loss to Greece saw Russia fall to third in their group.
The fall of Alan
At this point, we should stop and look at the case of Dzagoev (below). When he burst onto the scene, there were expectations that he could become bigger than Arshavin, and Real Madrid were reportedly interested in signing him. A decade later, the midfielder is still at CSKA, his progress stalled a long time ago and he will never be able to fulfil his potential.
Why? Partly because he didn't have the motivation to do so. Arshavin and Pavlyuchenko wanted to play in the top leagues, and put pressure on their clubs to sell them to Arsenal and Tottenham respectively. As Russia started preparations for the World Cup, though, the Russian FA decided to limit the number of foreigners who could be fielded in the domestic league.
The plan was designed to allow local stars to develop and not be benched. In reality, the idea proved to be counterproductive, because talented Russians became expensive, got enormous and disproportionate salaries and didn't have to fight for their place. Russian players didn't want to move abroad anymore. They could get rich in Moscow and Saint Petersburg without having to work too hard in the process.
On the other hand, clubs' budgets became bigger at the beginning of the decade, and they bought top foreigners anyway. They could fill any gap in the squad, and most of the teams had problems with central defenders. Look at the centre-backs used by the top Russian clubs in recent years and they are all foreigners – with the only exception being the legendary CSKA trio of Berezutski brothers Aleksei and Vasili, plus Sergei Ignashevich.
Naturally, those three played a crucial part for the national team as well – but with no heirs in sight. Russians knew that Ignashevich would turn 39 in the summer of 2018, while Vasili and Aleksei Berezutski will be 36. Nevertheless, nothing was done to prepare decent replacements. When the veteran defenders retired after Euro 2016, they left an enormous void that simply couldn't be filled adequately. Since then, Ignashevich has sensationally returned to the squad just a month before the start of the World Cup.
Manager mistakes
In 2012, the Russian FA understood that long-term planning was necessary, which is why they wanted a top coach who would prepare the team for a home tournament. The biggest names in the world were mentioned before Fabio Capello was signed on a bizarre, €10m yearly salary. Such a huge investment could have worked if the Italian was the right man. Sadly for Russia, he wasn't – and those familiar with his England tenure could have foreseen that outcome.
Capello not only had outdated methods that don't suit a national team in the slightest, he also didn't understand the Russian mentality. He threw Arshavin out almost immediately. Turning training sessions into a military camp during the 2014 World Cup was not the right choice. Dull, mechanical football without improvisation wasn't right for the players at his disposal. He didn't promote the right youngsters, didn't trust Dzagoev, and the atmosphere became poisonous. His relationship with the press didn't help either, with the coach regularly refusing to discuss his selections.
Ideally, Capello should have resigned after Russia failed to beat South Korea and Algeria and were eliminated from the 2014 World Cup. He didn't – and had to be fired belatedly in July 2015, when Russia's chances of qualifying for Euro 2016 appeared slim. There was still time to fix things ahead of 2018, but a lot of time was wasted.
The FA then chose Leonid Slutsky, the successful CSKA coach, to replace Capello – but were unable to convince the club to release him. Thus, Slutsky combined the two jobs until the European Championship, and the pressure took its toll.
Initially, the atmosphere was magnificent, but everything collapsed in France and the coach refused to continue with the national team. That was a huge blow for his bosses, who simply didn't have a decent backup option. They gambled on the limited and unpopular Stanislav Cherchesov (below), just because the other candidates were even worse.
Cherchesov had a desperately tough task anyway. He had to fix all of Russia's problems in less than two years, without having decent centre-backs or prolific strikers at his disposal. The long years of playing in the local league were not good for his stars, because the pace in Russia is much slower than what is seen in bigger championships. That was obvious during the Confederations Cup as Russia lost to Portugal and Mexico and crashed out in the group stage, but at least showed some spirit.
Luck wasn't on Cherchesov's side either. One of the most positive aspects of the Confederations Cup was the initial understanding between the trio of central defenders: Georgi Dzhikiya, Viktor Vasin and Fyodor Kudryashov. They might not be the most talented, but at least they were dedicated to the cause.
However, Dzhikiya and Vasin both suffered knee injuries in 2018, and the same fate befell Aleksandr Kokorin – the problematic striker who had long been discarded as lazy and unprofessional before finding some form for Zenit at the beginning of the season. Just when it looked like Russia could use his services, his World Cup dream was suddenly over.
Desperate measures
Over recent years, as things started to get desperate, the FA decided that giving citizenship to foreigners could solve some of the squad problems. The Ukraine-born German Roman Neustadter (below) and Brazilian goalkeeper Guilherme both went to Euro 2016.
CSKA's Brazilian right-back Mario Fernandes should be starting at the World Cup, and even the mediocre German Konstantin Rausch could be in the lineup (Rausch was born in Siberia before emigrating with his parents as a small child).
Overall, Russia only have one experienced world-class player: Akinfeev is still in goal. However, even the captain isn't perfect: his mistakes proved very costly at the 2014 World Cup and during the Confederations Cup. Usually stable and reliable, the 32-year-old tends to become error-prone when it matters most.
Not everything is bleak, though. Russia's new generation of midfielders is quite promising; Spartak Moscow's Roman Zobnin, CSKA's Aleksandr Golovin, Zenit's Daler Kuzyaev, plus newly crowned champions Lokomotiv Moscow's twins Aleksei and Anton Miranchuk could all turn into very good players.
Each of them might be able to shine at the World Cup and delight the host nation, but Russia will be paying for their lack of experience and preparations. The hope is still there – but it is slender.
Quizzes, features and footballing fun
Get the best features, fun and footballing frolics straight to your inbox every week.
Thank you for signing up to Four Four Two. You will receive a verification email shortly.
There was a problem. Please refresh the page and try again.