Ian Wright, My Perfect XI: How many former Gunners make the cut?
"He's a special player and a great-looking guy. He's got everything going for him"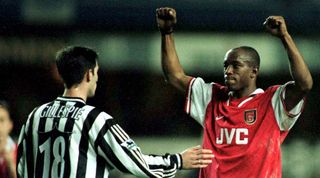 Goalkeeper: David Seaman
Undoubtedly the best. He didn't dive for the sake of diving or make a flash save from something straightforward. A great shot-stopper, his massive presence filtered through to the defence.
Right-back: Cafu
This guy's amazing. What is he now, 37? Yet he's still going. He doesn't need to be the best defensively: teams are so worried about him going forward that he doesn't have to defend as much as other full-backs. Sometimes attack is the best form of defence.
Centre-back: Tony Adams
Captain. A great defender and a great leader. He was so inspirational and was able to get the best out of those around him. Great in the air and not bad on the floor as well; with him around the defence would definitely be organised.
Centre-back: Fabio Cannavaro
It takes some defender to win the World Player of the Year. I'm quite pleased that when I played against Napoli and Italy, I gave him the runaround. Considering he went on to be one of the best defenders of all time, that's my claim to fame. 
Left-back: Paolo Maldini
You have to be a special player to perform so consistently for such a long time. There aren't many players who have done this for such a big club. He's also a great-looking guy. He's got everything going for him. Unlike Roberto Carlos, he can defend as well as attack. That's why he's in.
Right midfield: Zinedine Zidane
He was one of those players that you watch even when you're playing against him, because he's so good. He always seemed to find time on the pitch, whether it's to control the ball or find a pass. He made it look so easy. With him in the team, it wouldn't lack creativity.
Centre midfield: Patrick Vieira
Another leader and natural-born winner. He has everything you could want from a midfielder. He can attack, defend and score goals. He's brilliant at taking the ball in tight spots in the middle of the park and starting attacks; that's what he'd do for this team.
Centre midfield: Roy Keane
Another consistently excellent leader, again able to do both parts of a midfielder's job better than most. Alongside Vieira, one could sit back while the other spins forward. With those two there the defence will always have cover, while the attackers will always have support.
Left midfield: Ryan Giggs
Giggs would provide the pace in the midfield. Another player who's been brilliant over a long period of time, he's almost the perfect winger as he can dribble, cross and score goals, while being comfortable out wide, in the middle or behind the front man.
Forward: Alan Shearer
Shearer was the archetypal centre-forward who could head, shoot with his left and right foot and hold the ball up as well as anybody in the world. He was a heroic type of player too – the one others in the team would look up to.
Forward: Dennis Bergkamp
An amazing player with sublime skill; comfortably the best I've played with. Not only did he score brilliant goals, but when he played, those around him scored more. Him and Shearer up front would make a fantastic partnership.
Manager: Fabio Capello
With so many superstars in the team, you need someone with a similar stature to manage them, and I think Capello has this. Not only would he be excellent tactically, the players would look up to him and do as he said.
Substitutes
Peter Schmeichel
Always made great saves at the right times, although I felt he sometimes made them look more spectacular than they needed to be. Nevertheless, he kept the ball out of the net.
Roberto Carlos
I played against him and he was unbelievable, making marauding runs, crossing and shooting at really high pace. A brilliant player.
Paul Gascoigne
Unlucky not to make the lineup. He had unbelievable ability and he could have won everything if he'd looked after himself. Everything could have been so different if he'd gone to Manchester United instead of Spurs.
John Barnes
When he joined Liverpool, people thought he was a great winger, but he went on to prove that he was more than that; he was a great footballer. He was a scintillating, edge-of-the-seat player who people would always pay to watch.
Gianfranco Zola
Just missed out in the starting XI to Dennis Bergkamp: a very similar player who would score spectacular goals, set up team-mates, while being excellent at set-pieces.
READ THIS Gianfranco Zola's 11 most magical Chelsea moments
Interview: Hitesh Ratna. From the August 2007 issue of FourFourTwo. Subscribe! 
Quizzes, features and footballing fun
Get the best features, fun and footballing frolics straight to your inbox every week.
Thank you for signing up to Four Four Two. You will receive a verification email shortly.
There was a problem. Please refresh the page and try again.