Jesus Navas on Spain 2010: "The most impressive thing about that team was the training; one, two touches all from memory"
La Roja famously won every knockout game 1-0 en route to glory – celebrated in the latest FourFourTwo Film, featuring the insight of former Manchester City wideman Navas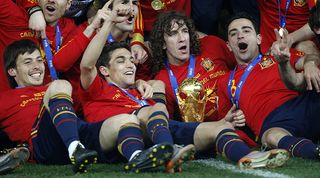 Spain had just won Euro 2008 and many of the players had won everything at club level. How did you get motivated for World Cup 2010?
I think there was a very good group that had a very good union, and that was evident on the pitch. It's key to get a good group off the pitch so that everything can go well on it.
What was the message before each game?
The team was playing by heart and that idea was very clear. We were playing very nice, very good football; keeping the ball, having possession, and it was key that the team had very clear ideas about that.
You've accomplished great things as part of Spain's golden generation. How important is it that you've all played together since you were very young in the various youth national teams?
It's very important to know each other better, to know what each one of your team-mates wants – but above all, that group had been playing together for a long time and it was very important to achieve success. I was 19 when I first played for Spain's under-21s – it was against France, and I scored! From then on, I had the chance to be there for [Vicente] del Bosque and that was great for me.
See the latest FourFourTwo Film below
Did anyone on the 2010 team play with you that day?
There was Andres Iniesta, Fernando Llorente… there were actually players who were there with me.
How confident were Spain about winning World Cup 2010?
Coming from winning a European Championship was huge, and meant we had peace of mind to know we could win a World Cup – something so great. That was key.
The most impressive thing about that team was the training; watching the team play with one or two touches all from memory. It was amazing how we knew each other and understood each other on the pitch, and you could see that in the end.
In the beginning, it was difficult for you to play for Spain because of your anxiety. How did you get over that?
For me, football is everything and that can handle anything. I insisted that the best thing for me was to be with my team, and it was really something big. [FFT: Did Del Bosque help you overcome these problems?] Yes, and my team-mates too. The truth is that I already had it all very clear; what happened to me was a very punctual event. I was very calm and comfortable.
Was it difficult to travel to South Africa at that time?
No, not really. Being with my national team is the best thing for a footballer and I wanted to be there. We were actually alone in our rooms in the hotel during that tournament, but I have a special friendship with [former Sevilla team-mate] Sergio Ramos and spent a lot of time with him.
Can you describe what it feels like to hear the national anthem before a game?
It's a source of pride. Defending your country, your team; so many people seeing that everything is going to be alright. Because of this, being able to win a title for Spain was something incredible.
How was it playing with the sound of the vuvuzela in the background?!
Honestly, if you're playing, you're in the game and you don't notice anything. But if you're out and on the bench you can hear the whole thing...
Spain lost their first game against Switzerland. What went wrong?
I think we were unlucky because we had control of the game, and the goal came from several rebounds. But the team was calm knowing that we had to win the next two matches. [FFT: How did the team react to that defeat?] Thinking it was a one-off event, the team was confident – we had a great team and just knew we had to win the next one. There really was a special unity between us, and the team was always united because we knew we were doing things right.
In the final, Holland used fouling as a big tactic to interrupt play. Were you worried about getting a hard knock?
No, all you're thinking about is helping the team in such a big game. The coach gave me the opportunity to enjoy the game with 30 minutes remaining, and in the end we won the World Cup.
It was incredible. Everybody was looking forward to getting into that final so much, because we were at a very good level – and in the end we won it. The team fought until the end to do it.
You went in as a 60th-minute substitute. What were you thinking at the time?
You're so into the game, concentrating on doing things right, that you barely think. Then when it's over and you see that you've won a World Cup, with all your team-mates, with your family, the whole country waiting for something big... well, it was very nice.
How important was Iker Casillas's stop from Arjen Robben in the second half?
Huge, because they're the details that decide matches. We took advantage of it and deserved the World Cup in the end. Those moments go by so fast, so fast, that when you stop to think, you say, "Oh, my God!" But in the end it went for us: we were very confident, very eager, the team was playing well and we deserved to take it.
You took part in the move for Andres Iniesta's winner. What do you remember about it?
I was cooler, because I could take less time on the ball than my team-mates, and try to push forward to create danger, which is what the coach asked me to do. I took the ball forward and it reached [Fernando] Torres; from Torres to Cesc [Fabregas], and then the pass to Iniesta that ended with the goal. Then the 'pineapple' of the whole team in the corner!
What was the first thing you thought when you saw the ball go into the goal?
How long was left?! All I remember is looking at the referee so that he could finish early and I could celebrate with everyone.
The brand new Otruska Pack from New Balance is now available. Shop now: www.newbalance.co.uk/otruska/. Follow NB Football on Instagram
Quizzes, features and footballing fun
Get the best features, fun and footballing frolics straight to your inbox every week.
Thank you for signing up to Four Four Two. You will receive a verification email shortly.
There was a problem. Please refresh the page and try again.