Joaquin Ardaiz: the Liverpool-bashing hotshot wanted by... well, everyone
Europe's biggest clubs are competing for a young striker schooled in the same environment as Edinson Cavani, explains Marcus Haydon...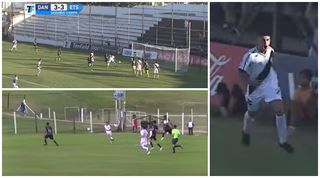 The 60-second story
FACT FILE
Date of birth: January 11, 1999
Place of birth: Salto, Uruguay
Height: 6ft
Position: Striker
Club: Danubio (2 apps, 1 goals)
The Jose Nasazzi Stadium in Montevideo is a fairly typical Uruguayan stadium. Its crumbling terraces are separated from the pitch by high fences topped with barbed wire. Commentators lean out of the windows of the small building at the back of the main stand, dangling their microphones from the window ledge to record the crowd noise as part of their coverage. In the club house you can buy a cup of warm Coke and torta frita for sustenance.
As modest a venue as it may seem, it's one that will have been on the radar of some of Europe's biggest clubs recently. Why? It's where the highly rated Uruguayan striker Joaquin Ardaiz made his much-anticipated first-team debut a couple of weeks ago, appearing as a second-half substitute against Cerro.
Ardaiz may be only 17, but the dazzling list of clubs reported to be interested in recruiting him already includes Barcelona, Real Madrid, Manchester City, Liverpool and Porto.
The teenager has recently been promoted into the senior squad at Danubio, a club from the north of Montevideo who can boast Atletico Madrid's Jose Gimenez and PSG hitman Edinson Cavani on their list of previous academy graduates. He's started well too, having scored his first senior goal last weekend against El Tanque Sisley in just his second appearance for the first team – in the 94th minute to secure a 3-3 draw, no less.
Why you need to know him
The English and Spanish press have taken it upon themselves to dub Ardaiz 'the new Luis Suarez', a comparison that's only really accurate in that it acknowledges the two are both strikers and were born in the city of Salto, in the north-west of Uruguay. However, they are stylistically different and unlike Suarez, who moved to Montevideo because of his family, Ardaiz moved to Montevideo because of football.
After impressing for a youth team in his native city, by the age of 13 Ardaiz had a number of clubs from the capital queuing up to recruit him. In the end it was Danubio who produced the winning proposition, being able to offer an academy with a proven track record, as well as the commitment to house and feed Ardaiz while keeping him focused on school work.
Within a year of moving he received an invitation from Portuguese giants Porto to spend 20 days training with them, during which he made a good enough impression that the club also sent scouts to watch him live in youth matches in Uruguay. Given the interest that has since emerged from other clubs, it seems likely that Ardaiz – who is advised by Nick Maytum, an English agent based in Surrey – has decided to keep his options open.
Last year Ardaiz represented Danubio's under-16 and under-17 sides, leading the former to the national title and scoring a fine solo goal in the final that was hosted, funnily enough, at the Jose Nasazzi Stadium.
His role with the under-17s was more controversial, however. After a bad-tempered match against Liverpool back in October, both sets of players finished the game fighting on the pitch. The trouble continued outside the ground too, and in the grainy mobile phone footage that exists of those incidents, Ardaiz can be seen in the centre of the action, removing his top and throwing punches before being pulled away by the Danubio coaching staff.
No details were ever published of who was guilty of what, but Ardaiz was one of the four players most heavily disciplined by his club over the incident.
Strengths
Ardaiz is a modern No.9 in the sense that his physical presence and all-round game allows him to play as a lone central striker. "I came here as a No.10 and later, because of my physique, I was able to be a No.9," said Ardaiz in a recent interview with El Diario.
For his age, his stature is remarkable. While he has always been tall, in the past 18 months he has put on a great deal of muscle mass, to the extent that when he debuted against Cerro a fortnight ago, he looked completely at ease with the challenges of senior football.
His back-to-goal play is already very good. He protects the ball well, has neat control and looks to spin defenders. The press might draw comparisons with Suarez, but his power, skill and aggression are more reminiscent of Chelsea's Diego Costa than those of the Barça man.
Weaknesses
There is a tendency in Ardaiz's game to be overreliant on the power of his left foot. While this is an acknowledgment that his touch and striking of the ball off that side are excellent, there is a risk that his predilection for using it could make him easier to read and less flexible in his play.
One other feature that needs monitoring is his aggression. His style of play inevitably attracts its fair share of rough treatment and Ardaiz will need to be ready to take that and not let it adversely affect his game. As the events after last year's Liverpool youth game showed, he can be someone who lets his temper and awareness of his own physical strength overrule better sense.
They said...
"He is a different player," said Eduardo Pisoni, a director at Danubio, when asked whether Ardaiz is a similar to Suarez. "[Ardaiz] is great too but has great skill with his left foot. He is a No.9, a goalscorer, who has only recently turned 17."
Did you know?
Ardaiz plays football with his brother, Matias De Los Santos, on a daily basis as the two are both part of the first-team squad at Danubio.
What happens next?
Danubio own 100% of Ardaiz's registration and may therefore be less pressured to sell than if there was an third-party investor involved. Porto's long-standing interest would appear to give them a slight advantage, but nothing has been agreed. His English agent may also play a key role in his final destination.
"There are many enquiries," Pisoni told El Pais recently. "They call all the time and talk a lot, but there is nothing concrete."
As Ardaiz doesn't turn 18 until January 2017, it's likely that any transfer made before then would see him remain at Danubio on loan. In the longer term, though, it looks like Europe beckons.
More features every day on FFT.com • Football's hottest prospects scouted
Thank you for reading 5 articles this month* Join now for unlimited access
Enjoy your first month for just £1 / $1 / €1
*Read 5 free articles per month without a subscription
Join now for unlimited access
Try first month for just £1 / $1 / €1
Get FourFourTwo Newsletter
The best features, fun and footballing quizzes, straight to your inbox every week.