Jurgen Klopp blames gravity for Liverpool's disappointing draw with Everton
Liverpool manager feels the planet's gravitational pull made the game a lottery, says Back of the Net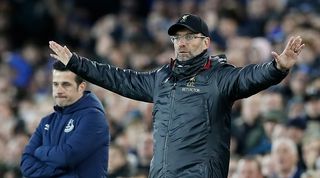 Jurgen Klopp has hit out at the natural phenomenon of gravity, which he feels made it impossible for Liverpool to deliver the win they needed to return to the top of the Premier League table.
The Reds were overtaken by Manchester City at the weekend after being unable to find a breakthrough against a stubborn Everton side, and Klopp has questioned whether Premier League matches should be played under its 'draconian' rules.
Liverpool were repeatedly thwarted by offside decisions, poor decision-making in front of goal and the fact that any two bodies must be attracted to each other, with the force proportional to the product of their masses and inversely proportional to the square of the distance between them.
A frustrated Klopp was barely down the tunnel at Goodison Park before he'd taken aim at gravity and questioned its place in the modern game.
"It [the earth's gravitational field] was tough for us today," Klopp told FourFourTwo.
"With the greatest of respect to Jordan Pickford, you have to question whether he'd have made that save from Mo Salah if we weren't constrained by the curvature of space-time.
"The lad [Salah] just looked 9.80665 m/s off his game all day and at this level you can't afford that.
"Everton dug in well, but Everton sides have never really been massively affected by gravity.
"You have to ask whether the Premier League does have to take a look at it [relocating all fixtures to the International Space Station] at some stage."
Blame game
So far this season, Klopp has blamed the pitch, fixture scheduling, the ball, the wind, a ball boy, the economic downturn, lacrosse, the Black Sea resort of Odessa, and American soul music duo of the early 1990s, Charles & Eddie, for results not going his side's way.
But the 51-year-old has insisted that he won't accept anything other than three points against Burnley.
"We must get back to winning ways," Klopp said. "We're expecting a tough battle but we can't let them disrupt our game, even if it's a little bit rainy, and it's the 10th of the third month, so that makes 13 which is unlucky, so actually I'll see if I can get the game called off."
Please note: Funnily enough, this story isn't real.
Quizzes, features and footballing fun
Get the best features, fun and footballing frolics straight to your inbox every week.
Thank you for signing up to Four Four Two. You will receive a verification email shortly.
There was a problem. Please refresh the page and try again.