Kevin De Bruyne to miss three months with backpacking trip
Playmaker will be unavailable until November after taking a last-minute decision to fly to Peru and hike the Inca Trail, report Back of the Net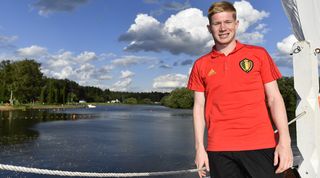 Manchester City boss Pep Guardiola had hoped to have De Bruyne available for Sunday's clash with Huddersfield Town, but instead the Belgian ace will be on a transatlantic flight to Lima, via a three-hour stopover in Miami, with his best friends Jasper and Claes.
Guardiola said: "Obviously Kevin is important for us, but watching the sun rise over the ruins of the lost city of Machu Picchu is important for Kevin.
"You might ask why he didn't go before the season started, but the sites get so crowded in the summer and it would have been hard on Kevin's parents to have him fly off again so soon after the World Cup.
"Apparently Jasper found a great last-minute deal on flights, and anyway now is the only time Claes can go because his internship starts in December. Of course it's a blow to be without our most important player for over a third of the season, but I can't argue with that logic.
"We're just relieved it's only three months. Our initial fear was that he'd be out for a whole year, in Thailand or Bali."
De Bruyne told FourFourTwo that after Peru, he and his friends will spend some time hiking in the Bolivian Andes before heading to Buenos Aires by motorcycle, and continuing north to Brazil if there is time.
He said: "I've got a flexible return flight and I'm sure the lads will understand if I miss the [Manchester] derby [on November 11] because I've enrolled in samba classes or something.
More Back of the Net
"I'm 27 now, which is how old Amy Winehouse was when she died," he continued. "The Kevin De Bruyne of neo-soul, they called her. It makes you think.
"I've decided that this is the right age to get out of my comfort zone, think about what I want to do with my career and take a life-changing amount of ayahuasca."
De Bruyne's likely replacement, Bernardo Silva, will also miss the Huddersfield game as he is attending a matinee performance of Aladdin: the Musical with his family and it was not possible to exchange the tickets.
Please note: This news story is satirical. Obviously. Bernardo is actually going to see Cats.
More Back of the Net • New features you'd love on FourFourTwo
Quizzes, features and footballing fun
Get the best features, fun and footballing frolics straight to your inbox every week.
Thank you for signing up to Four Four Two. You will receive a verification email shortly.
There was a problem. Please refresh the page and try again.