Les Ferdinand: My Secret Vice
Former Tottenham, Newcastle and England striker explains his love of choppers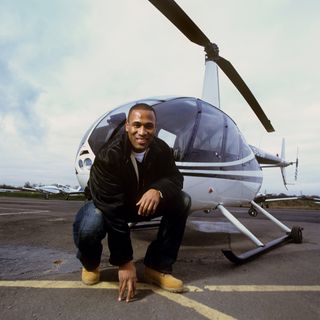 "When I moved from London to the North East to sign for Newcastle United, I was keen to find different things to do to keep myself busy. So while I was up there I learnt to ride a motorbike, I learnt to play the saxophone, and I even learnt to cook.
"Then one day this guy from an aviation company called the club and asked if I'd be interested in helicopter lessons. They offered me the first few lessons for free and it seemed like a good thing to try.
"I remember the day of my first lesson well. It was a Sunday and I'd spent the afternoon watching a Newcastle Falcons rugby match before heading down to the airfield. By the time I got there it was blowing a gale. There was this little R-22 chopper sitting there and I thought to myself: There's no way I'm going up in that thing today. The instructor started showing me the controls and explained that once we got above a certain level the wind wouldn't be an issue. I just said: 'It won't be an issue because I'm not going anywhere.' And that was that. Or so 
I thought…
"Then when I moved back down south to Spurs, the same guy called me again and told me he was working in Milton Keynes and asked if I still fancied giving the helicopter a go. It took me a few weeks to get round to it, but then one day I suddenly said to myself: 'I'm gonna do this'. I'm one of those people who often starts something and gets bored easily, but I was really up for this.
"The instructor told me I'd either love it or hate it. The first time you go up, enclosed in this little bubble, you feel completely out of control – it was a bit like being the passenger in a car that's going too fast. I wasn't too sure at all. But then we flew over my house and various other places in my neighbourhood, and I was hooked. My family all think I'm bonkers anyway, so it didn't take them long to get used to the helicopter idea, and they were all very supportive.
"Once I began taking lessons, it took me between 18 months and two years to complete the course. I could have done it a lot quicker, but I could only really get up in the sky on my days off, and we lost the best part of 
a year through bad weather. I had to pass seven exams in all, including things like navigation. I found the theory stuff a bit tougher – it was too much like being back at school. At one point the instructor said he wouldn't let me fly the helicopter again until I sat down and passed all the theory exams. I felt like a little boy who'd had his toys 
confiscated. But it was worth it in the end.
Sir Les's top five whirlygigs
Eurocopter 120
EC 120
EC 130
ND500 EC Squirrel
Gazelle
"By the time I signed for Bolton Wanderers, I'd already got my licence so I used to fly myself up to Lancashire on a Tuesday and then fly back home after the game at the weekend. I kept it quiet while I was taking lessons, but now it's something that I'm really proud of, and it's generated a lot of interest among the other players.
"A lot of the boys still think I must have a pilot who chauffeurs me around – they can't believe I fly it myself, or that I own my own helicopter. I've so far resisted bringing it in to work, partly because I'm aware that some people might see it as a bit flash. But the Reading chairman John Madejski has given me permission to land it on the training ground, so I'll probably do that soon, and Shaun Goater keeps going on at me to take him up for a spin. Landing on the centre circle on a matchday is out though – too many people around.
"Now the lads are getting their heads round it, they think it's brilliant. I don't think any of them have followed my lead yet though. A lot of players don't like flying at the best of times, but I think Ian Walker was given some flying lessons as a present recently, and he sounded keen to give it a go.
"There have been times when I've been up in strong winds and got bumped about a bit. That can be a bit hairy. But it's all part of the buzz. And these are the situations you learn to deal with in training – it's basically about keeping a cool head. Doing my first solo fly was probably the scariest moment. It was only a circuit of the airfield, but I still found myself wondering if I'd remember what to do if things went wrong.
"At first it was just a bit of fun. Then I began thinking it would come in handy when I stop playing. I could fly round the country to watch all of my old teams [10 and counting] play. It must be a better way of getting up to Newcastle or Bolton than being stuck in traffic on the motorway for hours. I could just zip up in the helicopter, watch the game and be back home in time for dinner.
"Now I'm coming to the end of my playing career, and mulling over what to do next, I've started thinking I could do something with the helicopter in a professional capacity. It's too early to say how exactly, but I think flying commercial flights is definitely one option.
"For the moment though it's just something I love doing. It's a real release. When you're up there, you can completely disappear for a couple of hours – nobody bothers you and you don't bother anyone else.
"I'm not a big drinker and I don't spend my money down at the bookies, but I do like to spoil myself from time to time, and this is my indulgence."
Interview: Dan Brennan. Portrait: Chris Taylor. From the April 2005 issue of FourFourTwo.
Thank you for reading 5 articles this month* Join now for unlimited access
Enjoy your first month for just £1 / $1 / €1
*Read 5 free articles per month without a subscription
Join now for unlimited access
Try first month for just £1 / $1 / €1
Quizzes, features and footballing fun
Get the best features, fun and footballing frolics straight to your inbox every week.