Lionel Messi helped end his Argentina cup curse through tarot cards: 'They celebrated like it was a goal'
Netflix series Sean Eternos (Be Eternal) told the story of Messi correctly guessing the tarot card he would draw next, prior to their 2021 Copa America final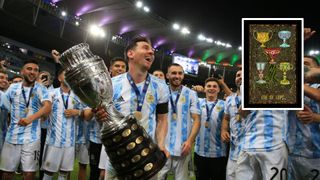 (Image credit: Getty Images)
Lionel Messi endured a difficult 13 years in Argentina's senior side between his first and second pieces of silverware, having to stay patient from his Olympic gold medal in 2008 until finally lifting silverware at the Copa America in 2021 - he didn't have to wait too long for his next trophy with the national team, though.
In the interim period, Messi suffered heartbreak after heartache, retired and returned. Despite being named the Player of the Tournament, he and Argentina lost the 2014 World Cup final to Germany, before suffering a year later in the Copa America final after being defeated by Chile on penalties.
In 2016, he had had enough, losing on penalties once again to Chile in the same tournament. Messi retired from international football for a month, before duly returning to the national team set-up.
Then, finally, he tasted success in 2021. Argentina won the South American tournament, beating Brazil in the final - with tarot cards forming a major part of the squad's success.
Sean Eternos (Be Eternal), the Netflix series that documented the story of Argentina's 2021 Copa America triumph, captured some of the unknown moments of Messi the leader.
His tunnel talk before the final against Brazil at the Maracana could have been written for Al Pacino in Any Given Sunday – he was articulate, passionate, introducing pauses when needed and then accelerating towards the end. It was… nuclear.
God had given them another chance of winning at the Maracana, and they had to seize it. Film director Juan Baldana created the series, which became the most watched in Latin America shortly before the World Cup.
"The first thing I thought was to create a portrait of a leader who'd just been consecrated, but was still not perceived as such by most of the people," Baldana told FourFourTwo.
"He was a different kind of leader – not like Maradona, a leader made from mud. With our creative team, we wanted to humanise not just Leo but the group of players who finally won a tournament for Argentina, after 28 years."
One of the documentary's viral stories was away from the pitch, when players were sat around playing a card game, each guessing which tarot card they would draw.
Every player had 10 guesses. Otamendi, Di Maria, De Paul and Papu Gomez succeeded. On his last guess, Messi said the five of cups, to see if he could finally break the curse of the four cups he'd lost with Argentina.
When they turned over the card, it was the five of cups – they celebrated like it was a goal. Some players, including Otamendi and Gomez, even got a tattoo of the card.
Thank you for reading 5 articles this month* Join now for unlimited access
Enjoy your first month for just £1 / $1 / €1
*Read 5 free articles per month without a subscription
Join now for unlimited access
Try first month for just £1 / $1 / €1