Lucas Piazon: Talentspotter
"I would be a sea animal. Maybe a dolphin, always on the beach, not worrying about anything, enjoying the good life..."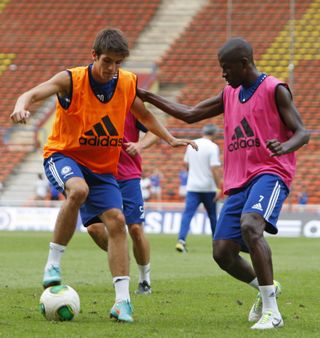 Malaga's on-loan Chelsea starlet Lucas Piazon talks to FourFourTwo in March 2013 about dolphins, pre-match rituals, meeting Jenson Button and giving his autograph to Nicole Scherzinger.
Team supported
Sao Paulo. My father's entire family supports Sao Paulo. He doesn't and tried to persuade me to follow his path and go for Santos, but it was in vain. Sao Paulo was doing really well with Rai returning to the team in the late 1990s.
Strengths
Not an easy question, but I'd say passing and acceleration. I promise you won't see me running with my head down. Never! I also like to play in any of the three positions behind the centre-forward – more like Juan Mata and David Silva.
Weakness
I still have a hard time protecting the ball when I receive it from the back. I also need to watch out more in the field, not complain so much about my team-mates. I am laid back, but I change when the match starts! I have worked hard on it, my father, my mother and my friends, everybody tells me so!
Heroes
Never had one in particular. But if I had to nominate one, Kaka would be the name. Actually, I watch a little of every athlete. Mata's positioning with Chelsea, the way he plays and moves. The same with David Silva. And no, it's not a coincidence I'm referring to them once again.
Toughest opponent
Rodrigo Caio. He is really tough! Even Neymar had a bad time with him recently, in a game between Santos and Sao Paulo.
Best player played with
Ademilson, from the Brazilian U20 team. He is a good friend, a nice guy and a super talented player. If Chelsea asked me, I'd recommend his purchase.
Kaka or Ronaldinho?
Which Ronaldinho? Gaucho? I really enjoyed watching him with Barcelona, but I'd still prefer Kaka if I had to choose one.
Tunes
Before the match, I like to listen to hip-hop, artists like Chris Brown and Drake. It is basically what I listen to in London. Brazilian music ended up left on the side. At least I didn't need to teach anyone how to dance like Michel Telu – the guys at Chelsea already knew it!
Wheels
A Land Rover Evoque. I really like its interior, it's really beautiful.
TV programmes
I'm watching the second season of Prison Break with my sister, but in London we watch more sports, especially a BBC show on Sundays that replays all the goals.
Hobbies
Almost every day, I'm back from the club at 2pm and have the rest of the day free. I usually go out for dinner a lot with David Luiz, Ramires and our families. I could recommend several restaurants, especially Fornata, an Italian one. The portions are not big, appetizer-size really. Talking about it makes me miss them!
Most famous person met
Jenson Button and Michael Buble. At some restaurant, of course.
If you were an animal, what would you be?
I would be a sea animal. Maybe a dolphin, always on the beach, not worrying about anything, enjoying the good life.
Tell us something we don't know about you
Let me think about it. This is a hard one. Everyone knows something about me. You can say that, on a matchday, I always try to do the same thing. I warm up with this little necklace, put the boots on, the shinpads, say a prayer and only then I take the necklace off and get to the field.
If any woman asked you for your autograph, who would you choose?
To ask for my autograph? [Laughs] I guess it would be Lewis Hamilton's girlfriend, Nicole... I don't know her last name [Scherzinger], it is a really difficult, weird one, you know? But it would only be an autograph, I wouldn't try to steal her from him, I swear.
In five years I'll be...
At Chelsea, playing every match in the main team. And already carrying a gold medal won at the Rio de Janeiro Olympics. That would be nice.
Interview: Marcus Alves, March 2013.
Thank you for reading 5 articles this month* Join now for unlimited access
Enjoy your first month for just £1 / $1 / €1
*Read 5 free articles per month without a subscription
Join now for unlimited access
Try first month for just £1 / $1 / €1
Quizzes, features and footballing fun
Get daily World Cup 2022 news, updates and other football frolics to your inbox