Lucky, lucky Arsene? Not a chance – and here's why his recent success is no fluke
Chas Newkey-Burden gets all up in the grill of those who've dampened their praise of Arsenal's long-serving boss in 2015...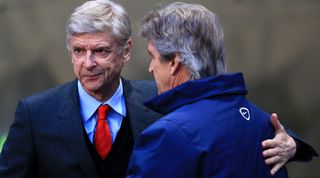 On Saturday, Arsenal's ninth win on the trot put them in the FA Cup final for a second consecutive year. They have won 17 of their last 19 games (though their latest came in extra-time), and are poised to finish second in the league – their highest position for a decade. Gunners fans must be cheering Arsene Wenger as media pundits shower him with praise, right?
Well, discerning members of both camps are doing just that. But some of those who spent the first half of the season furiously calling for Wenger's head are now scrambling to deny him any credit for the team's run.
A school of thought has developed that Arsenal's astonishing turnaround in form is merely a fluke that the manager stumbled upon. Even Henry Winter, TheTelegraph's charming poet, joined in the snarling (opens in new tab).
Rock around the Coq
ALSO ON FFT
The central pillar of the proposition is an exaggerated estimation of Francis Coquelin's role in the renaissance. Critics claim the previously forgotten young midfielder – recalled from a loan spell in December to plug a colossal injury crisis – is the sole factor in Arsenal's upturn. Therefore, the argument goes, the solution to Arsenal's woes was forced upon the boss, who has lucked out big time. Coquelin, who Wenger reintroduced despite howls of disapproval from Gunners fans, has indeed been a revelation. The coach himself concedes that the recent excellence of the midfield terrier has taken him by surprise. It would be churlish to belittle Coquelin's contribution. This season, the club managed eight Premier League wins from 18 without the the industrious 23-year-old, but 11 wins from 13 with him in the side. But it is disingenuous to suggest his introduction is the only factor in this upturn.
In the first half of the campaign, a shaky Arsenal side sank as low as seventh in the standings, losing to the likes of Stoke and Swansea. Is their dramatic transformation, which has seen them outclass Liverpool and both Manchester sides, solely, or even mainly, down to Coquelin?
Of course not: there are a host of reasons for the turnaround, and the manager's fingerprints are all over them. Through the spine of the line-up that has turned things around in recent months, we see Wenger's diligence. David Ospina, the manager's summer buy who became a regular in January, has had a hugely steadying influence on a back four which had trembled its way through the campaign's previous months.
The rearguard has benefited from the soaring poise of Nacho Monreal, and the blossoming of right-back Hector Bellerin. In the centre of defence, Wenger's shrewd January acquisition of Brazilian stopper Gabriel has allowed rotation that was unthinkable during the first half of the campaign. The benefit of this for the previously-overplayed Laurent Koscielny and Per Mertesacker is stark.
Further forward, too, players have been busy upping their games. Santi Cazorla, moved to deeper, more central pastures by Wenger, has responded by playing arguably the finest football of his Arsenal career. Alexis Sanchez's role has been quietly tweaked for the better, and now he has largely abandoned the 'it's-all-about-me' shtick of his early Arsenal days in favour of a more considered, team-based approach.
Then there's Mesut Ozil and Olivier Giroud. Both missed much of the darker first half of the season. Their endeavours since have been crucial to the winning run, and both are at the peak of their powers. In the case of Ozil, Wenger's decision to move him back to the No.10 position is key to his and the team's surge.
ALSO ON FFT
Wenger still knows best
So wherever you look on the field, you see players excelling. And while the young Frenchman in defensive midfield has had a big part to play in this, it's the older Frenchman on the touchline who coaches and guides all of these improved charges on a daily basis, and who deserves a fair share of praise for their improvement.
Off the field, too, the manager's contribution is easily identified by any agenda-free observer. For January's symbolic victory away to champions Manchester City, which laid to rest years of hellish defeats at the hands of the top sides, the Gunners took a less possession-based approach than expected.
Earlier this month, Tomas Rosicky revealed that the manager has indeed made "adjustments" to his tactics. "We changed some stuff slightly in our preparation for these games," he said after the convincing win over Liverpool. "We're doing a little more tactical work and we changed some stuff against the big teams."
Fitness levels are also a factor. In the first half of the season, the queue for the Arsenal treatment table snaked to terrifying lengths. Yet in recent weeks, Wenger has been able to select from a virtually full quota of players. This is not about luck: the influence of esteemed fitness guru Shad Forsythe, personally hired by the boss last summer, is winning through at a club that has struggled for some years in that area.
Wenger, by instinct a big-picture guy and therefore often vulnerable to misunderstanding, is going through a broad evolution in his approach. The harder he works, the luckier he gets. Arsenal recently became Europe's most in-form team, with an average of 2.54 points per game, ahead of Barcelona with 2.47.
The suggestion that the manager is entirely incidental to this should be seen for what it is: a desperate cry from the 'Wenger out' brigade who screamed themselves hoarse in the opening months of the season and now feel ashamed that they so indignantly wrote the great man off. Well, I love to say I told you so.
Arsenal vs Chelsea LIVE ANALYSIS with Stats Zone (opens in new tab)
Thank you for reading 5 articles this month* Join now for unlimited access
Enjoy your first month for just £1 / $1 / €1
*Read 5 free articles per month without a subscription
Join now for unlimited access
Try first month for just £1 / $1 / €1
Get FourFourTwo Newsletter
The best features, fun and footballing quizzes, straight to your inbox every week.