Mark Goldbridge: meet the Alan Partridge of Manchester United YouTube – "I take it as a compliment... just be who you are"
published
Aha! Whether you love him or laugh at him, the ex-copper's Twitter chat and Manchester United rants are compulsive viewing. He explains life from his side of the screen...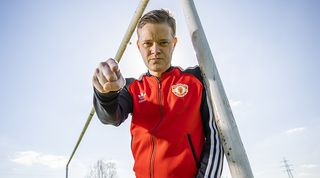 Mark Goldbridge is nursing a lager shandy in a pub near his Solihull home. He's suffering from a bout of man flu. He doesn't mention it, but I know because he announced it on my television last night – streamed from my phone – before embarking on a rant about Manchester United. How thoroughly modern.
He may not embrace the term 'YouTuber,' but that's undeniably what he is, broadcasting his thoughts to the wider world as a presenter of The United Stand channel. That said, Goldbridge doesn't really fit the clichéd YouTuber profile. He is, in the parlance, a grown-ass man, old enough to remember hooliganism, Teletext and Italia 90, and as such he considers The United Stand as the natural progression of a more traditional form of fan interaction.
"I see it as a development of fanzines really, in the modern day," he says. "A United fanzine on YouTube."
The difference with fanzines is that you have to write them, print them, and then stand outside freezing grounds as thousands of fans ask you if it's the programme. In theory, broadcasting on YouTube is much easier, but by the same token it's harder to stand out against the infinite noise of the platform. Goldbridge has organically grown his audience using his motormouth style, quirky turn of phrase, occasional rages and a healthy dose of foul and abusive language. Meat and drink to the industrious meme creators of the internet.
In the flesh, Goldbridge is a much milder proposition than his online persona suggests, dropping only a solitary minor swear in the best part of an hour. I am, however, treated to a live rendition of one of his stock phrases when he claims that Ashley Young "couldn't lead a pack of ants to a picnic".
Technically, the collective noun for ants is a colony. But it's this ad-hoc mangling of the language that has resulted in his subscriber base shooting upwards despite a number of detractors, some of whom point out his similarities to both David Brent and Alan Partridge. They are comparisons he welcomes, though.
"I've got no problem with that because we're all influenced by our upbringing," he says. "There's probably a bit of Only Fools and Horses in there, and there's probably bits of Basil Fawlty. They were the two I grew up watching when I was really little, and then into my teens – I'm Alan Partridge, The Office, Phoenix Nights and all that lot, so I take it as a compliment."
There have even been suggestions that Goldbridge is a construct, a character played by a comedy actor.
"I'll go and get a job acting then," he chuckles. "Because it would be far easier. I wouldn't mind doing a bit of acting…"
The waters are muddied further by the revelation that there is no Mark Goldbridge. The man sat in front of me is one Brent Di Cesare, an ex-copper. As he freely admits, when he started broadcasting he was still in the police – investigating financial fraud – so had to come up with an alias.
Now approaching five years on screen, Goldbridge remembers the genesis of the channel.
"It started in 2014 at the World Cup," he says. "England had just been knocked out and I went on holiday to Majorca. I was lying on a lilo in the pool and just thought that I'd spent a lot of time on forums straight after a game, venting out and then waiting for people to reply.
"I thought YouTube probably wasn't a bad idea, to put a video up to say how you feel and get people to comment below. Initially I started it off as a more generic thing, just talking about weekly Premier League predictions. Then I did a couple of Man United reactions and they were getting more interaction than the generic thing."
Basing his output around the self-styled biggest football club in the world obviously has its advantages in terms of finding an audience. Indeed, this has led to even more cynical observers coming up with a conspiracy theory.
"People call me a Forest fan because I'm from Nottingham," says Goldbridge. "But my mum and dad separated when I was about six. My dad's a Chelsea fan and my mum's a United fan.
"But we lived in Nottingham so my dad used to take me to watch Forest games on a weekend. There was this guy about three seats down from us and he would stand up and go, 'Nigel Clough! Lay down and die!' My dad would turn round and tell me, 'Look, this is his moment. All week he's working somewhere. He's probably got a wife who's always nagging him, and this is his moment to release.'"
Amateur psychologists might point to this childhood episode as a precursor to Goldbridge's own bouts of rage.
"I'm a different person when I'm playing FIFA or when I'm playing or watching football," he claims. "I become very passionate and very engrossed in it. I don't really swear much away from that, but it's my release.
"As long as I keep it to the YouTubing and when I'm watching football, I'm fine. I don't do it watching EastEnders – although I don't even watch EastEnders – but I don't do it watching Game of Thrones or anything like that. I'm a relaxed person away from football."
Indeed, much of Mark's ire is reserved for FIFA sessions, which he regularly broadcasts live accompanied by a trademark stream of consciousness, peppered with profanities.
"I had this period between September and Christmas where I was playing it regularly," he reveals. "I was even playing online and I got to quite a good level. But I was coming off it and my wife was saying, 'You're going to end up killing yourself,' and I actually had people messaging me saying, 'You're going to kill yourself'.
Over ten thousand RT's demanded the Goldbridge Treadmill Challenge. Let's see how many the video can get. And I'm alright by the way. Just a very sore knee pic.twitter.com/n8SS9hdp0Y— Mark Goldbridge (@markgoldbridge) March 21, 2019
"You can see the rage and blood pressure. I didn't play it for about a month and felt a lot better. Then I played Football Manager – as I used to play Championship Manager years ago – for a little bit, but thought I'd dip my toe back into FIFA on United career mode. I've actually enjoyed the last couple of weeks on it, and I seem to be a little bit calmer."
Despite producing a swathe of content on a daily basis, Goldbridge does occasionally find the time to take in an actual match, where he is frequently recognised. Indeed, The United Stand has branched into the burgeoning world of matchday fancasts, a medium eyed with suspicion or even outright hostility by the authorities.
"They're pretty strict at United," explains Goldbridge. "You can't film outside the ground and you can't film footage in the ground. There are people who do sit in the ground and film themselves, which I would never do, as I feel quite claustrophobic when I'm at a game anyway.
"We always go outside Gary Neville's hotel, because you can have Old Trafford in the background. But you can't be on their bit of land. I went down to Chelsea the other week and they were the same, but Arsenal was easy – I just wandered around."
Clearly, The United Stand needs Manchester United a lot more than Manchester United needs The United Stand. Nevertheless, Goldbridge would hope for some kind of relationship with the club in return for promoting it to a global audience on a daily basis.
"I don't think they really grasp that yet," he says. "They see a video where you slate Phil Jones and my perception is that they take that quite personally. But I don't know why you would.
"It's like someone slating me on Twitter, I don't take it personally. The only reason I slate a bad performance is because I care about the club. It's passion for that club. We get so many comments saying, 'I was a Manchester United fan but The United Stand has made me far more engaged because there's something there every single day, a community that I can be part of instead of waiting for the weekend.' So you've got a more engaged fanbase, which can only be for the benefit of the club."
It is a terrifying new medium, but 25 years ago clubs were arguably equally suspicious of new-fangled fanzines, something that thankfully has thawed over the decades. What Goldbridge and his ilk do now is a natural evolution of that supporter input, and a counterblast to the dreariness of media-trained banality.
"There's something about fan opinions that I've always liked, even before I did this," he says. "It's just genuine and real, whether it's sat in a pub or on the school bus or watching something on YouTube. If it's fans who are doing it because they're fans, there's something more authentic about it and I think you get a real opinion.
"United used to lose every now and then under Alex Ferguson. They would have a bad performance and you'd wait for them to come out a few minutes afterwards. You'd be waiting on Sky for him to come out and think he's going to go absolutely mad. And he wouldn't. He was obviously keeping it all in-house, but as a fan you'd feel dissatisfied. I wanted him to come out and say, 'He was rubbish!' Fan content has stepped into that void."
It's a noble vision, but it's also a world riven with sniping, backbiting and vicious abuse. While researching this feature I witnessed footage of a middle-aged Arsenal fan hurling invective directly at Goldbridge, in a hugely undignified spectacle.
"It's a weird platform in some ways," he concedes. "We lost 2-0 to Arsenal in March, but everyone Robbie [of Arsenal Fan TV] interviewed, I think four or five of them, kept mentioning me: 'Sit down Goldbridge! Where are you now?' Even though they'd won the game, everyone changed the narrative. You've won the game, but The United Stand have still beaten you because you're living rent-free inside their head.
"Some people do get very, very angry. Even when they've won, their first reaction is aggression against the team they've beaten. There's no humility, there's no joy. It's funny."
Thankfully, this impotent rage has remained on screen, and is yet to boil over into actual physical violence.
"I can understand why people don't like my opinions and want to have a go at me," he admits. "However, I don't think I'm the sort of person that people would want to come up to and punch in the face or shower with abuse. Most of what I do, I'm passionate about, but there is a fun banter element to it as well."
It's a formula that is paying off for the affable Goldbridge, although he still works part-time, belying the idea that everyone on YouTube is absolutely coining it in.
As for advice to aspiring Tubers, he says: "The most important thing is to be consistent with who you are. Don't sell your values on it. I've never liked Marouane Fellaini. I remember doing a video about him and it got about 700 dislikes and about 10 likes. I was thinking that's not a popular opinion, but it's my opinion and you must be consistent.
"Don't do content you think is going to get views, just be who you are. A lot of it is down to luck as well. If people take to your voice and the way you do things, you've got a pretty good chance. I'm grateful that I came into it later in life because I'm in my 40s now. I did things before that have stood me in good stead. I've never been motivated from a financial or fame angle because I've achieved everything I want in my life, personally. I'm married, have kids, a house, and done all the professional jobs I wanted to do. This just started off as a hobby and fortunately it's growing into a job that I would have dreamed of in my teens.
"To talk about football every day is fantastic, so I'm living the dream in that sense, anyway."
Main photo: Fabio De Paola
This feature originally appeared in the June 2019 issue of FourFourTwo. Get 5 issues of the world's greatest football magazine for £5 (opens in new tab) – the game's greatest stories and finest journalism direct to your door for less than a pint in London. Cheers!
NOW READ...
QUIZ! Can you name the 40 players who have committed the most Premier League fouls ever?
LIST 10 players who came to the Premier League too early
WATCH Premier League live stream 2019/20: how to watch every game from anywhere in the world
Thank you for reading 5 articles this month* Join now for unlimited access
Enjoy your first month for just £1 / $1 / €1
*Read 5 free articles per month without a subscription
Join now for unlimited access
Try first month for just £1 / $1 / €1