Maurizio Sarri stunned to find Chelsea is a non-smoking club
The new Blues boss is gently introducing his squad to the joys of nicotine, Back of the Net reports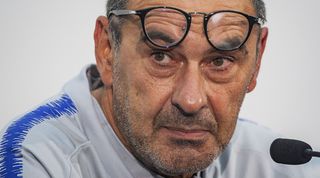 Maurizio Sarri has spoken of his shock and disappointment at discovering that barely any of his Chelsea squad regularly smoke cigarettes, and is dedicating most of his pre-season to getting his new charges up to speed.
Surmising that the obstacle must be a cultural divide, Sarri has taken a hands-on approach to teaching his players how to gulp down lungfuls of nutritious nicotine.
The Chelsea squad looked on in admiration as Sarri effortlessly chain-smoked his way through nearly 60 cigarettes before attempting to replicate the Italian's smooth style.
"It's hard to believe that in this day and age an entire Premier League squad can barely smoke through a pack of 10 without hacking their lungs out, but that's the reality I'm dealing with," Sarri told FourFourTwo.
"Maybe, at a push, I can call upon Ross Barkley to see away a few Marlboro Lights or Olivier Giroud to nonchalantly puff at a cigar, but let's be honest: that's not going to scare anyone in Europe.
"It's a race against time to get these lads smoking with some kind of fluency, but the Community Shield will be a good gauge of how far we've come. I'm hoping to see at least one or two of our boys rolling their own by that point."
While Chelsea may be missing 15 players for their Community Shield game with Manchester City due to symptoms consistent with acute nicotine poisoning, they are all clearly keen to impress their new boss.
"Every new manager has his own expectations and pre-season is always a tough time for players," Gary Cahill told FourFourTwo between chesty coughs.
"Antonio Conte showed us the importance of high-intensity sprint fitness in his style of play. Sarri, on the other hand, has shown us that cigarettes are really, really, really great.
"I'd love a cigarette now actually. Do you have any? Please tell me you have some. I'll kill you if you don't. I don't mean that, I just want some cigarettes," the defender tailed off, sobbing.
There are unconfirmed rumours that Sarri will move for Jack Wilshere in the winter transfer window to bring some much-needed experience to his squad.
Please note: This satirical news story is not real. Clearly. Gary Cahill did not threaten our lives, OK?
Quizzes, features and footballing fun
Get the best features, fun and footballing frolics straight to your inbox every week.
Thank you for signing up to Four Four Two. You will receive a verification email shortly.
There was a problem. Please refresh the page and try again.