Messi faces fresh trial for tackle evasion
The Barcelona star is accused of dodging thousands of challenges, Back of the Net reports...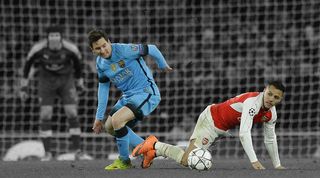 Barcelona idol Lionel Messi is standing trial accused of evading more than 5,000 tackles dating back over 15 years, and witnesses have begun giving evidence in the Catalan city.
Prosecutors insist that the Argentina international should have relinquished the ball on countless occasions but instead retained possession, profiting vastly at the expense of defenders who believed they had tackled him.
Celta Vigo defender Gustavo Cabral has been giving emotional testimony, claiming that Messi denied more than 15 legitimate attempts to tackle him in a 6-1 drubbing back in February.
"Messi was absolutely brazen," Cabral told FFT. "I would come lumbering at him, giving him plenty of notice of my intentions and artlessly hacking away at the ball, but he would just dance around me as if wasn't there.
"The worst thing is that people cheered him on, as if there was some kind of honour in his fakery. They should realise that it is I, Cabral, who is the hero of the piece and Messi the villain."
Disgruntled others
The trial is expected to go on for weeks, with many more footballers ready to take the stand claiming their careers were damaged by Messi's alleged disregard for the rules of tackling.
"They say it's a victimless crime, but for every functional player who has idly stuck out a leg while a talented playmaker skips past them, I say we want justice," a prominent player who asked to remain anonymous [James Milner] told FFT.
"It's been months since I played Messi but I'm still afraid to open my legs in case he appears and pushes the ball through them."
The last case of this kind took place in the 1990s when Diego Maradona was found guilty of evading more than 1,000,000 tackles – 500,000 of which came from England players during his wonder goal in the 1986 World Cup – and banished to a patisserie for 15 years.
Please note: This satirical news story is not real. But you already knew that, right?
Quizzes, features and footballing fun
Get the best features, fun and footballing frolics straight to your inbox every week.
Thank you for signing up to Four Four Two. You will receive a verification email shortly.
There was a problem. Please refresh the page and try again.