Agbonlahor's highlights reel just footage of him eating rotisserie chicken
The Aston Villa striker's video shows his hunger and desire, Back of the Net explains...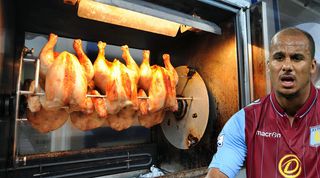 Gabriel Agbonlahor has admitted that the phone hasn't been ringing off the hook since he started sending a portfolio video to potential new clubs, which contains footage of the striker devouring an entire roast chicken.
It was a bleak season for the 29-year-old who was pictured inhaling laughing gas to brighten up several duller fixtures – a habit which led to him being incapacitated by giggles when put through on goal for the Villans' sole scoring chance of the season.
Later in the campaign it was revealed that Agbonlahor had lost an unprecedented hectare of pace; the player's conditioning was called into question, with some even suggesting it may be time for him to stop bringing a disposable barbecue to games.
After Villa's relegation, and with his relationship with the fans becoming toxic, Agbonlahor is expected to move on – but he has been surprised by a lack of offers.
"We did receive a video from Gabby, but it wasn't wholly convincing," a source at an unnamed Premier League club [Bournemouth] told FFT.
"In fact it consisted of him munching his way through an entire chicken, giblets and all, with only the occasional slight pause to take a swig of Coke or make an alimony payment."
Hungry for success
It's not yet clear whether Agbonlahor's video was sent in error, or whether the marksman believes it's the best demonstration of his skills he has at his disposal after a season with few highlights.
"It's really hard to see where he'd fit in with us. But I've asked the gaffer [Eddie Howe] whether he needs a job done in that regard [eating chicken], and he makes the technical decisions," our source explained.
"For what it's worth he's clearly not afraid to get stuck in [to a chicken carcass] and if anything he steps up a gear when [the chicken meat] gets tough. His finishing [of the chicken] is exemplary, and I suppose we could extrapolate this out and say that if he can pick clean that chicken carcass then he can deliver a couple of goals against Stoke."
There had been reports last week that a major English club had made an approach to Agbonlahor, but further details have emerged that suggest the club in question was in fact Portuguese/Mozambican-influenced casual dining chain Nando's, and the contact was merely a standard promotional leaflet.
Please note: This satirical news story is not real. But you already knew that, right? 
Quizzes, features and footballing fun
Get the best features, fun and footballing frolics straight to your inbox every week.
Thank you for signing up to Four Four Two. You will receive a verification email shortly.
There was a problem. Please refresh the page and try again.