Messi has even ruder nickname for Ronaldo
Lionel Messi has upped the stakes in his rivalry with Cristiano Ronaldo by giving him a nickname that might be the rudest ever, write Back of the Net...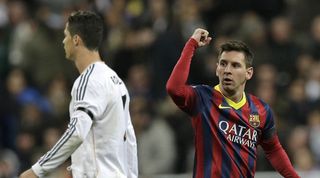 A long-running feud between the pair seemed to have reached its height when Ronaldo referred to Messi as "The Motherf****r" after the Argentinian called him "CR Poo-Brains," itself retaliation for Ronaldo's coinage of "Tsar Dickless."
But Messi has hit back with "The Rocket-Powered Crybaby Dildo Man," which experts agree might be the rudest nickname in the history of the game.
Eloise Pierce, Professor of Swearing at Kingston University, said: "It is a privilege to watch these two geniuses push one another to ever-greater heights of profanity, and an example to the next generation of what you can achieve with creativity and hard work.
"It's hard to see how Ronaldo can better The Rocket-Powered Crybaby Dildo Man, but we said that before, after Messi came up with "Brylcreem Cracker."
Others insisted, however, that English swears remained the best in the world. Don Crandall, from Cleethorpes, said: "I'd like to see Messi call someone a Rocket-Powered Crybaby Dildo Man on a wet Tuesday night in Stoke.
"This country invented swearing, and it's being ruined by foreigners with their compound nouns and their fixation with blasphemy."
"What's wrong with a good old-fashioned ****?"
Quizzes, features and footballing fun
Get the best features, fun and footballing frolics straight to your inbox every week.
Thank you for signing up to Four Four Two. You will receive a verification email shortly.
There was a problem. Please refresh the page and try again.