Mike Dean declares victory after Mark Clattenburg leaves for Saudi Arabia
Curtains for Clatts is Dean's delight, Back of the Net reveal.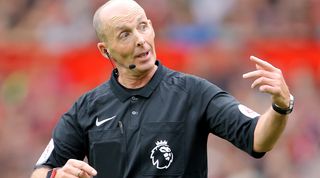 Mike Dean is once again referring to himself as 'the Big Dog' after seeing off rival Mark Clattenburg in the bid to be the Premier League's alpha referee.
'Big Dog' Dean, whose lack of stature and male-pattern baldness saw him marked for refereeing greatness at an early age, became the foremost official in the Premier League after defeating Phil 'Madding' Dowd in a 2013 turf war that left dozens booked.
Dean's time at the top was cut short, however, by the emergence of 'Diamond' Mark Clattenburg, whose hard-living image and glamorous lifestyle – not to mention ruthless enforcement of the laws of the game – won him the admiration of millions.
A humiliated Dean was forced to drop his preferred nickname as Clattenburg and his lieutenants – typically armed with heavy flags – publicly referred to him as 'Little Mickey', 'String Bean Dean' and 'Magic Mike XXS'.
Game changer
However, Clattenburg's defection to Saudi Arabia, amid accusations that he secretly allowed free-kicks to be taken while the ball was moving, has left the way clear for Dean to return to the top of what he calls 'the card game'.
A source close to Dean said: "As soon as the white line grapevine said that the Bloodclatt [Clattenburg] was on his way out, the Big Dog [Dean] knew it was time for walkies.
"The FA Cup is Mike's. The League Cup is Mike's. The play-off final is Mike's. Mike is back, he's taking names, and he's writing them down with a tiny pencil in his little book. Dissent will not be tolerated, and failure to address the Big Dog by his proper title very much counts as dissent.
"Better get the immersion heater on, 'cos there's going to be a lot of early baths."
The source also promised a crackdown on unlicensed You Are The Ref columns, declaring that there was "only one ref", and he could be "found at the Dog Pound" [Dean's heavily-guarded Wirral Penthouse]."
Please note: This satirical story is not real. Like, obviously.
More funny stuff • New features you'd love on FourFourTwo.com
Quizzes, features and footballing fun
Get the best features, fun and footballing frolics straight to your inbox every week.
Thank you for signing up to Four Four Two. You will receive a verification email shortly.
There was a problem. Please refresh the page and try again.