More Than A Game: Atletico Madrid vs Real Madrid
By Simon Talbot published
Simon Talbot goes undercover for the Spanish capital's famous inter-city derby...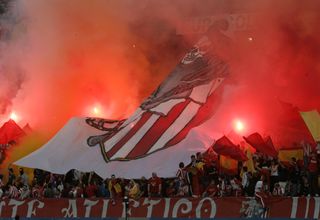 "If you don't win today, I'll stick a f**king family-sized bottle of Coke up my arse. Come on, lads, listen: you've got to do them. This is the moment you've been waiting for: Real Madrid, at the Bernabeu. They've been sticking it up our arses for so long, now it's our chance to stick it up theirs."
It's 1992, a couple of hours before the final of the Copa del Rey, and the man ranting at his team is Atletico Madrid coach Luis Aragones. A former player steeped in a thousand battles for the club, born and raised in the tough neighbourhood of Hortaleza, Aragones knows exactly what Atletico Madrid is all about – and what Atletico Madrid is all about is Real Madrid. Few clubs are so defined by their rivalry with another, few feel so slighted by their neighbours, so constantly cheated, robbed and belittled.
"Forget tactics," Aragones screams, "it's Real Madrid. Get out there and stick it up their arses!" And that is exactly what they do, goals from Paulo Futre and Bernd Schuster (a former Real Madrid player) giving Atletico victory, enemy territory conquered, half the stadium gloriously decked out in gloating red and white.
That victory remains the stuff of legend at Atletico, just as a 3-1 Jimmy Floyd Hasselbaink-inspired thrashing is remembered with joyous incredulity and the team that won the League and Cup double in 1996 adorns countless walls in the crumbling bars that line the route to the Vicente Calderon stadium, down by Madrid's Manzanares River.
Yet ask Aragones to recall the defining moments of Atletico's history and it is 
not the victories that stand out, but the disasters. Any Atletico would say the same – which is what makes Atletico versus Real special. They may share a city, but the two clubs' identities could hardly be more different: the Vikings against the Indians. (Vikings because Madrid, as Real are universally known, rampaged victoriously all over Europe; Indians because Atletico set up camp alongside the river, or so they say). More significantly, it's winners against losers – on every level.
In the gloom under the Calderon's main stand before this year's derby, on a crisp October night, an ageing, bespectacled Atletico fan is holding court. "It's been 60 years of suffering," he tells a television crew, as a crowd gathers nodding its approval.
"Suffering when we win and suffering when we lose. In fact," he continues, warming to his theme, "we almost suffer less when we lose – that's the way it's supposed to be."
Spilling onto the streets between Piramides Metro and the stadium, where fans glug beer from huge, plastic glasses comically called minis, where stalls sell anti-Madridista T-shirts by the barrel-load, where mullets and shiny tracksuits are all the rage, the talk is classic Atletico: this year, it's our turn. Alas, no one truly believes it – why on earth would they?
"For Madrid, winning is an obligation, for Atletico it's a gift," shrugs Oscar, an Atletico fan with an uncontrollable curly mop of hair. Another fan, Javi, agrees: "Madrid is Disney," he says. "Atletico is more real, more frustrating, more about hope and emotion – it's beautiful, 
horrifying and tender."
Or, as one Madrid fan, bored of Atletico's losers, a petty if dogged irrelevance against the city's behemoth, succinctly puts it: "It's f**king caviar and cocido, innit?" Cocido is a typical, working-class Madrid stew, heavy, hearty and cheap. Caviar is Zinedine Zidane, Alfredo di Stefano, Ronaldo and ten European Cups.
Real versus Atletico is power against the people; aristocracy against proletariat; right against left (even though both teams' hardcore are on the far right); the swish new sanitised north against the real city of the south; glamour against grime; success against loyalty through thick and thin (mostly thin); arrogance against humility; the favoured against the persecuted; media darlings against unfashionable battlers; implacable winners against romantic losers.
It is Manchester's rivalry multiplied beyond control; Atletico are defined by their hatred of what they consider the city's dominant, arrogant yet less authentic club.
Like Manchester United, Madrid laugh at the whinging, deluded fools who just can't match them.
Much of it is rubbish, as such things often are, but the myths pervade. Visit the grounds, meet the fans, watch the teams and you can easily see why. The Bernabeu is majestic alongside banks and businesses on the classy Castellana; the Calderon can be found by a brewery, down the appropriately named Melancholics Way. Madrid's wide central avenue runs past the home of Real; its grotty, mentalist M30 motorway runs right under the stand at the home of Atletico.
Madrid draw greater support from outside the capital, their president loudly proclaiming their universalism. Atletico draw theirs from the working-class south of the city, they're more of a Madrileño team. If Madrid are galacticos, Atletico are terrestrial and proud of it. Former Atletico player Jose Movilla was a bin man before he got his break; it was no coincidence the fans loved him so.
The clubs' centenaries summed it up. Real Madrid celebrated in grandiloquent style, with visits to the United Nations, the Pope and the King. They invited a FIFA World Select XI and requested that all football be banned to respect the birthday of the Greatest Club In The World. Atletico's fans had a monster paella pig-out and carried the world's biggest flag to the Calderon, where they lost, pathetically, 1-0 to Osasuna.
It was, everyone agreed, a typically atletico way to celebrate 100 years, appropriate somehow.
Real Madrid celebrated 100 years of glory, Atletico 100 years of heartbeats. The former's centenary anthem Hala Madrid! was sung by Placido Domingo, accompanied by a full orchestra. His booming operatic tones lauded "a field of stars". The latter's centenary anthem, Reasons For A Feeling, was sung by the gruff-voiced folk singer Joaquin Sabina, but not at the centenary – an argument over copyright postponed its outing.
Instead, Atletico projected scenes from their history of glorious failure over the Rolling Stones' You Can't Always Get What You Want. And when Sabina finally got to perform, the lyrics spoke of a million frustrations. "I'm going to sing for you the reasons for a feeling that cannot be explained. To understand what this is all about, you have to have cried at the Calderon... war on the arrogant meringues [Real Madrid]," it runs, the chorus 
proclaiming: "What a way to win/what a way to lose/what a way to go down/what a way to come up/what a way to draw/what a way to suffer!"
Real Madrid would never make such a concession to defeat.
Real Madrid are not just Spain's most successful club, they are Europe's most 
successful club, their trophy cabinet overflowing with 29 league championship trophies, 17 Copa del Reys, two UEFA Cups and those ten European Cups. Yet to the delight of Barcelona fans, Madrid's first official president was a Catalan (a fact the club was conveniently quiet about during their centenary celebrations).
Juan Padros, owner of a textiles shop, was the first man to officially take the reins, though the club actually had its origins in a group of students from the liberal, Open University-style Institucion Libre de Ensenaza. They founded Foot-ball Club Sky in the late-1890s, playing Sunday morning matches out on the city's western fringes at Moncloa. In 1900, a number of Sky's members left to form a new team, led by Julian Palacios, the man Madrid now tend to cite as their 'founder'. But, while he was still around, Palacios was no longer president when the Madrid Foot-Ball Club officially formed on March 6, 1902 (they only became Real Madrid in 1920 following royal patronage from Alfonso XII, which of course says it all for Atletico fans).
A little over a year later, Atletico Madrid arrived, founded by a group of Basque 
students as the capital's branch of Athletic Bilbao – and off the back of a glorious, 
stir-it-up win over Madrid. But if the poor sods thought founding themselves on 
victory over Madrid was an omen, they were very, very wrong.
In April 1903, Madrid Foot-ball Club had organised the first national Spanish Championships, reaching the final against Athletic Club Bilbao. Madrid were defeated 3-2, with Athletic roared on by a bunch of Basque students – much to the irritation of the rest of the Madrid crowd.
So much fun did they have winding up the locals that on April 26, the Basques, along with Athletic captain Eduardo de Acha, agreed to form a Madrid branch of Athletic Club. They wore the same blue and white strip as the Bilbao branch and played their games near the Retiro park in central Madrid (they changed to red and white stripes in 1911 because that was all the club president could find on a trip to England).
Because of its status as a branch of Athletic, the two sides could not face each other until the Madrid branch became an independent club in February 1907. But Athletic Club de Madrid could, of course, face Madrid. On their first meeting, in November 1904, they were tonked 6-0. This time it was an omen.
Over the following years, Athletic Club gathered supporters from the working-class neighbourhoods of Cuatro Caminos and Tetuan, while Madrid continued to play near leafy Moncloa and to attract a better class of member. In 1916, the two sides met in the final of the National Championship, a match that didn't even finish after trouble broke out between the two sets of fans, with Madrid leading 3-1. A rivalry was born.
At the entrance to Real's museum, a sign states baldly: "Trophies tell the whole story... Trophies are concrete facts that define the holder without needing clichés. Each trophy won closes a period of time in which Real Madrid was better than its rivals... [earning them] the well-deserved title of the Greatest Club of All Time."
No such sign is posted at the Calderon. How could it be? Atletico is about fans and fatalism, not footballers. In the Atletico shop, they do a roaring trade in T-shirts: not printed with the faces of great players or 'Champions' in massive letters, but emblazoned with a typically atletico slogan: "Bendita afición", blessed fans.
Atletico fans deride Madrid as shallow glory hunters, unlike them. Madrid fans don't give a s**t. A famous television advert shows a young boy asking his Dad: "Papa, why do we support Atletico?" Papa is lost for words. Just because. A Madrid fan would point to ten European Cups. Argument over. The pro-Madrid press whinges that teams always try "extra hard" against them, as if it's an affront to want to win, to upset the natural order. Atletico's glory comes from their sacrifices; there's even a supporters' club called The Suffering.
Ask Atletico fans, ask Luis Aragones, and the game they're most likely to recall is the 1974 European Cup Final against Bayern Munich, when Atletico were undone by a freak late goal from 40 yards. Others point to relegation in 2000 – "one little year in hell", as it was billed, that instead became two. "I gave up cigarettes, wine and rich food because it was killing me," announced the club's aged member No.1, "but I couldn't give up my Atleti – they kill me, but they give me life."
Human drama is what Atletico fans like to think they are about, setting them apart from their "soulless" neighbours who think Atletico fans are tramps and fools. President Vicente Calderon dubbed his club El Pupas, the jinxed one, after that European Cup final – and it stuck. A sense of inevitable, comic fatalism hangs about the place. Atletico have made a religion of lament.
"Atletico are the only club in the world who presume to lose," says Michael Robinson, the former Liverpool and Osasuna striker who presents Spain's most successful football show. "Madrid fans think they are somebody, which irritates Atletico fans, who are the complete opposite."
Embracing defeat makes Atletico special, says Robinson. "They don't win and they're happy with it, because it proves they care more. It's almost a masochism, like an Easter procession, flogging themselves," he continues, "Football in Madrid is good fun, but it only works for Madrid fans when they win and it only works for Atletico fans when they nearly win. I've never seen Atletico fans so unhappy as the year they won the double. They're a stray dog that has wonderful eyes that stare at you, a dog that will never win Crufts, whereas Madrid won't even partake in Crufts if they don't think they're going to win it."
Robinson's point is borne out by the fact that when Atletico were relegated, season ticket sales increased. That would never have happened at the Bernabeu, says Miguel, standing at the bar with a Patxaran [aniseed liqueur] in his hand. "How would I define Madrid and Atleti? Atleti hasta la muerte, Real hasta la próxima derrota [Atleti till I die, Madrid until the next defeat]."
Or, as El País writer Santiago Segurola puts it, "Like a mother's love, Atletico can't be bought or sold."
And yet Atletico are historically Spain's third most successful club (nine league titles, nine cups and the 1962 European Cup Winners' Cup) and some are irritated by the way they've assumed their role as losers: "Jinxed? Pah!" says former keeper Abel Resino, until recently coaching at Atletico, "Bayern Munich lost the European Cup in the last minute and no one says they're jinxed."
The trouble is, Atletico measure themselves against their neighbours. Seeking a niche, a special losers' feeling is something to cling onto. If it wasn't for Real, things might be so different. "Atletico keep adding new chapters to their history," says Juanma Trueba, of the sports daily AS. "Their clinical history, that is. They are a romantic myth. Atletico are Humphrey Bogart, Madrid are Cary Grant."
Atletico's captain and star striker Fernando Torres grew up in the tough neighbourhood of Fuenlabrada. He understands Atletico; he's been tearful on the terraces, teased in the classroom and tormented on the pitch. "When I was seven or eight almost everyone at school was a Madrid fan. I'd go in wearing my Atletico tracksuit to wind them up," he smiles, "but on the inside I was almost always pissed off because we'd lost at the weekend.
"For years Madrid have been the big team in the city – not just the city; in Spain, in Europe – and we've been the poor team, the working-class club, trying to catch them. That means Atletico fans celebrate victories and success with more passion. Madrid fans demand more and have more, they're the rich ones, but they don't enjoy their football. Kids might say: 'why should we support Atletico when they always lose and Madrid fans are always so happy?' But Madrid fans aren't happy. Being an Atletico fan makes you suffer but it makes you stronger too.
"Atletico belongs to its fans, to the city; Madrid is the whole world's team," he explains. "Atletico belongs to people who have a special attachment to the club. Our fans are prisoners of a feeling, Madrid's fans are prisoners of results and if the results don't follow, nor do they."
If Madrid had been relegated, their fans would not have supported them as Atletico's did their team, says Torres. "No way. It wouldn't even happen if they were struggling in the top division. The Bernabeu is like a theatre, very quiet, they don't feel their football. Either they whistle or applaud, nothing else." "Like a theatre," are exactly the words Zinedine Zidane chooses, too. The Calderon, Torres insists, "has a different atmosphere. Atletico is different, it's a special club." Yeah, agrees Madrid fan Antonio. "As in special needs."
"The 'others'," he continues, "are frightened of winning. Without their hatred of Real Madrid, they're nothing." He has a point. Anti-Madridismo is an inescapable ethos for Atletico fans. "When I was a kid, I wanted them to lose all the time," admits Torres.
Madrid fans want Atletico to lose too, of course, but in truth they don't care much – Barça are the real enemy (although that might change if Atletico were actually any good). It is precisely that refusal to consider Atletico genuine rivals that annoys Atletico so much.
For Madrid fans, Atletico are simply rubbish, a laughing stock. "You'll always be a Second Division team," ran the cover of the hardcore Ultra Sur magazine when Atletico came back up in 2002. In last season's derby, Atletico's shirts were sponsored by the film Closer. Rafa, a Madrid fan with excellent English, starts laughing: "They should have removed the C." Atletico, another puts it, "like to make themselves out to be martyrs of Madrid".
For Madrid fans, it's plain funny. When Atletico's hardcore stormed a training 
session, dressed in balaclavas and suits, carrying sticks, to remonstrate with their under-performing, over-paid team last season, Madrid's supporters wet themselves. At the Bernabeu derby the following week, they unfurled a MasterCard-style banner declaring: "Balaclava: 10 Euros. Suit and Tie: 50 Euros. Watching you lot making idiots of yourselves: Priceless."
The rest of the stadium howled with joy. Good old Atletico, they grinned, ¡Que 
pandilla de gilipollas! [What a bunch of t**ts!]. The Atletico-Patetico pun escapes nobody.
It was not always thus. For older Madrid fans, Barça are not the rivals, Atletico are; Florentino Perez is fond of saying that he considers this, not Barcelona, the real derby. And Atletico were not always weaker; merged with the air force team and named Atletico Aviacion during the early years of Franco's regime, they were Spain's strongest side.
Had it not been for the arrival of Alfredo Di Stefano, things could have been so very different. Their identities seem irreversible now, but the truth is rather different.
Until the arrival of the Argentine, Atletico had won four post-Civil War league titles, Madrid had won none. In 1959, Atletico reached the semi-final of the European Cup against Madrid and would have gone through if the away goals rule had been in force. Instead, they lost a play-off in Zaragoza with a debated goal (debated at the Calderon, anyway).
"That European Cup should have been red and white," laments Javi. "History would have changed. I'm sure it was dodgy." A-ha, foul play, that old favourite. Had it not been, Atletico fans insist, for the referees and the regime, Madrid would not have won anything at all. A victim complex pervades Atletico.
"The directors box at the Bernabeu is like Franco's hunting trips," late president Jesus Gil was fond of saying. And yet it was he, not a Madrid president, who had a life sentence commuted by the dictator. But it was Madrid of whom one minister said: "That club is the greatest embassy we ever had."
"The Bernabeu trophy room is like Aladdin's cave," writes Atletico fan Severino Lorences, author of Red and White: A Manifesto for Rational Anti-Madridismo, "everything in there has been stolen. Robin Hood stole from the rich to give to the poor, Madrid are the Sheriff of Nottingham, stealing from the poor to give to the rich."
Atletico fans agree. When Madrid last defeated Atletico at the Calderon, furious fans turned to foreign journalists, packing the press box, to scream: "it's a robbery, 
ro-bo, do you understand? R-o-b-o; write it down, tell the world!" An Atletico board member shrugged: "We're used to it now."
For Madrid fans, such laments are designed to hide the fact that Atletico really aren't very good. It is a recurring theme – and this year is will be no different.
Derby day in Madrid. Real's fans, 900 of them, many in tight jeans, bomber jackets and bovver boots, gather in the central Plaza Mayor square, where they're met by riot police and walked – well, jogged – to the Calderon some 20 minutes away and herded into the stadium where they take up their place high in the north stand. They are not let out of police control all night, finally leaving the stadium at 1am, spoiling for a fight.
For Atletico's fans, the journey is only marginally easier – but far more promising. Packed into a steaming hot Metro, when they emerge from the station, they're bombarded with leaflets. Nothing unusual, only these aren't invitations to learn English, brush up on computing skills or stuff your face with all you can eat. Instead, they receive a 32-page glossy guide, complete with photos, in-depth descriptions and disturbingly detailed drawings, to Madrid's houses of ill repute, catering for all tastes from girls to boys to both.
It's a sign of things to come: Atletico's scoreboard happily advertises the Hotel Lovely, at least offering long-suffering fans a little joy at the end of the night.
But first, suffer they must. Down Melancholics Way, it's impossible, for now, to reach the stadium. There is a punch-up with the police, bottles fly and bins are set ablaze. When the fans finally get through, so too are seats in the stadium as fireworks are set off and the atleticos roar their way through the club's hymn. The Madrid fans can't be heard; a little pocket of white hops up and down silently – for now – while the home fans inform Raul, at Atletico until genius president Gil did away with the youth system when Raul was 13, that the father of his son is actually Hasselbaink.
The joy, though, is short-lived – very short-lived – and soon, when the protests give way to resignation, it's the Real Madrid fans you can hear – even over the mindless monkey chants for Roberto Carlos.
On six minutes, Raul is brought down, Antonio Lopez is sent off and Ronaldo scores from the spot. 1-0 to Madrid. Game over. Another robbery. Bloody typical. 

A text message arrives from a Madrid fan: "Nice to see Atletico are the same crappy bunch as ever." He's right; there are still 84 minutes left but, destroyed by the 
inevitability and unfairness of it all, by that historic fatalism, Atletico never even look like getting back into the game.
Rather than try to win it, they're settling for a martyr's crown again. They have been cheated again. And they're going to lose again – just as they have lost every home match against their city neighbours since coming back up from the Second Division. Just as they missed out on the ultimate act of rivalry at the end of the 2002/03 season, failing in their quest to perform a dastardly deed of Machiavellian malevolence as brilliantly simple yet devastatingly destructive as revealing the last paragraph at an Agatha Christie book launch.
With Real Sociedad leading the title race by a point with two matches remaining, all Atletico had to do was beat Madrid at home and obligingly roll over in San Sebastian the following weekend – thus handing the title to Real Sociedad and waving a gleeful index finger at their hated neighbours. It was a once-in-a-lifetime chance, as good as 
winning the league themselves, a chance to avenge the pain of Madrid wrapping up the 1996/97 league title (and wiping out Atletico's double from the previous year) with a thumping 3-1 victory at the Calderon – a victory secured by Raul, the former Atletico born and bred.
Only, Atletico, utterly pathetic, were hammered 3-0. The following season, with Madrid in crisis, they again failed to take advantage, playing horrifically and losing 4-0. This year, it finishes 3-0, Ronaldo adding another and then injuring himself forcing centre-back Luis Perea into a late own goal.
Still, at least that leaves the Brazilian within range. As he lies on the turf in pain, the missiles rain down. Bottles, coins and lighters; a seat, a suckling pig's head and an apple, which David Beckham collects, takes a bite from and spits it out again – "just in case", he says. "That never happens in England," he adds, "but it's always a bit 
special against Atletico, very hostile."
Beckham can afford to laugh. So, too, in a perverse sort of way, can Atletico's fans – if they didn't, they'd cry. Besides, they might be furious, they might feel robbed and they might have lost, but if anyone knows how to lose it's Atletico. And if anyone knows how to win, it's Real. Balance has been restored to the universe. Until next time.
From the January 2006 issue of FourFourTwo.
Thank you for reading 5 articles this month* Join now for unlimited access
Enjoy your first month for just £1 / $1 / €1
*Read 5 free articles per month without a subscription
Join now for unlimited access
Try first month for just £1 / $1 / €1