Is Mourinho already on his way back out of Chelsea?
It's less than four months since Jose Mourinho picked up yet more silverware with another English Premier League title. But Paul Parker, in his latest column for FourFourTwo, ponders whether some deep cracks are emerging from within the champions...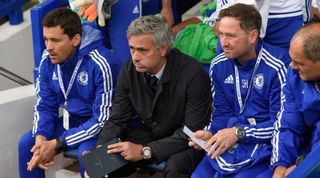 Something isn't quite right at Chelsea. Coming into this season, I was a little bit surprised that a team that won the Premier League the previous year never then made that marquee signing for the new season.
The big name who gets all the players in the dressing room thinking 'Yep, we're pushing on, we're going to go and try to win more and stamp our authority'. As much as players hate change and can hate certain individuals coming in and threatening their position, it can also provide a lift.
Someone like Eric
When I was at Manchester United, we signed Eric Cantona in 1992, the year after we failed to win the old Football League. The following season after winning the Premier League, we signed Roy Keane. Those things make a difference to teams and Chelsea didn't do that. They just seemed to be scrapping around.
I'm doing my best not to be disrespectful, but they signed Radamel Falcao. Now, Falcao 18 months earlier would've been "wow". But he had obviously struggled through a difficult time at Manchester United. So I think Chelsea went into the season on a bit of a downward trend and the fans must've been disappointed as well.
It seemed from the outside as though Jose Mourinho was trying to suggest he wasn't given the opportunity to go out and sign someone. I think the stamping of his feet allowed him to get Pedro, but the signing was a bit too late.
But when we look at Chelsea this season I think it lies more deeply within than just a lack of signings. The problem is they've got a manager who brings everything out in the open.
He's not a manager like the good ones over the years in the Premier League – Arsene Wenger, Alex Ferguson, someone like Kenny Dalglish, who won a title with Blackburn Rovers – their house could've burnt down, but no one would know unless the press wrote about it.
But if Mourinho wakes up in the morning and has a row with the wife, he'll tell someone straight away. It gives him an excuse why he might be miserable. If anything goes wrong, he can blame it on that. Chelsea's problems are highlighted because of his attitude and the aura he gives off. He's got a non-poker face.
Booster
They picked up a win in the Champions League this week with their 4-0 result against Maccabi Tel Aviv. It was an expected win, with the kind of scoreline you'd also expect. But it's really all about this weekend against Arsenal. It's such a big game and he simply can't afford to lose.
We might see Chelsea at the weekend playing a bit more conservatively, rather than going out there and trying to prove a point. If they went out with the attitude of attacking and trying to win the game, I think people would respect that, even if they lost. But I think Mourinho will go back to what we expect of Chelsea, which is being very dour and trying to win the game 1-0.
Last week against Everton, when Chelsea lost 3-1, nothing was right on or off the pitch. Any real manager would have gone back to basics. They would have gone with Gary Cahill and John Terry in the middle, not Kurt Zouma. As much as people try to rave about Zouma, he's an average centre-half in my opinion.
ALSO ON FFT.COM
He looks big and strong, but his agility is very poor. Yes he's quick, but he needs 10 yards to be quick. The Premier League doesn't give you that time.
Bringing back John Obi Mikel was also the wrong decision because he hasn't had his foot on the gas for the last 12 months. The only thing that's running warm on him at the moment might be his backside from sitting on the bench. His legs haven't got going, his lungs haven't got going – that was another poor decision.
Up front he's continuing with Diego Costa. After five minutes if things aren't going his way, all Costa wants to do is get in arguments with people. He's too emotional and I don't think Chelsea need that.
Cheers up
To me, following the start to the season, Mourinho is basically sulking. An experienced manager like him should be talking up his players. He should be telling them how much he believes in them and telling everyone how much they achieved last season. That doesn't just disappear overnight. That's what he should be saying. Not coming out with all these rumours about players being dropped or players playing poorly.
Why has Nemanja Matic all of a sudden become a poor player? Why doesn't Mourinho come out and say things like 'Look at that great goal he scored against Everton, that's the sort of player he is'. Branislav Ivanovic is suddenly being viewed as this poor right-back. Last season he was probably the most consistent right-back in the league. Yes he was probably at fault for two goals against Everton, but those things happen.
Terry has lost that turn of pace so he needs some help in front of him and he's not getting that with Mikel. He can't defend on his own. Look at Cesc Fabregas. Why has Fabregas suddenly become this bad player? What's the reasoning behind that? Why isn't Mourinho backing these people?
Even if players are getting rollicked in the dressing room, the manager out in front – like a Dalglish or a Ferguson – wouldn't destroy that player publicly. In saying all of that, however, the season is far from over for Chelsea. Everyone's quick to look at the difference between them and Manchester City, which right now is 11 points, and say already that they can't catch them.
Not over yet
Those points can be made up very quickly. City will hit a bad point, especially if Sergio Aguero has a knock or they lose David Silva. Wilfried Bony can't do it, he hasn't played enough football, especially in Europe. Chelsea can make that gap up. With 33 games to go, that's an eternity, and you can't dismiss the possibility of them still winning the league.
But they have to change their approach and the manager has to change his attitude. He can't go around being disrespectful because it will come back and bite you. In life when you keep doing that, when you really need help you've got no doors to knock on. He's almost putting himself in an untenable position with a lot of people.
The way the season has been going for them, we all seem to be looking for excuses. Sometimes we wake up in the morning, go back to sleep for half an hour, get to work late and then say the car wouldn't start. I've heard the pre-season trip to Sydney mentioned as an excuse and the fact they got back to training a week later than everyone else. It doesn't make any difference at all. Players these days know how to keep themselves fit.
I just don't feel there's a good feeling in the dressing room and a few players aren't happy with Mourinho. If you think that's rubbish, take me to any factory floor where everybody loves their line manager. It's impossible.
A good manager would navigate his way through this to prove people wrong and come out of it smiling. But I think we could be looking at a scenario where something has to happen at Chelsea. If things continue the way they are, someone might have to force him to move on.
More features every day on FFT.com
Paul Parker is Technical Director for JSSL Arsenal, Singapore's No.1 Youth Soccer Club – www.jssl-singapore.com
Quizzes, features and footballing fun
Get the best features, fun and footballing frolics straight to your inbox every week.
Thank you for signing up to Four Four Two. You will receive a verification email shortly.
There was a problem. Please refresh the page and try again.