Neil Warnock: One-on-One
By Nick Moore
"Who was I most like as a player? Ronaldinho, only without the skill"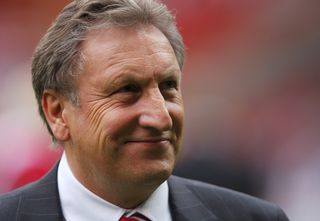 Neil Warnock stretches across a comfortable sofa in one of Bramall Lane's hospitality suites, growling expletives in FourFourTwo's direction. Having posed patiently for a series of happy, smiling images to accompany this interview, the FFT photographer has the temerity to ask him if he can "do us a moody face". "F*ck off," he snarls, slipping effortlessly into the pantomime villain role, before breaking out into a broad smile.
It's late July, and Bramall Lane is gearing up for a return to the top flight after 12 years away. The press box is being expanded to cope with the demand, the stadium is being banged and hammered into shape, and Warnock had been busy attempting to add new faces to his squad and addressing the never-ending requests for a few minutes of his time. "There just aren't enough hours in the day," he complains, but he insists that he and the team will be ready by August 19. But for now, his time is being eaten up by your questions...
Were you actually any good as a player? My dad says that although you lacked pace, you certainly had your moments. Who in the modern game are you closest to in terms of how you played?
Jim Coker, via e-mail
Lacked pace?! My only asset was pace. I was very quick but I was brainless. At Rotherham they used to shout "Open the gate!!" when I was going down the wings, but I'd run out of breath before I got there. I got my brains as a player when I was about 31, but by that point my legs had gone... Who was I most like? Ronaldinho, only without the skill.
Who did you have the most run-ins with during your playing days? Did anyone go out of their way to kick you, or vice versa?
Simon Bayles, West Yorks
I had run-ins for about four or five years with a lad called John Peverell at Darlington. I was at Hartlepool at the time and he was a full-back on my wing. He put me in hospital in a derby once with a ruptured spleen and a hairline fracture of an ankle – that's not the sort of thing you forget, really. But that was how it was when I played, the defenders were told to soften the wingers up. He had no option because I was so quick back then [laughs].
Which manager you worked under is closest in style to you?
Sarah Templeman, via e-mail
There wasn't just one, I took something from all of them. I knew early on that I wasn't going to make the top-grade as a player, but I wanted to try and do it as a manager so I listened to the people I worked under. I probably got most from Len Asher at Hartlepool. He had a bit of everything; good man-management, good tactical nous... But I'm very much my own man as a manager. You have to do it your way.
When did you first consider management? Were you always interested in the tactics, organisation and motivation sides of it?
Alan Stiles, via e-mail
When I was at Hartlepool and about 25, I started managing an under-10s in Seaton Carew. Then when I came down to Barnsley in about 1975, I started managing my local Sunday team in Sheffield – Todwick. I liked managing, even when you had to collect the subs and wash the kit as well as decide the tactics. I started to do more and more on the management side and when I got my first break, at Gainsborough, I did the same things I'd done at Todwick.
Not many managers combine running the team with a job as a chiropodist. Do you treat your own players' feet?
Tim Banks, London
It started out because I had bad feet and wanted to treat myself, so I started taking the basic qualifications and then decided to qualify properly, which took about four years. So I set up a surgery in Sheffield in 1980, working in the department stores, and I was going to do it full-time, until I got the job at Scarborough. I tried to juggle both but it was impossible, so I had to make a choice. I still do it from time to time; in fact, I worked on Mikele Leigertwood's ingrowing toe-nail today. I was always good at ingrowing nails and Mikele's got two!
Which is better: reaching the Premiership with Sheffield United or reaching the old Division One with Notts County in 1990-91?
Gary Milton, via e-mail
I've got to say taking United up! County was fantastic because there were so many big teams up against us that year – West Ham, Sheffield Wednesday, Oldham – but we grafted and we got there and that was a tremendous achievement. But there's something about managing the club that you watched as a boy and taking them up to the top. They can't take that away from me.
Why did you leave Huddersfield days after taking us into Division One in 1995? Had you been offered the Plymouth job?
Michael Morgan, via e-mail
I had a problem in the boardroom from just after Christmas that season and it was affecting us all. I had to put that behind me and concentrate on getting them up, but the board knew from February that I'd leave at the end of the season. They asked me if I'd reconsider the day after the Play-Off Final, but I'd already made up my mind. It was a personal thing that I don't want to go into, but I was a bit headstrong at the time and we laugh about it now whenever I go back. Had I already agreed to join Plymouth? No. I had a few clubs interested in me, but I'd been to Plymouth during my time at Notts County and I liked the area.
As a northern lad, having managed only in the north, how much of a culture shock was Plymouth? Was it all clotted cream and rambling on Dartmoor?
Rob Findley, via e-mail
[Smiles] No rambling on Dartmoor, but the clotted creams are great. It was a breath of fresh air because it's such a fabulous place. I think the fans down there, in Devon and Cornwall, are completely  forgotten and I don't think people realise what a passion they have for the game down there. But their whole approach to life is very much 'mañana'. It's much slower and the people are great. We've kept a house down that way and I'll retire there. I almost class myself as a 'Plymouthian' now.
Why were your stays at Bury (77 games) and Oldham (69) so short? Don't you like Lancashire or something?
Tony Rosehill, Manchester
With Oldham it was financial. I had no reason to leave. We were expecting a baby and were going to buy another house, and then I was just told that I wasn't wanted. The chairman said to me: "Well, I didn't want you to come, and I don't want you to go", but the board wanted Andy Ritchie in charge and it was cheaper to get rid of me. Leaving Bury was simply down to the fact that Sheffield United offered me this job, and I couldn't turn that down.
Neil Warnock is a music agent for bands including Motörhead, Status Quo and Deep Purple. Is this how you unwind away from the pressures of football?
Nick Rogers, via e-mail
[Smiles] I'd like to say yes, but sadly that's not the case. That's really not my kind of music, I'm more into Lionel Richie, Barbra Streisand, that kind of stuff. [FFT suggests he must at least like Ace Of Spades...] I don't know it. I don't think I've ever heard it.
Who did you mean when you said that some of your players were so technically poor that they "couldn't pass water"?
Joel, via e-mail
I think it would be cruel to name names. Put it this way, I don't think Craig Short would mind me saying he was one of them at the time. But it just shows you what you can do with practice because he worked hard and can now play it with either foot. And there were a lot like that – genuine lads who technically weren't gifted but were prepared to work very hard to make it. That's why the team spirit's always been so good.
You've gained a reputation for buying as many strikers as possible. Which is the best you've managed? And the worst?
Adam Hall, Huddersfield
There have been quite a few, yeah. I got the most satisfaction from seeing Andy Booth come through from being a kid to make the grade at Huddersfield. He was a super lad and his development made me proud. Of those I've bought, ability-wise, I'd say the best is one of the current crop: Danny Webber. I've not seen quicker feet than his. I wouldn't like to say who the worst was, there's nothing to be gained from that. Some players come in and just don't perform as well as you'd hope for whatever reason, be it injuries or just bad luck.
As a qualified referee, are you more or less understanding of the mistakes refs make when they referee your games?
Martin Boulton, via e-mail
I'd say I'm more understanding. I realise it's getting more difficult for referees but I'm aware of mistakes that they make. It's only recently that I've started to understand and accept decisions that go against me. Until about two years ago, I used to think there was a vendetta against me, but I've realised they get it wrong for everyone. I always tell them after the game how I think they've done. I'll tell them if they've been bad, and if I think they've had a good game. I just ask them not to tell anyone that I've been pleasant about them; I don't want to get a reputation for being nice [laughs].
Have you ever apologised to a ref after realising he'd made the right decision over something you'd criticised him for?
Mick Baker, via e-mail
A number of times. I've called and written to referees, but I've also had them ring me and apologise for bad decisions. I recall a ref saying to me in one incident that my player had never been touched when he went down in the build-up to a goal. I was adamant that he'd been fouled, yet when I watched it on TV he hadn't. When that happens you just have to hold your hands up.
Still mad at that Graham Poll for that FA Cup semi-final in 2003? He did a superb marking job on Michael Tonge that day...
Nick Pateras, via e-mail
Graham's the best referee in our country but that day I thought he was wrong on a number of occasions. I thought he could have stopped play when he fouled Tongey, when he pulled him down; I thought he could've stopped the build-up to what was Arsenal's winner. And I didn't like him smiling at half-time coming off, which I thought rubbed salt into the wound. I was deeply hurt by the whole episode, the anger and the hurt stayed with me for at least six months.
Referees don't know what it's like to hurt like that, but Graham does now. That World Cup game [Australia vs Croatia] will have hurt him more than he's ever been hurt in his life and that feeling will stay with him for a long time. But I have every sympathy for him because I know how it feels.
With hindsight, do you regret doing that little war dance after beating Sheffield Wednesday at Hillsborough last season?
Ryan Beasley, via e-mail
Not in the least! It was a lovely dance and I enjoyed every minute. All I did was jump up and down, run on the spot for a bit and then jump up and down again. I only wish I'd been able to throw in a handstand as well. Do I regret it? Do I hell. If I can't be happy after beating our local rivals then there's something wrong with the game.
What happened in the 2003 Play-Off Final? Wolves weren't 3-0 better than us!
Jackie Smyth, via e-mail
[Sighs] No they weren't. Our back four just had a nightmare 30 minutes and Wolves took advantage. If Michael Brown had scored the penalty just after half-time to make it 3-1, we would have given them a cracking game. But he missed and it all just drifted away. It was one of my most disappointing times.
With the disappointment of the 2004-05 campaign and "Warnock Out" chants on the final day, did you consider leaving?
Jamie Hamilton, via e-mail
Yeah, after Millwall at home and there was a lot of abuse, but I came out and faced them. I came closs, I must admit. I sat down with the chairman, Kevin McCabe, and we talked about investing in the club. I told him that if we could invest, I wanted him to support me and I'd stay on. If we couldn't invest then I'd have left because I couldn't have done any more at that point, keeping us up near the play-offs. Luckily Kevin said they were going to support me, that they wanted me to stay, and they gave me the money to bring Webber and Paul Ifill in and we were able to take that next step up.
How come you were on your tractor while your team clinched promotion? Shouldn't you have been watching Leeds-Reading?
Luke Sinclair, via e-mail
Oh, I couldn't have stood watching that – I couldn't even stand watching the build-up to it on the television in the afternoon. We'd gone straight down from Cardiff, where we'd played the night before, to Cornwall, and I'd got a few jobs to do on my tractor, mainly chopping down weeds and nettles to make it safer for the cattle.
The first I knew that the result had gone our way was when I came in late on and Jeff Stelling announced there'd been a goal at Elland Road, and he started building it up by saying, "Could this be the goal that sends Sheffield United up, could it be the goal that makes it go to next week's game?" We were on tenterhooks, desperate to know the result, and he spent so long building it up that '1-1' suddenly flashed up along the bottom of the screen. We just jumped up and hugged one another, me and my wife Sharon, and then waited what seemed an eternity for the final whistle to blow.
You claimed that you force-feed your players Jelly Babies at half-time. Have you ever tried Sherbet Dip Dabs?
Carl Shemmings, via e-mail
Well I'm open to suggestions [smiles], but I've never had a Sherbet Dip Dab so I don't really know if it would work. I'd probably have to try one before I gave them to the players, but I'd be surprised if they're better than Jelly Babies. From what I'm told, they're the best sweets you can give them. I still do it.
How come Phil Jagielka got so good all of a sudden?
Matt C, via e-mail
Because he plays for a good manager! Seriously, he's improved his game; his passing, his tackling, his awareness, and it's all come with experience. He has a lot of the attributes you need at the top level and he should be a top player for years to come.
Managing your boyhood club in the Premiership means you've reached the Promised Land. Is this your last job? Or would you accept the England role?
Matthew Weigold, Sheffield
Well... I've got a job for life here of some sort, or so I'm told, but who knows? I wouldn't want to rule out managing somewhere else if I left here after this season. But I wouldn't want to leave under a cloud. I want to keep us up and then have a couple of years in the Premiership before I pass it onto somebody else. One thing I do know is that I'd definitely never manage England. The coverage the job gets? I'd never want that. [FFT asks if he could have done a better job than Sven] No comment.
Could you drink a "gallon of Magnet" without falling over, as the Blades' take on Annie's Song celebrates?
Rich Fletcher, Sheffield
I can't drink any beer, lager, Guinness – I've never been able to. I don't think my Dad drank it either, for whatever reason, so maybe it passed down to me. I'm more of a wine man, red or white. How much do I pay? Well I'll pay £5 or £6 for a good Shiraz in Tesco, or if it's a special occasion I'll treat myself to a new St George's, which is about £15 a bottle. [FFT: Blue Nun?] [Smiles] No, not anymore. As a kid, yeah, but it's a bit sweet for my taste nowadays.
What do promoted teams need to survive in the Premiership? Surely you couldn't have predicted the varying achievements of West Ham, Sunderland and Wigan…
Alex, Hornets
Sunderland played us last pre-season and Mick [McCarthy] was saying they were struggling to get the players in that he wanted, so I knew they were a question mark. Wigan and West Ham are the best two teams to go up for a long time. West Ham had the squad numbers and Wigan had the money, support and the best team ethic we've seen at second tier level for a few years, so I wasn't surprised at all. They were both far better than the three teams that went up last season, so I think we've all got a job on our hands.
One of your more unorthodox training methods was to throw your players into the sea. Do you think such techniques will be suitable for a Premiership outfit?
Rob Butler, via e-mail
[Smiles] Well, I won't be changing. We'll be going to Scarborough at some stage during the season and unfortunately when we're up there, whoever loses the games we play on the beach has to go in the sea. I think last year it was Michael Tonge and Paddy Kenny. [FFT: have they ever thrown you in?] No. They know better than to try that.
I've read that you cry at soppy films and enjoy poetry away from the game. This can't be true... Next you'll be telling us you're kind to small children and animals!
Stevie Finn, via e-mail
Yeah, I do. I love soppy films. I don't cry in cinemas but if I'm on my settee I'll let the tears flow. The last one I cried at... Christ, what was it called? It had a bald man in it... Not Four Weddings, but something like that. And am I nice to animals and small children? I've always had dogs, I've got a guinea pig at the moment – and a tank full of fish.
Why didn't you join Portsmouth last December? Be honest, did you think they were already down?
Paul Potter, via e-mail
No, I didn't think they were already down, but enough has been said about that really. I don't want to go into it again, it's all gone now.
You've had the odd altercation with other managers – Gary Megson, Stan Ternent, Nigel Worthington. Now you're up against seasoned top-flight performers such as Jose, Arsene and Sir Alex, are you going to think twice before you pick a fight?
Carl Shemmings, via e-mail
Everybody knows my feelings towards the first two managers mentioned and they've never changed: I don't like either of them at all and I'm sure they don't like me. Nigel and I just had one fracas with last year but he wrote to me congratulating me at the end of the season so as far as I'm concerned there's no problem at all. I don't envisage a problem with any of the Premiership managers. People talk about my antics but I'm passionate, that's all. I like my players to be looked after but we're going to have better referees now, better fourth officials, so I don't expect as many problems as we've had in the past.
I'm looking forward to seeing Sir Alex and Jose. They both wrote me nice letters congratulating us on getting to the Premiership. [FFT: Nothing from Arsene?] No, but Arsene is not that outgoing, really. I don't mean that as criticism. I have the utmost respect for what he's done for the game in this country. I don't think anyone's done more to improve our game than him, given his approach to nutrition and fitness and the rest.
How well prepared are you for the Premiership? Will the team have to change its style much?
Lewis Bartlett, via e-mail
I don't think we can change the style much, I think it's more important that we get one or two better players into the squad, that's key. We've brought three or four in now and we need a couple before the season starts because the Premiership's about power and pace and I think we need to be ready for that. We have to be tactically ready for every single game, every game will be a massive challenge, but we're up for it.
Be honest now, your nickname 'Colin Wanker' (an anagram of Neil Warnock) is funny, right?
Chris Small, via e-mail
Well if the person think it's funny then so be it – I'm not against anything that makes people laugh. I'm all for that. And I've certainly been called a lot worse. Put that bit in, will you? I've been called far worse [laughs].
Interview: Nick Harper. Portrait: Stuart Wood. From the September 2006 issue of FourFourTwo.
Quizzes, features and footballing fun
Get the best features, fun and footballing frolics straight to your inbox every week.