Neville allowing Peter Lim to think Valencia lost 1-0 to Barcelona
Ex-Manchester United stopper is happy for his boss to believe last night's Copa del Rey clash was a tense encounter, Back of the Net reports...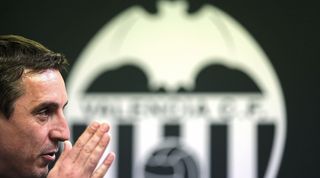 Insiders at Valencia have reported that a nervy stand-off has developed at the Mestalla as Peter Lim has begun his morning perusal of the Spanish newspapers.
Singaporean tycoon Lim was out of the country for Valencia's 7-0 demolition at the Camp Nou and found a shifty-looking Neville emptying a bulging paper recycling bin on his return to the club's headquarters.
Sources state that a puzzled Lim was unable to find a single sports newspaper (of which Spain has nearly 15,000) before finally locating a fragment of Marca's front page and immediately summoning Neville.
Fool's lie
"[Gary] Neville shuffled in looking at the floor; he was visibly shaking, so we were all stunned when Peter Lim rose from his chair and ruffled his hair," an insider told FFT.
"Then he said that it'd been a great effort and he was gutted he'd missed it. [Gary] Neville stood there rigidly suspecting a trap, humming a song – I think it was Fools Gold by the Stone Roses, his comfort song – until Lim said that 1-0 away to Barcelona was a really decent result."
Insiders report that upon discovering that Lim had misread the 7 as a 1, Neville made no attempt to correct his boss, instead desperately trying to back up his mistaken belief that Valencia had run Barça close.
"[Gary] Neville started relaying this fantastical story of a close game where a fractional offside call had denied his team a 1-1 draw," a source told FFT.
"He seemed to get swept up in the story and I felt he took it too far when he claimed that sections of the Barcelona support had begun chanting his name. When Lim asked him to sing the chant, [Gary] Neville sung his name repeatedly to the tune of Fools Gold.
"Lim seemed confused that the word 'humillado' was written in big letters over [Gary] Neville's grim face and asked what that meant but [Gary] Neville managed to blag that too – he said it meant 'humble' but also implied he was extremely intelligent in this context.
"Then Lim asked why his face had been Photoshopped to look like a clown, and a stuttering [Gary] Neville managed to improvise a story about a Spanish folk tale in which a noble clown heroically battles against the odds to secure a decent result against a fierce dragon."
Rumbled
Neville paced anxiously as Lim called his PA to investigate why his computer wasn't working, his mobile phone wasn't connecting to the internet and his car radio had been ripped out, before disaster struck.
"I honestly think he'd have gotten away with it if [Phil] Neville hadn't burst through the door and yelled '7 bloody 0, they've give us a doing have Barcelona in fairness' before repeatedly asking a squirming [Gary] Neville whether Suarez or Messi had completed their hat-trick first," an observer told FFT.
At the time of publication [Gary] Neville was locked in a conference room with Peter Lim. Observers have reported the faint sound of the Stone Roses coming through the door.
Please note: This satirical news story is not real. But you already knew that, right?
Thank you for reading 5 articles this month* Join now for unlimited access
Enjoy your first month for just £1 / $1 / €1
*Read 5 free articles per month without a subscription
Join now for unlimited access
Try first month for just £1 / $1 / €1
Get FourFourTwo Newsletter
The best features, fun and footballing quizzes, straight to your inbox every week.