Paolo Di Canio: One-on-One
"The craziest person I've come across? Let me tell you about John Moncur..."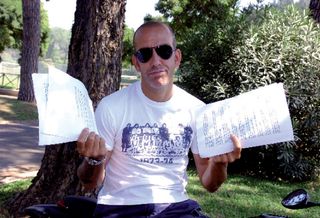 It's a glorious morning in Rome and as Cisco Roma's training session draws to a close Paolo di Canio, having lead the way in every exercise and every drill, rushes into the small dressing room to get changed. Minutes later, he emerges to greet FourFourTwo wearing a commemorative 
T-shirt of Lazio's 1973-74 champions. "This team is my myth," he says, pointing to the badge before reaching for a bottle of water. We jump into his blue Mini Cooper and he attempts to run over a couple of team-mates. They curse him and he returns the gesture with interest. Cue laughter all round.
His mobile rings. Despite the heavy Rome traffic and the car being a left-hand drive, he deftly holds the phone with his right hand and changes gears with his left. "Look, I won't be home for a couple of hours," he tells his wife. "I've got an interview with FourFourTwo. I've done one with them once before and this time we'll be talking about my entire career." He's already had a quick peek at your 
questions and knows what's coming. And so do we...
Where do you get your passionate personality from?
Mike Anderson, Celtic fan
It's genetic. Certain circumstances 
– like growing up in a tough 
neighbourhood – can bring out that passion, but I've been like it since 
I was a boy. When I see something bad, I say so. I prefer an uncomfortable truth to a beautiful lie and I get 
incredibly annoyed when people try to sell a false image of themselves. In my 
autobiography, that's who I am, that's how it happened, like it or not, but at least I'm no liar. I may be more reflective as my daughters grow up, but if calming down means not 
saying what I think, I'll never, ever change.

You stole and sold your brother's bicycle when you were 12. Ever replaced it?
Dennis Johnson, Bristol
What I got that day was priceless. I help my brothers now, but I could never match the joy of the 12,000 lire I got for his bike. I mean, that would be like 200 euros now. I spent it with my friends, kids that never had anything, all day long. I still remember where we bought the ice creams and sweets, where we played video games. I was Robin Hood for the day. And for that experience, I'll never be able to pay him back, not with 10,000 bicycles.
In your autobiography you say that you became addicted to Coca-Cola during your apprenticeship. How much did you drink?
Darren Webster, High Wycombe
Three litres a day – it was that bad. When you're a kid, that's terrible. In fact, I had liver problems later and had to stop playing. My poor mum would buy a one-litre bottle and dilute it with two litres of water. I was eating badly too – sweets, chips, all that stuff – and not 
exercising enough. If you could see me now, I'm drinking extract of chinotto [a small, bitter citrus fruit] – you should taste it!
Is it true you met your wife while she was going out with a team-mate at your first club, Ternana?
Lee White, Swansea
Wrong. He was in love with her, but it was platonic, she considered him a friend. When I asked him for her phone number he refused because he was so jealous, but she ordered him to give it to me because she liked me too. One of my rules is never look at, let alone steal, another man's woman.
Do you still own a boutique in Ternana? 
Did you have any famous players as customers? Do you give discounts?
Paul McDermott, Milton Keynes
I still own it and lots of former team-mates buy there. Gianluca Vialli has been a regular for years. Luciano Moggi's son, too. And of course they get discounts. Friends are treated very well and sometimes they get half price. In 18 years of business, if we hadn't made discounts, we'd have much more money now!
Who's the best player you've played with?
Robbie Garner, via e-mail
Vialli, a natural-born champion. Van Basten, Gullit and Baresi, who was the epitome of 
charisma, were great, but Vialli was above them all. We're talking about someone who came from a rich family. He had a 40-room mansion in Cremona but he made sacrifices and never complained. Seeing that helped me develop. He'd stay behind for 40 minutes after training practising his shooting. I'd look at him and say, "Fuck! He could be living in Monaco and he's shooting at an empty goal in the rain!"
Why did you leave Celtic after just one season there?
Aneurin Shearan, Celtic fan
Because the chairman didn't want to talk about my contract, which he'd promised to do if I played well. I'd been voted Player of the Year. But he said I didn't deserve it. Well, I go, it's that easy. I don't play for liars and traitors.
Now that eight years have passed, how do you view the Paul Alcock incident?
Robin Byles, via e-mail
I met him again a year later and I still 
wonder how the hell he managed to fall like that from such a soft push. But I've got no excuses. Pushing the referee is not 
something I'd recommend, even if all the decisions go against you. Kids are 
watching and that's an awful example to set, even if he deserved more than a push. It would have been better to say, "piece of shit" or something just between us.
After you pushed Alcock, you made Nigel Winterburn shit himself. Why didn't you hit him? You'd already been sent off...
Steve Henderson, Glasgow
You wanted me to get a 100-match ban, didn't you! The truth is, I was very annoyed and he approached and started bullying me. I pretended to hit him and he ran away like a sissy. What could I do? Chase him all over the pitch and end it like a bar fight? And I'm sure he was quicker. But today we're close friends!
Why did you go back on your promise to fans that you'd return to Sheffield Wednesday after your ban?
John Wardell, Sheffield
Because the club abandoned me. I had to pay my lawyers to get a proper defence because theirs were attacking me. With all respect to the fans, I could never go back to a club and manager who had betrayed me.
Why on earth did you sit down on the pitch and ask to be subbed when West Ham beat Bradford 5-4 in 2000?
Dave Potts, Ossett
Because the ref was completely against me. He should have given me two penalties and I didn't have the will to carry on playing. Harry told me: "No, Paolo, please, we need you!" A minute later, I said to myself, "Why the fuck should I give up? This referee will not beat me!" Harry wanted me to play, the fans had never deserted me, so I couldn't give up in return. It was an awesome victory.
Was the catch you made to sacrifice a goal against Everton in December 2000 really intentional? You're not known for your sporting behaviour.
Louis Ross, via e-mail
Of course! And I would have done it with any other player in the same situation. It would have been his ball, so there was evidently 
a problem and I couldn't go on. It's not that he dropped the ball and faked an injury. In that case, I wouldn't have stopped.
You had altercations with Frank Lampard and Simone Inzaghi over taking penalties. Who was supposed to take the penalty: you or them?
Joe Taylor, via e-mail
I've always accepted orders because I'm 
a comrade, but if I think that by doing 
something different a better result can be achieved, I'll do it. But there weren't even managers' orders. With Lampard, I'd missed a penalty a week earlier and perhaps he thought he should take it. Wrong. I've never shirked my responsibilities.
With Inzaghi, it was my first game after 16 years away from Lazio, my Lazio, with the score 0-0 and a penalty awarded – you need a brain the size of a peanut to think that I wouldn't take it. Inzaghi is selfish. 
He prefers to lose 4-3 and score a hat-trick than win 3-0 without scoring – the complete opposite of me. Inzaghi had missed 
a penalty a year before because he'd tried to chip the ball and he thought he had the right to break my balls at my Lazio? Do you know what he told me in the dressing room? Nothing. He had no guts.
At West Ham, you seemed frustrated at Joe Cole not fulfilling his potential. What do you make of his progress now?
Dave Moore, Harrogate
I'm incredibly happy for him. Now he's 
disciplined, plays for a big club and 
understands what sacrifice means. And I can take 0.001 percent responsibility for that. It seems he listened to me a bit, even if my words dawned on him later. At West Ham 
I was seen as the ball-breaker in the dressing room. Then when Lampard and Rio Ferdinand left, they said: "Now I understand the things Paolo used to say." I'm proud of that. They understood that it was a positive for their careers, not mine.
You've pushed Trapattoni, come to blows with Capello, and fallen out with several other successful managers. Did you ever think it might be you?
Russ Clarke, via e-mail
Of course! Because in this world those who speak up are seen as a problem. But if I'm part of a team, why can't I say things I feel will benefit us all? There are people who still say to me that had I been quieter 
I could have played for Italy. My answer is this: had I been calmer, I wouldn't even have made it as a footballer. I give my best when I'm pissed off and when I argue with the entire world.
Is it true Harry Redknapp used to fix the five-a-sides in training at West Ham if you turned up in a bad mood?
Billy White, via e-mail
The only lie about that is that they weren't five-a-sides, but seven- or eight-a-side. It was true that if I lost I'd leave the pitch smashing everything, so I guess he wanted to keep me calm. But I didn't know about that trick until he told me. And I quickly understood 
something he used to say before those games: "I bet Di Canio's team will win today."
Why did you wear your shorts backwards for one Charlton game?
Tony Campbell, via e-mail
Charlton? No, it was West Ham v Arsenal. The reason? Simple. If you notice that you've 
accidentally put something on backwards, you should leave it that way because it's a symbol of good luck. That day, when I was warming up, someone told me my shorts were backwards. Before the game, the boss said: "Come on Paolo, put them right." "No way!" I told him. I knew it was a sign. We won 
2-1, I scored both and we beat Arsenal for the first time in 14 years. So if you see you're wearing something backwards, leave it!
In your autobiography, you talk about making the ultimate tiramisu. What's the secret?
Jamie, north London
Grab a pen and start writing, but I want full credit every time you're congratulated for it. You'll need fresh eggs, which aren't easy to find, a good mascarpone, and freshly made hot coffee. For the biscotti, pick the Savoiardi type, which come as a sponge, not the smaller Pavesini – they don't absorb as much. Another secret: egg whites go in the dough and the yolks with the cream, not together. And don't be lazy – a mixer doesn't whip as good as oneself. Use a fork for half an hour and you'll make a unique cream. Then it needs at least five hours in the fridge. Then, write down the compliments and send them to me!
You auditioned for a part in a Zorro TV show as a boy. Had you got the part, would you have become an actor?
Stuart McParland, via e-mail
I got the part! But we had to pay 50,000 lire for a photo shoot, which was a lot to us, and my mother chose not to pay. I would've been a great actor because when I do something I give my life to it, but nature would have won in the end. I'm a born footballer. Managers had to be patient with me because they knew I had talent even though I could break their balls. As an actor, with my 
personality, who would have stood by me? I don't think I'll be another Eric Cantona, but never say never...
What were you doing making that salute in the Rome derby? And after all the fuss, why do it again against Livorno?
Chris Stevenson, via e-mail
I made it to salute certain people with whom I share certain thoughts and social ideas. It should be allowed in any part of this so-called free world. Otherwise, what sort of 
democracy is this? I have a family, two 
daughters that go to school, I stop at red lights, pay taxes, have never had trouble with the law, never insulted people of colour, much less Hebrews, so why the fuck can't I celebrate a goal with a salute that belongs to Roman times rather than to five decades ago? And after all the fuss, yes, I made it again. One moron celebrates with the communist fist [Cristiano Lucarelli], so why shouldn't 
I celebrate as I want to? Besides, it was 
a reaction to what I had been through. Livorno is a red city [communist], pure violence. They don't go to the 
stadium to watch a match and they don't carry Livorno flags. The only thing you see there is Che Guevara, Stalin, all this nonsense. They were all against me.
Are you really a fascist?
Aldo Morelli, via e-mail
It's 2006. Racial laws don't exist; 
extermination doesn't exist, thank God. So why can't the social idea of a radical right wing be expressed democratically? The communists do it. Some people say that Fidel Castro is great, but millions are 
segregated in Cuba, the world's biggest open prison, where dissidents still vanish. And nobody says a word. Then they break my balls. Come on! Yes, I'm a fascist, so what? I'm not racist. Why can't I say that I'm right wing? So right wing, in fact, that I don't vote because no political party 
represents me, especially those from the so-called right. I believe in certain social principles that come from the past, that is my idea and nobody can take it from me.
Is it true you received a letter of thanks from Alessandra Mussolini, Benito's granddaughter, regarding the gestures?
Larry Chlebeck, via e-mail
Yes, and I even met her. I've received letters from many people who shared my thoughts, but from the shadows. And I understand why, because in this shit of Italian society, if you're politically incorrect, you're axed immediately. People care more about the crust than the core. Today, role models for children are terrible. Big Brother, for example. Thousands of children think that studying is not important because they can be something in life by acting as morons on reality TV. And there are rich kids that have everything when they're 14. Their parents say yes and don't care about the consequences.
I heard that you're trying to raise money to get an ambulance for a hospital in your neighbourhood. Do we have a misguided image of you?
Ludovica Colussi, via e-mail
Of the many things I do to help kids, few are told. And I don't want them to be told for the sake of it. I'm not like those footballers who arrive at a charity event because their agent instructed them to and ask when they can leave because they hate it. I do it because I want to. But "the fascist Di Canio helping the youth" isn't a story anyone wants to report. I'd be happy to read "Di Canio has certain extreme ideas but he helps the kids", but even this is considered wrong.
Do you have friends who support Roma? Is it true that Roma players will never go to the "Lazio" restaurants and vice versa?
Rebecca Harrison, York
I have Roma friends, yes, we squabble all the time! As for the restaurants, it's a bit like that, though times are changing. I know places where you can go if you're a Lazio player and it's full of Roma players, because restaurants that footballers like are all the same: little candles, beautiful ladies. I never liked these places. Most footballers are more worried about the car they drive than anything else. You couldn't talk about the things happening in the world, the Middle East and so on.
You once said of Francesco Totti: "If you talked to him about the Middle East, he'd think its part of a football field." Is he really that stupid? Surely you met more stupid footballers in England?
Dan Steiner, via e-mail
Sorry, there's no one like him! Did anyone else publish a book of all the jokes about how stupid he was? What I said, which is completely true, could simply be one of the many jokes in his book.
What do make of the match-fixing scandal in Italy?
Trevor Smith, London
It was difficult to suspect. After all, even if you had suspicions, you hear people 
complaining about referees all over the world. I've never been offered money, but it didn't work like that. It was organised, with presidents, referees and assistants set to fix certain things, not results. A typical 
example is that a good player was sent off the fixture before facing Juventus. Lazio was involved in this thanks to their president, Sergio Lotito. A double idiot, because Lazio were victims of lots of bad refereeing, but he was part of this organisation whose 
mission was to cheat. That's why he was suspended for two and a half years. We were relegated for a time, but it was fair – if the president is a crook, his club has to pay.
What did you make of it when Italian men were described as "parasites" by German magazine Der Spiegel?
Martin Fairclough, via e-mail
Generalising is always a mistake, because 
a journalist writes that we're match fixers and Mafiosi, and tourists can get a hard time for that because they'll come here and find some ignorant lads who give them a shit time because they remember that remark.
In 1982 you celebrated Italy's World Cup by surfing on a moving Fiat Cinquecento. How did you celebrate this time?
Giancarlo Rossi, via e-mail
Don't believe the country was crazy about the victory. Two days after the party in Rome, everything was calm, there were no flags on the balconies. The match-fixing verdict killed everybody's enthusiasm. I didn't celebrate. Firstly, because I'm not stupid enough to pull that stunt on the car again. Secondly, because no Italian player represented me. Sportingly, I can say congratulations because they did 
a good job, but the footballers that represent me today are people like Ronaldinho, because even though I don't know him, he plays as he is, he's authentic, he smiles on and off 
the pitch. I like that. One player that really represented me was Roy Keane, both as 
a person and as a player. I had a deep respect for him and I'd have liked to play with him.
What's your greatest football moment?
Luke Millen, via e-mail
My return to Lazio, with 40,000 fans 
turning up to training, was incredible, but it has to be the Rome derby. They were all saying I was finished, that they were going to score four against us, but we won 3-1 and I scored the first. That match is historical, they're still talking about it on the radio.
You were among FourFourTwo's "100 Biggest Nutters". Who's the craziest person you've come across in football?
Seanny Bhoy, St Petersburg
Razor Ruddock's antics during training were absurd, but John Moncur wins easily. Once, in winter, in temperatures below freezing, he appeared on the field 
completely naked, his dick dancing here and there, and splash-landed in the water. He came into the dressing room trembling.
Did you fancy joining Portsmouth when Harry Redknapp became manager?
Steve Morgan, Portsmouth
Playing for Harry again? I'd have run there to sign. He always says, "Come with me, Paolo" and when I hang up my boots, I'll definitely consider working with him. I'm very grateful to him, because he had patience with me and in return I gave my best. We argued so much, but always for the good of the team. He understood me.
You're now playing in Serie C2. Why?
Neil Ward, via e-mail
Because I feel I'm giving as much as I'm receiving, and that is like therapy. I'm 
a role model to my team-mates and that feels great. I arrive home happy and calm. If someone my age, after 21 years in the game, is the first in training and the last to leave, that says something to all the kids. The day I can't produce what people expect from me is the day I'm through. My 
mission is to take Cisco Roma to Serie B in three years, but more importantly, we have 
a project to take the kids off the streets – and that's what motivates me to keep playing.
What will you do when you finally retire?
Trevor Maw, via e-mail
I'll probably be a manager or help the kids in some way. I'll be a good manager. If I find a player like Di Canio, who arrives early, tries to integrate rather than disrupt, likes to train hard, thinks of the team rather than himself, and accepts that I give the orders, we wouldn't collide, because I like players with character. Give me 11 Di Canios and I'll be a happy manager!
Interview: Chris Hunt. Portraits: Roberto Tedeschi. From the December 2006 issue of FourFourTwo.
Thank you for reading 5 articles this month* Join now for unlimited access
Enjoy your first month for just £1 / $1 / €1
*Read 5 free articles per month without a subscription
Join now for unlimited access
Try first month for just £1 / $1 / €1
Get FourFourTwo Newsletter
The best features, fun and footballing quizzes, straight to your inbox every week.