Saudi royal family doesn't want to be associated with Manchester United
The Kingdom cannot condone United's repressive regime, Back of the Net reports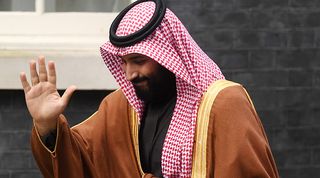 Crown Prince Mohammad bin Salman of Saudi Arabia has declared his horror at being linked to the draconian, oppressive Manchester United administration.
There have been reports suggesting the Saudi royal family, worth an estimated £850 billion, is considering a takeover of United – but the House of Saud has quashed such speculation in emphatic terms.
"The Saudi royal family would like to distance itself from any links with Jose Mourinho and his despotic regime," a spokesman for Crown Prince Mohammad bin Salman told FourFourTwo.
"Frankly we feel offended that anyone could believe we would get involved with a tyrannical leader who rules by fear and stamps out any sniff of opposition brutally and without remorse.
"The idea that we would risk the universally adored name of the House of Saud and its cuddly reputation by siding with this Special One and his potato-headed usurer boss [Ed Woodward] is laughable."
#FreePogba
The Saudi spokesman also hit out at United's human rights record, insisting that trapping players at the club against their wishes represents a 'grave violation' of international law.
"We call upon Manchester United to cease the inhumane treatment of [Paul Pogba] immediately and to release him to [Real Madrid]," the spokesman continued.
SEE ALSO
FEATURE Why Man United's trip to Chelsea is big enough to define Jose Mourinho's long-term managerial future
REMEMBERED Henrik Larsson at Man United: how a 10-week loanee got hero status
"It is hard to believe that the international community is willing to stay quiet just because they don't want to lose their beneficial business relationships with [Manchester United].
"Nobody should suffer as Pogba has, being unsure whether at any minute they might be made to come on as a sub out of position against Brighton just to prove a point."
At the time of publication, Ed Woodward was on his way to the Saudi Consulate to smooth things over and was expected back home nice and safe, and perfectly on time.
Please note: This story is satirical. Like, obviously.
Quizzes, features and footballing fun
Get the best features, fun and footballing frolics straight to your inbox every week.
Thank you for signing up to Four Four Two. You will receive a verification email shortly.
There was a problem. Please refresh the page and try again.