Peter Marinello: What Happened Next?
"I got picked up by the police. He'd accused me of attempted murder"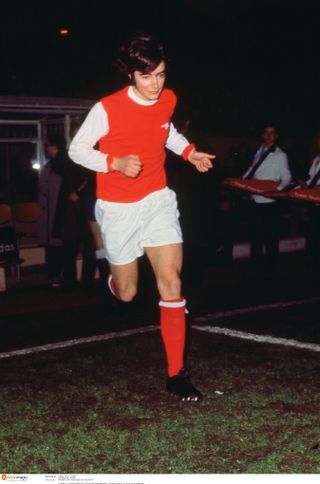 "Looking back I think I made two big mistakes: the first was leaving Hibs too early. As a youngster in the game, I had nobody to advise me. Everything happened so fast. I think it even took Arsenal by surprise. They had bought me for the future, but with scoring in my first game at Old Trafford, and the press hyping me up, there was suddenly a huge amount of expectation.
I just wanted to enjoy my football. Arsenal was a huge culture shock. Don Howe worked hard with me, but I was rebellious and wanted to do it my way. I was an old-fashioned winger and a bit too cavalier.
Then there were the distractions. I suppose London wanted its own George Best, and chose me. Looking back, it was incredible. There were advertising deals, appearances on Top of the Pops, a newspaper column - I'd only been in the game for two minutes. The George Best comparison was flattering - he was one of my heroes – but it brought added pressure.
My second big mistake was leaving Arsenal for Portsmouth in '72. When I put in a transfer request, [manager] Bertie Mee tore it up, but I was headstrong and chasing the money. It was a bad move, and afterwards I drifted from club to club.
After a stint in the US, playing in the Indoor Soccer league for Phoenix, I ended up back in Edinburgh, with Hearts. By that stage, I'd already had a couple of business ventures. I'd done a house conversion with a school friend, and bought a pub. But my choice of business partners was never the greatest. Football cocoons you from the world – everything was done on a handshake, and nobody cheated you. Unfortunately that wasn't the case elsewhere. After my first partner left us in the shit, I went in with a guy whose dad I'd known at Portsmouth. He turned out to be a conman and more or less asset-stripped the company. I'd signed all the personal guarantees, but he looked after the money and I never paid much attention to the bills. By the time I found out it was too late. He disappeared and left us in the lurch.
We were meant to be starting a new venture over in Spain. I probably lost in excess of £300,000 over the years. I was made bankrupt in Scotland and all my property was seized. We ended up living in Butlins in Skegness for six weeks. I went looking for my business partner – I wasn't the only one – he owed money left right and centre. In the end, I got picked up by the police, as he accused me of attempted murder.
We moved down in Bournemouth when a friend offered to put us up, and we've stayed down here ever since. These days I run an amateur team. I always used to take my boots along in case they needed an extra player, but I had a hip replacement a few years ago and was advised not to play any more. Mind you, I'm still involved with the Arsenal veterans, and I'm about to go to Norway with them. I'll have to be the sponge boy, but maybe I'll come on with the last 20 minutes and just use my left foot.
My wife has had a lot of problems with depression, and one of our sons got into a bad way with drugs, but he's been clean now for several years. We've not got the material things that we had, but we're a lot stronger as a family, and I've got my first grandchild on the way in October.
They say truth is stranger than fiction. With me it seemed to be one calamity after the other, and I got myself into so much fucking bother over the years. I've recently published my autobiography, and there is talk of a film. I don't expect it to make me a fortune, but then I didn't do it for the money, it was just something I needed to do."
Interview: Dan Brennan. From the August 2007 issue of FourFourTwo.
Thank you for reading 5 articles this month* Join now for unlimited access
Enjoy your first month for just £1 / $1 / €1
*Read 5 free articles per month without a subscription
Join now for unlimited access
Try first month for just £1 / $1 / €1
Get FourFourTwo Newsletter
The best features, fun and footballing quizzes, straight to your inbox every week.