Pontus Jansson: "I had an offer to leave Leeds last summer – but I didn't want people to remember me for negative things"
Few footballers share a connection with a club's fan base like Jansson. In the new FourFourTwo he discusses his adulation for boyhood club Malmo – but Daniel Chapman discovers how the Swede learned to love Leeds almost as much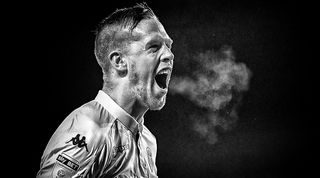 Leeds United are ending their best season for years with a two-legged tie of disappointment, getting over the sorrow of missing out on automatic promotion to the Premier League by preparing for their second chance in the play-offs.
"A couple of weeks ago," central defender Pontus Jansson told LUTV, during the players' lap of honour after drawing with Aston Villa at Elland Road, "I thought this game should be the one that we went to the Premier League. So a little bit of sadness, of course. It's been tough, the last 10-14 days."
Letting go of that promotion party was tough for Leeds fans, who watched their team turn a 1-0 lead against 10-man Wigan Athletic into a home defeat, followed by another at Brentford. But compared to this time last season, when the team was Paul Heckingbottom's, it's toughness they can take.
Inner fire
A lot has been made of the way that, whether through punishing training sessions, clandestine reconnaissance or staring intently from atop an upturned bucket, Marcelo Bielsa has transformed a group of players that whimpered to 13th place last year into a side whose only disappointment is narrowly missing a top-two finish.
But when I spoke to Pontus Jansson at the end of March, for a feature in the new issue of FourFourTwo, he suggested some of the motivation for that change had come from within.
"I remember last spring," he said, "When we had nothing to play for and every game was like a friendly. People started to talk about me, saying that I didn't want to play for Leeds.
"But of course you feel angry when the results don't go with you, when you have nothing left to play for. It was a big disappointment for me, for the club, for my team-mates, for everyone. So it was normal that I didn't have a smile on my face all the time; that I wasn't as pumped up through the games."
Jansson hadn't come to Leeds to finish mid-table in the Championship, although that's exactly where the team had been for five seasons before he arrived in 2016. Supporters, watching managers come and go with speed they rarely saw from the players on the pitch, were losing faith in any future above the bottom half of the table. They were certainly losing hope of ever recovering the club's glorious past.
Jansson, who initially joined on loan from Torino, changed the tone with one thundering tackle on his home debut against Huddersfield Town that he celebrated with more ferocity than some Leeds players had been enjoying goals. He looked taller than the other players, had more tattoos than the other players, wanted the ball more than the other players, and wore an expression that said he was going to get what he wanted – promotion to the Premier League.
"I said it from day one," Jansson tells FFT. "At the beginning I had it as a motivation for myself, and for the team and the fans, for someone to come here and say, 'Alright, we want to go back to the Premier League'.
"Because how I saw it when I came was, we were at the bottom of the table and people never talked about the Premier League in that way.
"I came here directly in my first interview, on my first day, to say I really wanted to go to the Premier League with Leeds. I remember people laughed at me, but I had it as a motivation for myself and the people around me."
Not like this
Jansson was the figurehead for that motivation transferring to the pitch; his commanding presence and affinity with the fans symbolised United's rise to finishing 7th in his first season, just one place from the play-offs.
His exhilarating commitment to winning games for Leeds was unmissable, and made him an obvious choice for one of the new banners unfurled on Elland Road's East Stand. The Swede continued to represent the club's restored pride during a time when his team-mates' lack of spirit and energy was dissolving the following season.
"I think as a player you have to respect and know your club, know the history, know how big the club is," he says. "I really know what this club means to people, so for me it's a responsibility; you have to do something for the club.
"So last year, when it didn't go that good, as a person I also felt bad. I felt like I'd left so many people disappointed. And that's not what you want to be.
"I had an offer to leave in the summer, and I said to my agent, 'I don't want to leave Leeds in this way'. I didn't want people to remember me for negative things, thinking, 'This guy didn't care about the club'.
"I really wanted to come back this season and give people a good picture of me as a person, to see that I respect the club.
"This club, I've said it before, it changed my life to something good. After a bad year in Italy with injuries and a lot of things happening off the pitch, I came here.
"The love I got from the club is just unbelievable, and I will never forget it. So it was my responsibility to really come here and do something good this year."
It matters more
The team has taken that responsibility collectively in 2018/19, not only rising to the challenge of promotion – winning more games than in any season since 2009/10 in League One – but to playing for Marcelo Bielsa too.
The disappointment of that Aston Villa game not being the one which took Leeds to the Premier League was almost forgotten – although not by Jansson – amid the controversy around Mateusz Klich scoring while Villa were complaining that Jonathan Kodjia was lying injured. Bielsa allowed the walked-in equaliser which Jansson alone tried to prevent.
For the new issue of FourFourTwo, we talked about how the way that Jansson plays is influenced by growing up as a teenage Malmö fan, travelling home and away with their ultras when other professional footballers-in-wait were secluded in academies. He revels in a game's emotional overflow as if he was cheering or jeering from the terraces.
That's what happened as Villa walked through to score; Jansson was the lone playing representative among the 35,000 Leeds fans who didn't think they owed Villa anything. All that Leeds players owe now is victory in the play-offs.
"To be fair, I've never had big dreams," Jansson said. "Of course it was a dream to play for Sweden, it was a dream to play for Malmö, to win the league for them twice. I've ticked a lot of boxes in my career.
"But of course it's a dream. Always, when I talk with those two words, 'Leeds' and 'Premier League' together, I get goosebumps all over my body. To go there, to play for Leeds, would be just amazing.
"Now, when it's really that close, it's just unbelievable if we get it."
Read the full interview with Pontus Jansson in the June 2019 issue of FourFourTwo, a 25th anniversary special. We speak to Bournemouth boss Eddie Howe, who appeared in issue 5 of the magazine in 1994 as a Cherries trainee, about his and the club's roller-coaster quarter of a century, and hail the 101 greatest players of FFT's lifetime. Plus, we talk to Leicester creator-in-chief James Maddison, share some unseen Pele pictures, ask Gaizka Mendieta your questions, and meet YouTube's maddest fan Mark Goldbridge.
Then read...
ANALYSIS Why Leeds's automatic promotion hopes fell apart – and what happens next
FEATURE How Johan Cruyff reinvented modern football at Barcelona
Thank you for reading 5 articles this month* Join now for unlimited access
Enjoy your first month for just £1 / $1 / €1
*Read 5 free articles per month without a subscription
Join now for unlimited access
Try first month for just £1 / $1 / €1