Why Portsmouth vs Sunderland is the worst possible EFL Trophy final
B teams, nonsensical suspension rules, joke substitutions – and a bumper Wembley crowd this weekend between two well-supported sides that will offer this competition legitimacy it does not deserve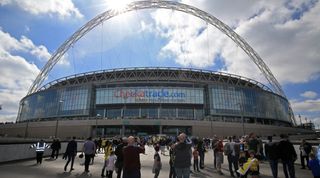 On paper, Sunday's EFL Trophy Final between Portsmouth and Sunderland looks set to be a fine affair. Pitting League One's third-placed side against the team one spot below them, this finale will feature two teams competing to bring smiles back to the faces of long-suffering fans wearied by the events of recent years.
It will likely be the highest attendance for a final in the tournament's 35-year history. Pompey and the Black Cats have each sold in the region of 40,000 tickets, and the chances of this Wembley gate surpassing the 80,841 crowd that watched Wolves beat Burnley 2-0 in 1988 look high.
Together, it should make quite the occasion for both Portsmouth followers and Sunderland fans like myself. Each clubs has endured torrid times – and, it must be said, Pompey's have been worse and more drawn out than our own – this weekend is an opportunity for both clubs to give a little something back. Few on Wearside would have even considered the idea of playing in this tournament a few years ago but, such has been Sunderland's downfall that it now offers the perfect chance to set in motion a chain of events that could culminate in promotion.
False vindication
The EFL, too, will watch Sunday's game with a broad smile. For it is they who rejigged the competition three years ago, bringing in a new sponsor (Checkatrade) and a new format which welcomed 16 'B' teams from clubs boasting 'Category A' academies. Those clubs, all of whom play in either the Premier League or the Championship, now enter reserve teams into the tournament each year, giving youngsters what is considered as much-needed competitive minutes.
The list of those who welcome the occasion is likely to stop there. For while Sunday will be held up by the EFL as evidence that the competition is in rude health, fans of the 46 other clubs from the third and fourth tiers are unlikely to look upon it too fondly. Indeed, chances are they'll choose not to look upon it at all.
The new format, despite being approved by 60% of EFL members, was met with derision from fans who saw it as yet another opportunity for the 'bigger' clubs to flex their muscles. What followed was the 'B Team Boycott', which led to attendances plummeting, while several clubs who'd voted for the new format soon came to see the competition as a waste of time.
The third-minute sub
Alongside the introduction of B teams came another ruling that infuriated League One and Two clubs, decreeing that they must field at least five 'first-team' players in each game. Failure to do so would result in fines of up to £5,000. The EFL had introduced a situation whereby they were effectively forcing their own clubs to take seriously a competition they themselves had devalued by allowing reserves teams to enter.
Unsurprisingly, clubs took little notice. Within three months of the new regulations, 12 teams had been fined a collective £60,000 for breaching the 'full-strength' rule. Luton Town were fined £15,000 – the maximum possible for their three group games – despite the fact they actually progressed to the next stage of the tournament.
Bradford City, meanwhile, employed the most inventive approach to circumventing the rules, substituting their first-choice goalkeeper three minutes into a tie at home to Bury. They were fined £3,000 for their efforts.
Saving the format
In 2017/18, the Football League quietly introduced another rule change; one which dictated that they would "be empowered to reimburse EFL clubs for losses incurred in hosting competition matches".
That ruling came into force just before clubs were due to vote on whether to retain the format that had been trialled a year earlier. It did the trick, and a host of sides that had little time for the tournament gave it the green light.
Quite why the EFL is so keen to promote the tournament is anyone's guess, as no explanation has ever been forthcoming (and nor is it ever likely to be). Perhaps the League feels that if it can keep Championship clubs with Category A academies happy, they can head off the talk of a breakaway that surrounded the renegotiation of the EFL's TV deal last autumn.
Perhaps ambitiously, they think that keeping Premier League clubs sweet might see more of the division's riches cascade downwards in future.
Or perhaps it's altogether more simple than that and, having secured a good sponsorship deal from Checkatrade, they're keen to maximise revenues for as long as possible even if it means projecting an illusory state of affairs.
Ill feeling towards the EFL Trophy only intensified this season: events have ranged from Manchester City refusing to host home games because it would cost them money (yes, really), to Checkatrade matches not counting towards suspensions. That the EFL acquiesced to the former demand and imposed the latter condition has left many wondering just how seriously they can claim to be taking a competition they've pushed since 2016.
Winning the cup
It would be a lie to say I'm not looking forward to the day, and the red and white revelry that will accompany it.
When your team is winning games of football, it's easy to ignore the wider ramifications, whatever they may be.
But for all I'll be willing Jack Ross's men to victory from the Wembley stands, it's also hard not to think that this particular final – and the bumper crowd that will attend it – could do more harm than good in the grand scheme of things.
NOW READ…
XI Who SHOULD be in the 2018/19 Championship Team of the Year
FFT SAYS Why aren't people talking about English football's management crisis?
ON THE BOX Live football on TV this weekend: EFL Trophy final, Premier League, Championship, Old Firm and more
Subscribe to FourFourTwo! 6 issues for £19
Thank you for reading 5 articles this month* Join now for unlimited access
Enjoy your first month for just £1 / $1 / €1
*Read 5 free articles per month without a subscription
Join now for unlimited access
Try first month for just £1 / $1 / €1
Get FourFourTwo Newsletter
The best features, fun and footballing quizzes, straight to your inbox every week.