Rafa Benitez's loyalty to Sacchi could be his undoing at Real Madrid
Thore Haugstad believes that Real Madrid's new coach must begin to entertain the Santiago Bernabeu after a goalless draw in his first league match...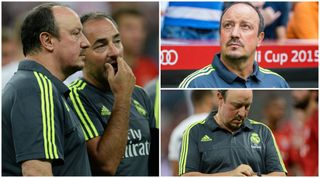 As far as draws go, it was the very worst kind. Before the season curtain raiser at Sporting Gijon on Saturday, the local press had highlighted how Real Madrid had failed to score in four out of eight pre-season games since the appointment of Rafa Benítez in June. Then came the 0-0. "Five barren games under Benítez," Marca soon proclaimed. The debate is still rolling.
The issue of goalscoring is a sensitive one that will weigh heavily in the Bernabeu's judging of Benítez. His arrival was preceded by his reputation in Spain as a defensive coach.
This is rooted in his spell at Valencia from 2001 to 2004, where, in his first season, his side scored 51 times in 38 games, with central midfielder Ruben Baraja their league top scorer with seven. (It may be footnoted that Benítez also delivered two La Liga titles in those three years.)
Benítez has since had more productive campaigns at Liverpool and Napoli, but events in Spain matter more. This summer Madrid actually put four past Manchester City and three past Internazionale, but again, some statistics overshadow others. Five goalless games is grim for fans who saw the Carlo Ancelotti edition hit 118 league goals last season – an average of above 3.1 per match.
Recently Marca noted that Benítez has overseen the fewest goals over the first nine games out of any of Madrid's last 10 coaches. Even before Gijon, AS editor Alfredo Relano wrote: "Their play has been joyless and has lacked flow. Benítez is a good manager but he focuses more on statistics and graphs than he does on passion and fluidity. I fear that he won't be the kind of manager that the Bernabéu likes."
Arrigo's way
The notion that Benítez prioritises defence is true. A few years after joining Madrid's academy as a 26-year-old coach in 1986, he fell in love with Arrigo Sacchi's revolutionary AC Milan side which had lifted the European Cup in 1989 and 1990. Sacchi used a compact 4-4-2 with zonal marking and an aggressive offside trap. Entranced, Benítez showed footage to his squad and installed similar principles. Players were drilled in two lines of four, with incessant focus on synchronised pressing and positioning. By the early 1990s, when in charge of the reserve side Castilla, his sobriquet had become 'Arrigo Benítez'.
Twenty years on, the core of his manifesto remains unedited. At Liverpool, he gave Jamie Carragher DVDs of Franco Baresi. Taking charge of Madrid, he first lectured his defenders, then his forwards. In interviews, he parrots the obligatory line of entertaining the demanding crowd, before offering the more voluntary line that "hard work" and "balance" are crucial as well.
His adherence to Sacchi has underpinned his choices. Since Valencia he has rarely deviated from 4-2-3-1 or 4-4-2, which offer the same shape. When he replaced Walter Mazzarri at Napoli, he abolished the 3-5-2 that the players had used for years. His system(s) have brought success and he is unlikely to change now.
Balanced and rigid
That leads to the matter of Benitez's attacking principles. The figures have actually improved throughout his career and, in Serie A, his worries centred on defence – in his final season, Napoli shipped more goals (54) than any other side in the top half. "It's funny because in Spain they say I'm a coach who plays ultra-defensive football," he said. "In Italy, the opposite. The truth is that the key word for me is 'balance'."
But what matters now is La Liga and, in order to understand his thinking, one may retrieve the forthright biography of Craig Bellamy, who Benítez brought to Anfield in 2006. The Welshman hails his tactical astuteness and says that "defensively, Rafa was exceptional". But he disliked the attacking work, in which predetermined moves were rehearsed at the expense of individual intuition.
"The winger comes inside, the full-back overlaps, the forward has to run near post every time," Bellamy wrote. "There was no allowance for the fact that your marker might have worked out what you are doing after a few attempts. You had to keep doing it because it might make space for someone else. I felt like a decoy runner half the time."
Chaos in Gijon
The irony here is that, in the wake of the Gijon draw, critics have not condemned the presence of such a structure, but the lack of it.
Benítez fielded Isco and Cristiano Ronaldo either side of Gareth Bale in a fluent system, yet this has not been perceived as a liberal move, but as a needless mess of collision and confusion.
Much blame has been apportioned to Bale, whose central positioning has been criticised since early pre-season. In Gijon he altered between runs down the left and lurking between the lines, yet he is undeniably better at the former, and with Isco shuffled too far out right, the freedom afforded Bale has been recognised as damaging. Besides, his presence keeps James Rodriguez on the bench.
Paradoxically, Benítez has made this role work well before. Pablo Aimar played his best football under him at Valencia, Steven Gerrard shone behind Fernando Torres, while Juan Mata had his most productive season at Chelsea when Benítez took charge in November. But Bale is a different animal, a locomotive of a winger who thrives on space. Isco seems better suited to the intricate footwork the role demands.
Scrutinising eyes will now survey how Benítez proceeds. Madrid created enough to win in Gijon – with 27 shots and 8 on target – but dissonance existed and even Benítez admitted changes were needed. With Barcelona and Atletico Madrid already two points ahead, the tactician must not only start winning, but devise an attacking game plan that will leave the Bernabeu entertained, thrilled and convinced.
Thank you for reading 5 articles this month* Join now for unlimited access
Enjoy your first month for just £1 / $1 / €1
*Read 5 free articles per month without a subscription
Join now for unlimited access
Try first month for just £1 / $1 / €1
Get FourFourTwo Newsletter
The best features, fun and footballing quizzes, straight to your inbox every week.